Canadian audio manufacturer Lenbrook has the luxury of showing off several brands every year at CEDIA Expo, and this year stands to be another fruitful tradeshow for its dealers.
In its booth (#2520) at CEDIA Expo 2019 in Denver, attendees will get to see a slew of new offerings from Lenbrook's NAD Electronics and PSB Speakers brands in particular that combine the performance and installation practicalities integrators seek. It's a combination the company takes pride in delivering to the custom channel.
"We have been, whether it be NAD or PSB, a true audio company. That's what our heritage is, that's the pedigree that we came from," says Lenbrook CI product manager Joe de Jesus, "and we're not prepared to compromise on that.
"It will sonically be a PSB product, it will sonically be an NAD product – so expect that level of product, which will not be sacrificed. But, we are introducing design cues to make sure that we are utterly relevant to the system designer, to the project manager, to the installer."
New Distribution Amps, Architectural Speakers & Subwoofers
Among the arsenal of new integrator-friendly products Lenbrook will have on hand to help demonstrate that message to dealers include a couple of distribution amplifiers and AV receiver from NAD, plus several CustomSound loudspeakers, subwoofers and subwoofer amp from PSB.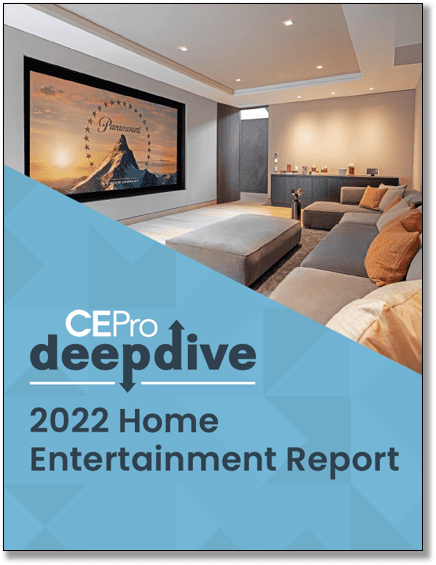 The home entertainment category is especially susceptible to the supply chain crisis because there are so many individual components required. Despite that ongoing problem, the once-forgotten "home theater" category continued its strong comeback in 2021 likely driven by the ongoing house-bound public due to the COVID-19 pandemic.
Download your copy today!
See the video above and visit the booth (#2520) for much more details, but in brief here's a look at the new products Lenbrook dealers can see at the Colorado Convention Center before their full rollout this fall.
From NAD Electronics:
CI 8-120 DSP Distribution Amplifier – 8 channels x 120 watts at 8 ohms, bridgeable to 4 channels.
CI 8-150 DSP Distribution Amplifier – 8 channels x 150 watts at 8 ohms, a 30-watt boost from the CI 8-120 but "the platforms are radically different than each other," notes de Jesus, "You're looking at a real audiophile performance."
T 778 AVR – Builds upon NAD's T 777, with two new channels to bump up to 9, and touchscreen that provides a new and different way for users to interface with it.
From PSB Speakers:
CS AIC 860 – Angled in-ceiling speaker based on a 6.5-inch woofer platform to round out that line as "angled in-ceiling speakers are becoming more prominent," de Jesus says.
CS IW Sub 28 – In-wall subwoofer with dual 8-inch drivers.
CS IR Sub – In-room 10-inch subwoofer, "which I think is going to be the darling of the PSB lineup this year," he says, noting the sleek form factor also has three configurations for installation to appeal to installers, designers and architects.
CS IW Sub 10 – In-wall 10-inch subwoofer that couples to the stud bay rather than dog ears to the drywall.
CS 500 W – Subwoofer 1U rack amplifier built specifically for the new models that can govern up to two at a time.
PWM 2 – New generation of performance on-wall speakers that build on what PSB has done with its Imagine W1 line.