This article originally appeared on CEPro.com back in 2017, but we thought it would be fun to revisit what our editors considered the best AV showroom from then. Integrators will likely recognize a lot of the brands and models mentioned within, but the style, dates, and references within the article have not been updated to reflect the current views of CE Pro staff.
"Best. Showroom. Ever." Hanson AV's new location in Cincinnati might have earned that lofty description.
Not too long ago, audio/video and home-automation integrators were hell-bent on shuttering their expensive showrooms, but times have changed. The economy is booming and home technology is hot. It is against that backdrop that Hanson AV opened its new, striking showroom in Cincinnati last month.
From the outside, the building shows the high level of design that customers would expect from a high-end integration company. But that design is not just for looks, there is a utilitarian motive to the exterior design.
Three of the showroom display windows face busy Montgomery Road at the junction of Highway 275. Daily, 30,000 cars pass those windows, which highlight home theater, hi-fi audio and home automation. They also face a shared 125-space parking lot with a high-end steakhouse, providing a "window" into what Hanson AV is all about through this display capability.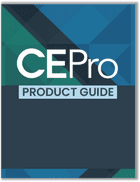 CE Pro's 2022 Product Guide showcases some of the latest and innovative solutions from manufacturers serving the custom electronics industry in a cross-section of categories.
Download the guide now!
At night, those three large picture windows are illuminated, drawing even more attention to the company's services.
"Although we haven't implemented it yet, we have also purchased a drop-down screen for the center window which, along with a short throw projector, will allow us to show video clips, slide presentations etc. as well for those dining across the parking lot and for Montgomery Road car passengers to observe," says Greg Hanson, who joined the company in 2009 after his son Troy founded the company back in 1999.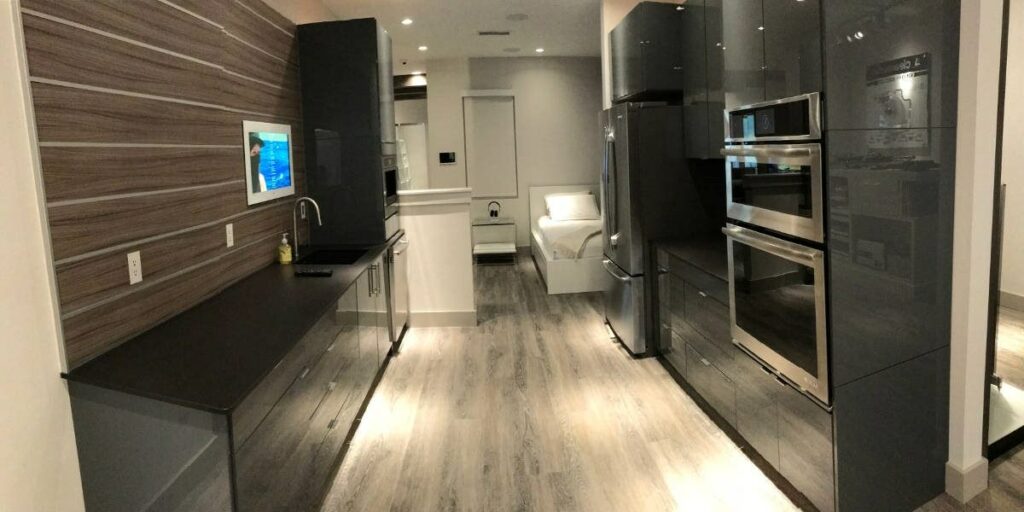 Stepping inside, customers experience 5,000-square-feet of space on the ground floor. (There is another 640 square feet of office space upstairs). The showroom consists of:
Two Theater Rooms, including one high-end space with Atmos, tiered theater seating, laser projector, and an SI Transformer Screen that contracts and extends based on the aspect ratio of the content
Affordable Theater Room with a more open format containing sectional seating and 160-inch screen
Three Hi-Fi Listening Rooms — One for good/better, one for best and another for ultimate high-performance audio — all with acoustic treatments and a variety of speakers, electronics, cables, racks etc. Two large sections of the showroom feature electronics from McIntosh Labs and speakers from B&W.
Media Room with an 88-inch Samsung QLED 4K TV, attractive high end speakers and components
Outdoor Entertainment Area showing outdoor TV and speaker options
Design Room with shade types, architectural speaker selection, fabrics, leathers, switch plates, control options, furniture selection options, and more
Digital Lifestyle Room showcasing streaming music options, headphones and electronics. The room is built around demos of the Devialet Phantom speaker with its unique spherical shape. 
Building out the particular vignettes in a showroom is always the most challenging aspect, and it was no different for the folks at Hanson AV.
"The biggest challenge was working with our product and construction vendors to formulate unique ways to tell the story of our brand along with the history, quality and legacy story of our key vendors in an attractive, efficient environment that would appeal to many," Hanson says. "Among the various challenges were finding the appropriate vendor materials, artisan cabinet makers, lighting effects, builder considerations and unique display signage to turn that vision into reality — both inside and outside of the building."
Why Build a Lavish Showroom?
Hanson AV has had a location in nearby Dayton, Ohio, for 15 years, but it was regularly hearing from its Cincinnati clientele that they didn't want to make the 40-mile drive to Dayton.
"We purchased the land in 2015 after an exhaustive search due to our philosophy of owning vs. leasing," the elder Hanson explains. "Troy basically did the complete design inside and out, hiring an architect to perform the drawings to meet regulatory requirement and to assist with township, county and zoning approvals. We started construction in October 2016 with a formal opening to the public on October 13, 2017."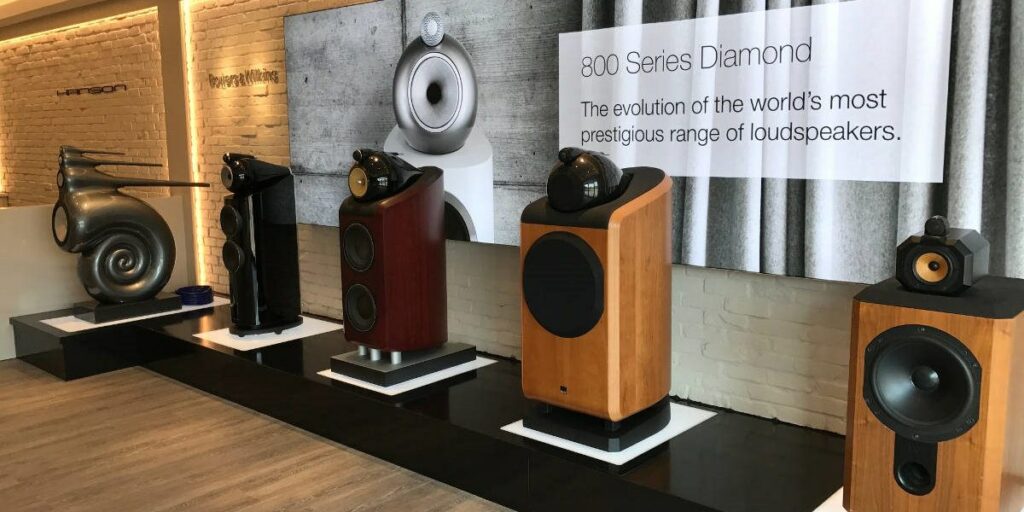 The showroom is staffed by two to five people in the showroom based on time of day and day of week. The company, which is a member of the Home Technology Specialists of America (HTSA) buying group, shows videos that offer historical orientations regarding its products and services, as well as allowing customers to have hands-on auditions for every product. 
"Our sales staff takes a consultative approach to each customer based on what they may be looking for and demonstrates applicable solutions to allow them to experience the art of what is possible in finding their ultimate solution. We take whatever time a customer requires," says Hanson.
Appointments versus walk-ins are split on any given day but walk-ins represent approximately 80 percent of the traffic. However, clients with appointments represent about 80 percent of the company's sales volume, according to Greg.
"The key to these numbers are that many of our walk-ins result in later appointments where we close the sale," he notes.
Initial Results Great 
"Early results on the new showroom have been great," according to Hanson. "We had 240 people show up for our grand opening and have had three other events that have attracted 60 to 120 people for each of them. This plus our ads and promotions have given us some great initial exposure and visitors. We have had many repeat visits where a husband or boyfriend brings his spouse or girlfriend back to participate in the evaluation process due to the attractive nature of the showroom."
He adds: "We have obtained some sales already that would not have been possible due to an unwillingness of potential clients to drive the extra 40 minutes to our other showroom. Last week, we even had a customer cancel an order with another vendor and instead upgraded to our products after experiencing them in our showroom. They believed it was a much better match to what they had been looking for, even though it required an increase in their budget."
Click here to see more photos of this legendary showroom!