Ring founder Jamie Siminoff, whose company was acquired by Amazon for $1 billion almost exactly five years ago, has decided to forgo his CEO title and shift to the role of Chief Inventor, he posted in a blog on the Ring website March 1.
In making that announcement, Siminoff added that Elizabeth (Liz) Hamren will be joining the company as its new CEO. Hamren comes to Amazon Ring having most recently served as COO at Discord.
"Liz has a long history in consumer devices and subscription services, building and launching some of the most innovative and beloved consumer products from Oculus to Xbox and more," Siminoff notes.
"When she and I met eight years ago, Ring was so small and I hadn't shared our mission with anyone except our team, mostly because no one would listen. Even then, Liz understood what I was feeling about the space: Our work wasn't about trying to make a faster chip or shinier plastic, it was about changing the way neighbors think about security for the better. I've felt a kinship with her ever since, and I am honored and excited to have her join the team on this mission."
Since its founding just over a decade ago, Ring has become a mainstream disruptor in the doorbell space, launching a video doorbell that spurred what's become an important category in the smart home and smart security space.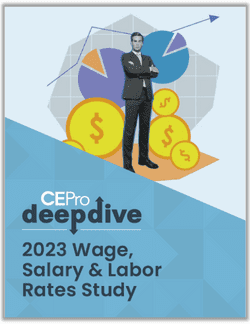 Discover the drastic difference a year can make when it comes to wage, salary, and labor rates in the custom integration industry.
The company's breadth of products has since expanded to include indoor and outdoor surveillance cameras, lighting, alarms and more. It has gained major traction in the custom integration industry over the past several years, as its Works With Ring partnerships continue to expand as well as its presence at events such as CEDIA Expo.
Amazon Ring a Perennial CE Pro 100 Brand Analysis Leader
Ring has led the CE Pro 100 Brand Analysis in the Video Doorbell category for several years now, garnering a 64% of the market share to hold the No. 1 position again last year, ahead of Snap One Control4, DoorBird, Axis 2N and Google Nest. For an idea of how the category has grown, Ring paced it with a 37% share in 2017, before its acquisition by Amazon.
The company has also experienced its share of legal issues and backlash over the years as well, with privacy concerns and other security and cybersecurity matters.
"Since 2012, we've experienced the highs of amazing triumphs and the lows of what felt like crushing defeats. We took a pivotal step forward when we joined Amazon in 2018. In the last five years, I've grown from being a frenetic entrepreneur to making an impact for customers at scale, and my biggest joy is seeing our impact across neighborhoods. I would like to think I might have even become a proper manager, but you'd have to ask my team," Siminoff writes.
"Invention is my true passion. I am constantly looking at how we can adapt to deliver for our neighbors, which is what we've always called our customers. This is why I decided to shift my role to Chief Inventor and bring on a new CEO."
He adds that the Ring team has been preparing for the transition since last June.
"Liz will lead Ring, Blink, Amazon Key, and Amazon Sidewalk, starting on March 22. I will focus on inventing even more great products with Liz — and maybe have a little more free time too," he says.
If you enjoyed this article and want to receive more valuable industry content like this, click here to sign up for our digital newsletters!