Spectacular Lighting and Stealth TVs Transform Master Suite Into Award-Winning Install
This CE Pro Home of the Year Award winning install for Best Master Suite blends Eastern and Western design influences to create a beautiful and smart place to spend time.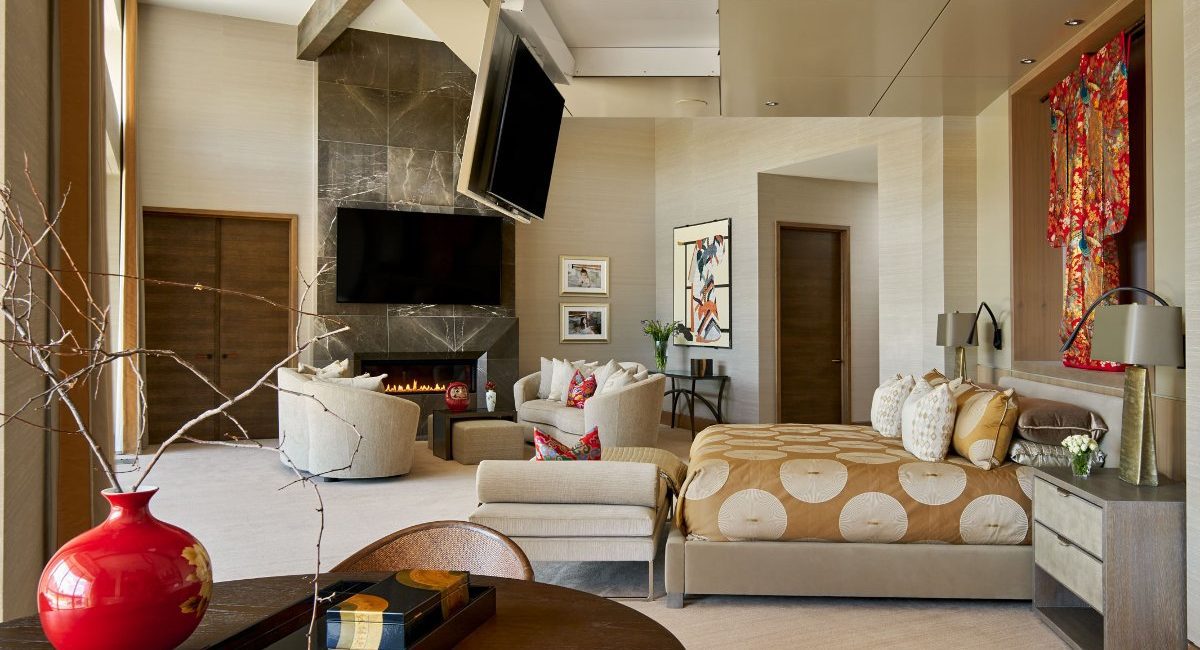 Photos & Slideshow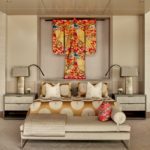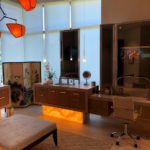 ---
While CE Pro often highlights flashy whole-home installations or super creative outdoor spaces, we also like to showcase installs that exceed our expectations. This "East Meets West" master suite project from Colorado-based integration company Harrison Home Systems may sound simple on paper, but it blends clever lighting design with smart home technology to create a truly special fusion of style and substance helping earn it the honor of 2020's Best Master Suite in the CE Pro Home of the Year Awards.
So what makes this suite so sweet? For starters, the entire space boasts six displays, five audio zones, 22 motorized Lutron roller shades, plus climate and lighting controlled by scenes on Savant remotes, the Savant app and custom-engraved Lutron Palladiom keypads.
Above the master bed, a hinge-style motorized TV dropdown from Future Automation conceals a 4K 65-inch display. Surrounding the bedroom, dual-roller shades with sheer and blackout fabrics lower when the TV lift is open to optimize viewing conditions.
"When the lift is closed, it blends in seamlessly with the ceiling cloud. When it is open, the master suite shades automatically close for optimal viewing conditions," explains Harrison Home Systems' Kassa Harrison.
"A concealed 32-inch Sony display behind custom-made glass in the floating vanity in the master bathroom required a completely custom design and installation," she adds, noting that both displays highlight the integrator's close collaboration with Montare Builders, KGA Studio Architects and interior designer Mandil on those hidden TV installations in particular.
Motorized Shading Helps Keep Homeowners Calm
Motorized Lutron Sivoia sheers create a calming atmosphere covering the windows in the bathroom. The shades provide both privacy and natural light, blending perfectly with the room's striking lighting fixtures.
Multiple wall-mounted video displays in the suite provide entertainment from every angle and can be viewed from the morning bar, the fireplace sitting room, the closet and the bathtub, Harrison describes. The displays have access to nine video sources and Savant Tiling configurations.

Discreet in-ceiling speakers deliver sound throughout. All the suite's shades disappear when not in use to maintain the integrity of the interior design.
"We provided guidance to the architect and builder on custom-made 'step-down' pockets to accommodate the angled windows," Harrison says. "Our design and installation teams coordinated with the architect, builder and interior designer to deliver specialized shade pockets allowing the shades to disappear into the ceiling when open."
She comments that the company's unique internal design process of presenting clients and designers with "annotated window photos" for approval prior to ordering shades eliminates surprises after installation that ordinarily might be caused by light gaps or overlays.
The aging homeowners prefer to maintain manual control over lighting and shading scenes, so that factored into how Harrison Home Systems, an HTA Certified company, developed the user interface navigation instead of relying on things like astronomical clock automation, for instance.
"We pride ourselves on partnering with our clients and listening to their individual needs. Our skilled Savant and Lutron programmers worked directly with the homeowners to tailor the scenes to their specific needs."