A popular way for homebound consumers to make the most of the pandemic situation has been to take their viewing experience to the next level with a dedicated home theater – thanks to streaming media, Ultra Blu-ray, high-res downloads from Kaleidescape and more, home theater has boomed in the past 12 months.
Such was the case at a chalet in the French Alps, where Montpellier-based integrator MultiZone delivered a home cinema masterpiece, with intuitive content navigation and other operations done via a Pro Control automation system. The resulting theater comfortably sits eight people, while also comfortably fitting the customer's budget.
Concealment & Controls Top Customer's Concerns
MultiZone encountered a few challenges during the installation. One was hiding away components for a clean look, which required the creation of a custom storage cabinet next to the projector screen. Another was in providing the second row of seating with an ideal viewing angle.
This meant constructing a slim platform that would raise the seats just enough to provide a clear view without viewers bumping their heads on the room's low ceiling.
Finally, it was imperative that the home theater experience be simple to control. This was especially important because the chalet would be rented out on occasion, and guests would need to operate the theater equipment with little or no instruction.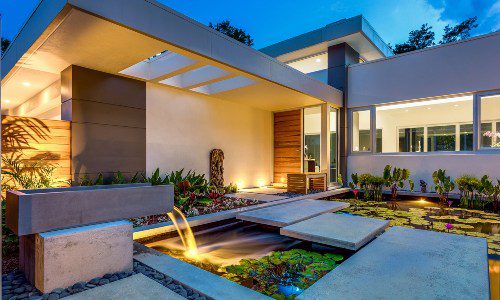 Landscape and architectural lighting create a magical and elegant ambiance for homeowners. The outdoor lighting industry has always been a phenomenal one and continues to grow in popularity. Now is the ideal time to learn more about this rapidly growing and highly profitable industry. Join our panel of esteemed lighting experts that will dive into why it's time for integrators to rethink their role in the outdoor lighting industry.
Register Now! 
Of course, the customer also wanted this level of control needed at a reasonable cost. RTI's Pro Control ticked all the boxes as the solution to close the deal for this project.
"While home theaters are packed with sophisticated technologies, we've learned that with Pro Control you don't have to spend big to bring them under control," says Jean-Christophe Davin, owner of MultiZone.
"The Pro Control platform provides the power and reliability to deliver an exceptional experience, and at a cost that won't break the bank. It's fast and simple to program and customize via the Pro Control Studio software, and clients can even manage control from their iPhone or iPad, as was the request in this project."
Pro Control Provides High-Tech Home Theater Commands Made Easy
Control over the chalet's home theater is powered by the Pro Control ProLink.r processor, which is controls the room's lighting, a Sony VPL-HW65ES projector, Yamaha RX-A2080 receiver, Yamaha BD-A1080 Blu-ray player, and Apple TV.
The screen is a Lumene HD Fixed Palace 16:9 model, and the Yamaha equipment feeds a 7.1 Elipson speaker pack consisting of: Infinite 8 front speakers, Prestige Facet 7SR rear speakers and Prestige Facet Sub10 subwoofer.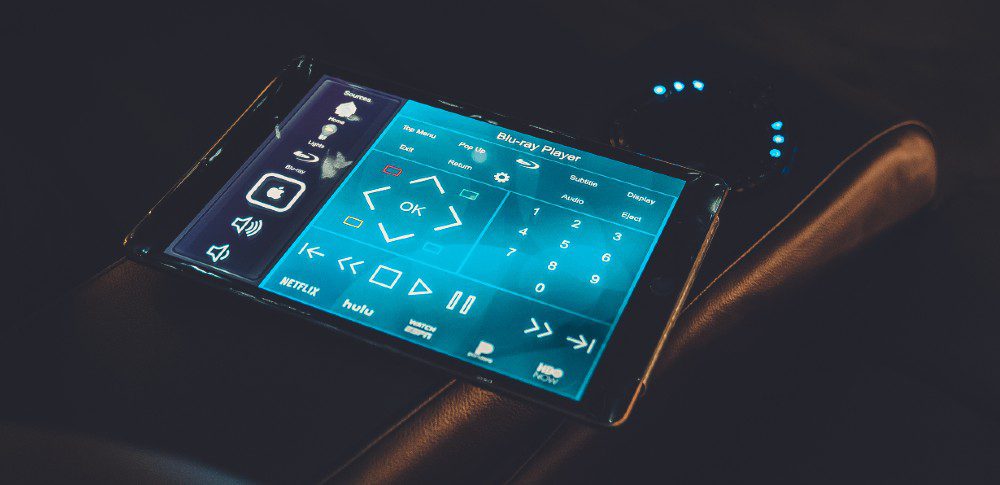 The homeowner and other users interact with the system using an iPad running the Pro Control ProPanel app. With the iPad, they can control the home theater, including powering on and off all theater components with a simple tap, making operation as simple as turning on a TV.
"Due to COVID, we weren't able to provide our client — who is not particularly tech savvy — with the usual in-person training on how to control the home theater," adds Davin, "but with Pro Control, it's so simple that we just emailed them a list of functions managed by the iPad, and they took it from there with no problem. In times like these, that's an invaluable option to have."
If you enjoyed this article and want to receive more valuable industry content like this, click here to sign up for our digital newsletters!