In developing LG Electronics' North American headquarters, the company sought to present a futuristic vision of work campuses.
Complete with reclaimed and expanded green spaces, renewable energy, unique office floorplans, and plenty of show space for the company's more cutting-edge products, the 350,000-square-foot facility sits right along the Hudson River in Englewood Cliffs, New Jersey.
"Following the model of our headquarters buildings in South Korea, the North American headquarters demonstrates LG's commitment to employee health and wellness, corporate social responsibility and industry leadership in community engagement," Steven Yu, Director of Building Operations for the LG North American headquarters explained.
"Through world-class architectural design led by HOK and eye-popping technological installations completed by AVI-SPL and LG staff, this unique office celebrates LG's achievements and advances from large-format commercial displays and desktop monitors to energy-efficient appliances and climate control systems."
LG Headquarters Is as Much a Product Showcase as an Office
Stepping onsite, it is immediately apparent to visitors that the headquarters is as much a showroom as it is an office space.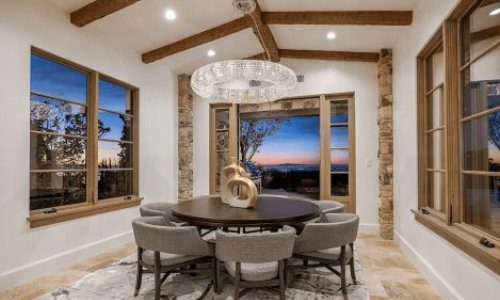 As a custom integrator, lighting is in demand. Effective communication, education and showcasing the value proposition of LED light fixtures in conjunction with integrative control systems are the keys to overcoming challenges and closing sales in this specialized market. Join us as we discuss the future of digital lighting and control with David Warfel from Light Can Help You and Patrick Laidlaw and Mark Moody from AiSPIRE.
Register Now! 
The campus consists of two main buildings, or wings, connected by an 18,000-square-foot glass "cube" atrium. Several hundred commercial displays produced and sold by LG Business Solutions are installed throughout the interior spaces.
AVI-SPL, a globally-respected integration firm and longtime LG partner, was responsible for integrating many of the displays throughout the employee-facing areas of the headquarters. 
"When LG contacted us for electronic systems design and installation assistance at its North American headquarters, we recognized it as an opportunity to help create a new kind of corporate space that marries modern aesthetics and needs with LG's leading technologies," said Robert Martzloff, Regional General Manager, AVI-SPL.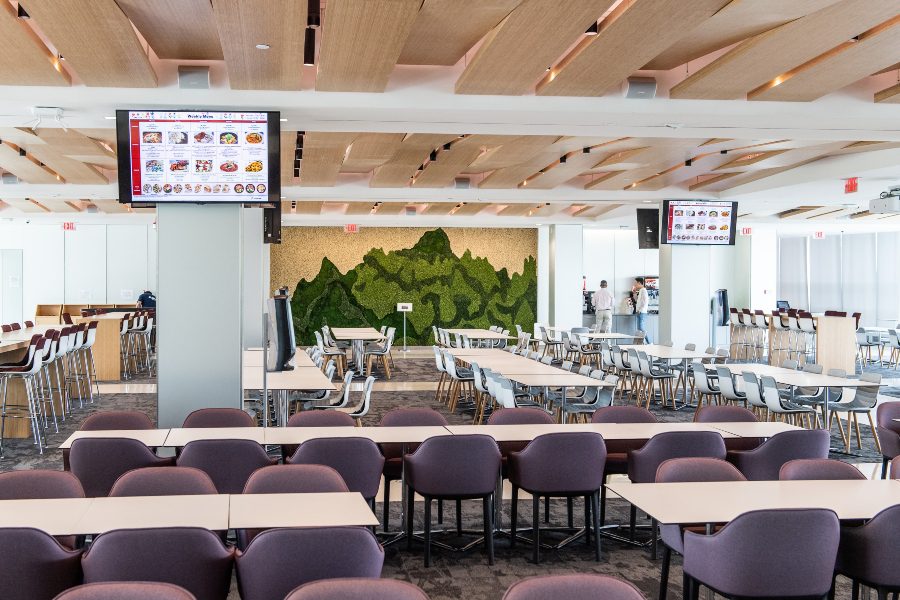 From ultrawide LG desktop monitors in offices and at workstations to the nearly four dozen 49-inch LG digital displays providing menu boards and an L-shaped video wall in The Servery cafeteria, each room highlights the benefits and uses of LG commercial displays.
Each wing contains multiple meeting and conference rooms of varying sizes that offer BYOD (bring your own device) connectivity to digital displays and remote collaboration equipment.
The largest spaces are outfitted with 98-inch 4K models, while medium-sized rooms and huddle rooms offer 86- and 55-inch models, respectively. Each floor also includes an open-plan "work café" space that houses 75-inch digital signage displays used for messaging.
Large-screen displays are also integrated into the newly opened LG Academy HVAC training center and Skyline Showroom demonstration kitchen.
There are also the literal showrooms featuring the company's latest innovations, as well as features an education-focused "LG Innovation Lab" available to local schools that features many of the same products available for hands-on demonstrations.
LG's Science Hall Concept Comes to America
Located on the third floor of the atrium, the LG Innovation Lab spans 5,000 square feet and is based off the Science Hall in LG's South Korean headquarters. The goal of this area, while using LG displays as analogs, is to present sustainability-related experiences and STEAM (science, technology, engineering, art and math) education.
"LG's first science hall-style installation in North America offers local children an edu-tainment experience that rivals major museums," said Yu.
"From top to bottom, we've worked to maximize the value of this space to the local community and economy, whether it's interactive videos about climate science, sustainable technologies and beyond."
The interactive exhibition space features transparent OLED displays, ultrawide Stretch displays, touch-sensitive displays and more, with each delivering unique benefits for a museum-like field trip opportunity that engages students with captivating science education and provides hands-on experience with new technologies.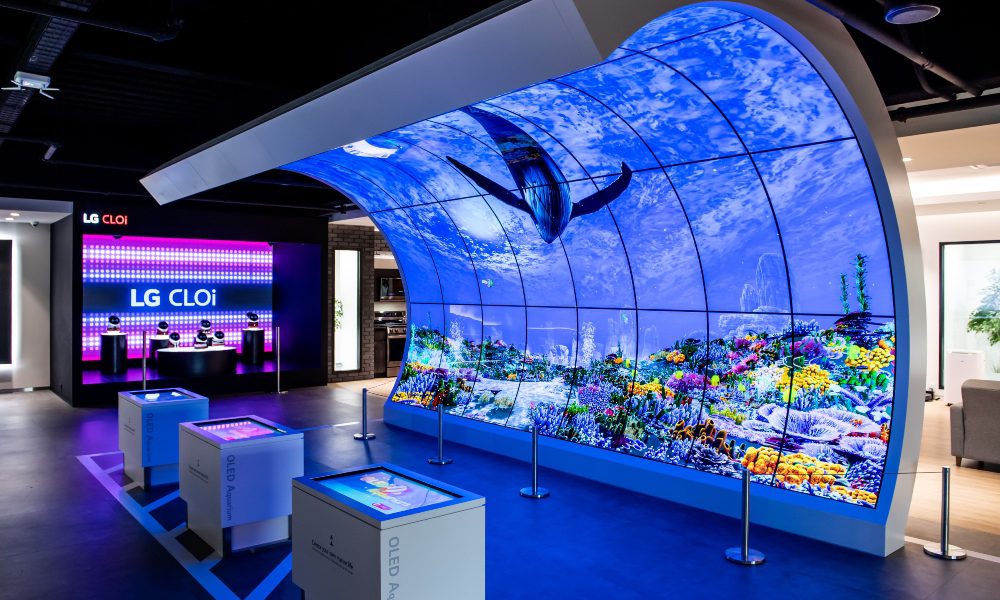 From multiplayer educational games on large format floor-mounted displays to a transparent OLED display showing an augmented reality video about LG's sustainability goals and products, each installation is sure to keep kids engaged and interested in important timely topics.
Thirty-two curved, open-frame LG OLED displays serve as the showpiece of the space, creating a wave-shaped video screen that towers over visitors.
Going Green for People and the Planet
In addition to developing useful workspaces and showroom environments inside, a core goal of the new headquarters project was to transform the once barren asphalt hardscape into a lush, environmentally restorative plot of land through reclamation practices.
This reclaimed natural environment has been further supplemented with plenty of sustainable technologies, including a rooftop solar array that can provide up to 30% of the electricity used throughout the site.
The site's digital displays are also Energy Star certified and can either be remotely controlled through multiple protocols, including LG's on-board webOS software platform. This allows the entire digital display network to be turned on or off all at once, and even be scheduled for automatic operation, enabling precise control of electricity usage.
If you enjoyed this article and want to receive more valuable industry content like this, click here to sign up for our digital newsletters!