The custom on this tremendous secondary home project was a New England couple looking to build a vacation home in Juno Beach, Fla. They wanted to integrate as much technology as possible, to enjoy as much comfort and entertainment while in the home but also to have full remote management capabilities of the home while they are away, says Dan Hanga of Florida-based Geeks of Technology (GT has offices in Hollywood and Miami).
Full security and disaster protection of the home were also essential, he adds. The integrator designed and planned a system around the Crestron Home platform, and ultimately the successful job took a little over a year to complete, Hanga says.
"Project planning was paramount, as we were dealing with tight deadlines, on top of challenges presented by working through the beginning of the COVID pandemic and maintaining social distancing between different trades and construction crews," he adds.
Crestron, Trufig, Sonance Help Meld Design & Technology
Having planned to build with traditional architecture influences of a coastal New England home, making the technology disappear in plain sight was at the top of the priorities.
"Take the great room — there's an overwhelming amount of technology in that room, but you'll barely notice any of it," Hanga describes of how they implemented design-friendly products.
"All the Crestron shades are recessed into the ceilings, the 10-inch Crestron TSW panel is recessed flush into the wall using Trufig panels, the Crestron Horizon keypads are mounted inside the bookshelves, nearly invisible from any angle in the room."
Plus, a full 7.1-channel surround system was built into the ceilings, using Architectural Series speakers and an above-the-ceiling Bandpass Subwoofer from Sonance — which also supplied the low-profile soundbar below the 85-inch TV, perfectly matching the width and appearing to be part of it.
Outdoor Areas Fully Integrated for Entertainment & Comfort
Outdoor entertainment was equally important, as the couple plans to take full advantage of the tropical paradise during their stays in the Sunshine State. The outdoor dining area is outfitted with AV, lighting and ventilation controls as well as motorized bug screens, while the pool systems are fully integrated into the smart home, Hanga says.
The entire backyard including the pool and custom putting green is flooded with nightclub-quality audio using a Sonance Garden series system and ground-shacking underground subwoofers.
In this updated Wage & Salary Report, you'll find out results for salaried occupational categories broken down by 14 regions of the U.S. & Canada. Uncover valuable information about where your company stacks up when it comes to paying your important people by
downloading your free copy today!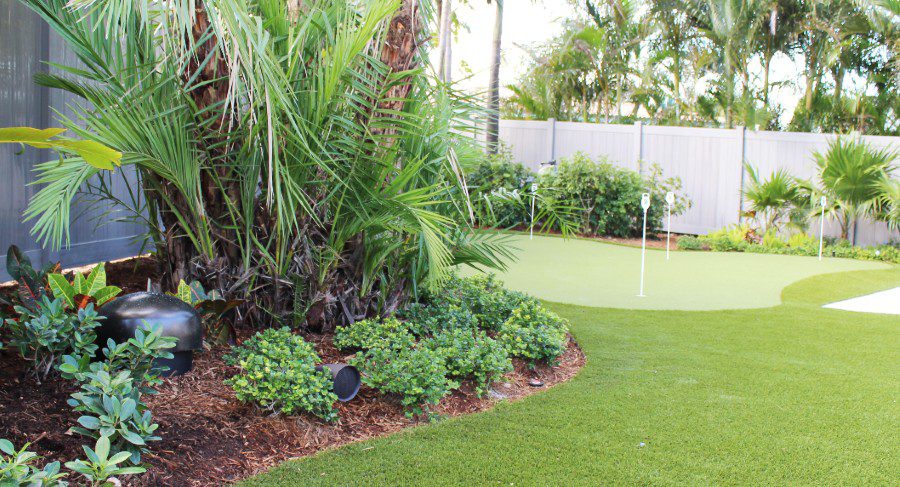 To stream high-quality AV everywhere including the outdoor patio, pool and outdoor putting green, Geeks of Technology used Crestron DigitalMedia for video distribution and Crestron Sonnex for audio distribution. "The solution not only answered their request, but gave them the peace of mind that technology will not become obsolete in a few years, future-proofing the investment in their home," Hanga says.
Lighting Controls, Water Shutoff Systems Add Peace of Mind
Hanga explains that the Crestron centralized lighting system allowed the team to maintain a very clean architectural look by using Crestron Horizon keypads in just a few locations, while ensuring full control of the entire home is within reach at any moment.
Occupancy sensors along with the system's internal astrological clock assist in automating many lighting and shades events each day. A "vacation mode" automatically switches lights during the evening and night, simulating home occupancy and increasing home's security.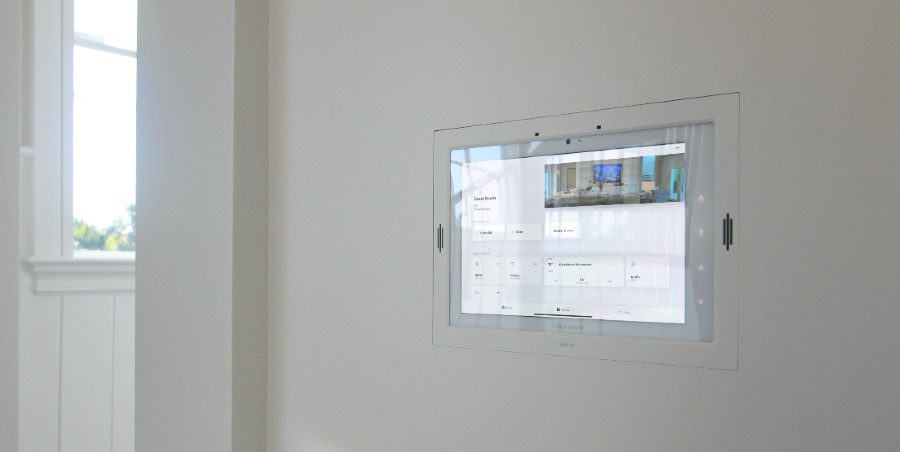 To aid the disaster protection request, Geeks of Technology integrated a FloLogic shutoff valve on the main water line, along with flood sensors in certain areas, monitoring for the smallest water leak or storm water flooding the lower areas. "The shutoff valve switches the water line off in any of these events," Hanga says, "and the system sends notifications directly to the owner's cellphone."