The Beatles sang, "I get by with a little help from my friends" … Richard Fairbrother got much more than a "little help" to turn his decade-long vision into reality and build what might be the best demo theater ever built. Fairbrother, principal at his own manufacturer's rep firm, Bitstream Media, in Rochester, N.Y., united a team of two integrators, multiple suppliers and an interior designer to construct a high-performance 31-speaker, $575,755 immersive audio home theater available for any integrator to use for their demos.
All the participants share a belief that in order to sell more high-performance immersive audio cinema and control systems, integrators need a high-quality demo showroom that they can use to blow their clients away and close more sales. What better place than a 10-seat theater with a 13-foot screen capable of producing Dolby Atmos, DTS:X and Auro-3D surround sound?
And the theater is already paying off. Integrators report using it to boost sales, and various local businesses are employing it to introduce immersive surround sound and smart home automation to their high-end clients. The multifaceted partnership is perhaps a roadmap for integrators, reps, manufacturers and other trades to follow to create their own multiuse local showroom.
Building the Dream
The theater was a dream of Fairbrother's for 10 years, and admits he had a lot of people tell him he was crazy.
"But you stick to the plan," says Fairbrother. "But without the support of all these partners, there would be nothing here. It is humbling to know that people trust you enough with their time and money to be able to pull something like this off."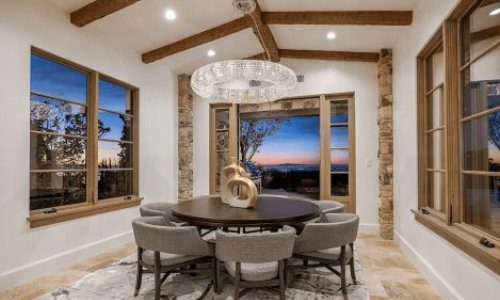 As a custom integrator, lighting is in demand. Effective communication, education and showcasing the value proposition of LED light fixtures in conjunction with integrative control systems are the keys to overcoming challenges and closing sales in this specialized market. Join us as we discuss the future of digital lighting and control with David Warfel from Light Can Help You and Patrick Laidlaw and Mark Moody from AiSPIRE.
Register Now! 
The full showroom is 1,100 square feet and consists of the 31(L) x 17(W) x 11(H)-foot theater (dubbed "The Rochester"), as well as a foyer loaded with smart home controls and a two-channel listening area, and an adjacent small equipment rack room.
The showroom is inside the Rochester Design Center, a block-long building that is home to numerous financial advisors, law firms, several high-end kitchen and bath showrooms, and one of the largest plumbing supply distributors in New York. The facility is constantly buzzing with activity from professional trades including builders, architects and interior designers.
"I figured if architects and interior designers are already coming here, why not put a showroom in the design center? It just makes sense," Fairbrother says.
"Having been a rep, I saw a big disparity between integrators who had the ability to showcase immersive audio experiences versus those who could not. I thought it would benefit everyone if there was a place that was dealer-neutral. We want this to be something that would redefine people's expectations of high-end cinema," he adds.
The Rochester Home Cinema enables dealers to showcase the powerful experience that can be created through immersive audio, acoustic engineering and aesthetics, Fairbrother says. It's an asset for dealers to raise both their expectation and their customers' expectation of high-end home theater.
"Thousands if not tens of thousands of dollars are left on the table without the ability to show what is achievable using immersive audio. Our goal is to change that. The dollars aren't based on greed, they're based on delivering an emotional experience that transcends the norm," Fairbrother says.
"It also allows the dealer to deliver a solution that fits within the customer's expectation of fit, finish and lifestyle they've already attached emotional buying decisions to. Whether it's the car they drive, or the finishes within their home, the home cinema or media room must be of the same caliber — or any dollar is wasted."
So with the goal in mind, Fairbrother enlisted some key partners, including:
Jonathan Duran, director of residential sales and marketing at MSE Audio, was quick to support the project.
"When integrators have a chance to showcase the product and demo it for potential clients, sales always increase," says Duran. "Having a room like this makes it easier to sell large-scale jobs, no matter how good of a salesperson you are. If clients don't have to imagine it, but instead can see it, hear it and touch it, that is a huge help."
Carey Schafer, owner of CDGI (Cinema Design Group International), was the first supplier to jump on board to build The Rochester. "All of the things we ever wanted to do in a theater we were able to do in this project. Plus, we were able to put the theater in an area where we can draw integrators from a number of states as well as Canada."
Integrator Jeff Bradford of Sound Integration in Canandaigua, N.Y., had wanted a high-end showroom for his custom installation company for a long time, but simply did not have the time. Likewise, Shawn Lemay of Sound & Theater in Williamsville, N.Y., was looking for a space where he could showcase aspirational solutions for customers.
Mitigating the Sound
When Fairbrother first proposed the idea of leasing a showroom space to build a massive home theater in the Design Center, the facility management balked over concerns about sound mitigation.
"They thought people would be screaming at us, 'Why are you playing the music so loud?'" he recalls. But those fears were mitigated by revealing the plans that called for double-studded walls, dual layers of drywall, a layer of vinyl between the two layers of drywall, an air gap between the stud walls, and 51 rubber gaskets in the ceiling that are suspended.
"We took a lot of steps to make sure that whatever happens in the theater, it will not bother anyone else," says Fairbrother.
Finally, he was able to sign a lease in May 2018 and start construction. In addition to the sound isolation, working with aluminum framing was a challenge. The commercial facility disallowed the use of wood framing for the interior walls. In order to accommodate the speakers, Sound Integration had to screw wood blocking in certain areas to the aluminum studs.
Schafer says the ceiling panels were tough too. Instead of using stretch fabric on the ceilings, CDGI designed 17-foot long acoustical panels.
Getting the immersive audio just right integral, which is why the technology and expertise of Trinnov Audio was enlisted. Each of the 31 speakers in the high-spatial environment needed to be optimized to be assigned audio signals.
"While our room optimizer is the best technology of its type, it is really important that you have good passive acoustics to get the best results," says Jon Herron, international sales manager at Trinnov. "That is one of the things done so well here. If you start with a good room, you can get an amazing experience. If you start with a lousy room, I can get you to a pretty good experience, but I can't get you to amazing."
The 10-seat theater features a 15.1.8 layout, with seven balancing subwoofers for low-frequency effects (LFE) and low-end support for fronts, sides and surrounds. The LFE channel is untouched as a discrete channel, and all channels are supported by the additional balancing subs on the sidewalls for "steerable" bass. Behind the two rows of seats is a bar with additional stool seating. Using Trinnov, the theater can do 32 channels of Dolby Atmos and DTS:X, and all 14 channels for Auro.
For the demo theater design, Fairbrother turned to Sheba Kwan from Red Theory in Toronto.
"Her design language is modern, translating to what people want, and where home cinema is headed. Bespoke rooms that are modern and fit within the lifestyle of a home, whether or not the aesthetics directly ties into any existing architecture or language. Our collaboration is deeper than that though, as we provide acoustic engineering for her, product and installation," says Fairbrother.
In all, 2,500 feet of 12/2 speaker wire was pulled and the project took six months to complete, opening in October 2018.
Paying Dividends Immediately
"What makes this theater special is the combination of entities that came together," says Schafer. "We really feel like we did it exceedingly well, and it has been very well received."
Chris Seymour, managing director of Seymour-Screen Excellence, was equally thrilled to be involved in the demo theater project.
"The Rochester represents an opportunity to combine the best home theater components and practices and put them all into one space," he says. "Rather than being a showroom for a single dealer, this location is a venue for all dealers and end-users to experience what can be achieved today. All of the companies involved have long been leaders in the raising-the-bar for home theater and in turn, using the best solutions, routinely helping create theaters that exceed expectations. So, this was a natural fit for us."
Sound Integration has been in business for 14 years but never had a showroom. Lately, the three-person company has been getting more large projects than ever, and Bradford wanted to show prospective customers what is possible. He and his team constructed the theater in their "spare time," which was not easy because the company is busier than ever these days.
---
Equipment List:
SOURCES: Apple 4K TV, Kaleidescape Strato S, Sony UBP-X1000ES
PROJECTOR: Sony VPL-VW5000ES
SCREEN: Seymour-Screen Excellence True Aspect Masking (TAM) 2TB-156 Enlightor NEO 16:9 13-foot wide screen with top and bottom masking, acoustically transparent
DECODING: Trinnov Audio Altitude 32-1632 (16 discrete channels in, 32 discrete rendering channels out)
AMPLIFICATION/MAIN CHANNELS (3): Trinnov Amplitude8
AMPLIFICATION/SUBWOOFER CHANNELS (8): Phase Technology P350
CONTROL: Crestron, with integration by Jeff Bradford, Sound Integration
SPEAKERS/LCR (3): Induction Dynamics ID1.15
SPEAKERS/SIDES AND REAR SURROUND (12): Induction Dynamics S1.8.iw
SPEAKERS/TOP CHANNELS: Induction Dynamics S1.iw
SPEAKERS/LFE SUBWOOFER: Induction Dynamics SW2
SPEAKERS/BALANCING SUBWOOFERS: Induction Dynamics SW4.iw
SEATING (10): CDGI "Lux" chairs
ROOM LAYOUT, ISOLATION ENGINEERING, ACOUSTIC ENGINEERING: Carey Schafer, Cinema Design Group International
AESTHETICS AND ACOUSTIC PRODUCTS: Manufactured by CDGI, with supporting products by Auralex
AESTHETIC DESIGN: Sheba Kwan, Red Theory
REAR BAR/COUNTER: CDGIFor
---
"So far we have gotten three jobs out of this showroom," he says after just three months. "I meet clients here by appointment only a couple times per month on average. I'll run them through a one-hour demo. It's gone very well. I've shown one client the equipment rack room also, but the rest didn't care to see it."
The demo theater is also available for group events, which several businesses in the Design Center have taken advantage of. One financial consulting company down the hall has four scheduled "high-end client nights" during which it will show movies in the theater. The Design Center management team is also using the theater to attract other businesses to the building, scheduling appointments for demos for prospective tenants.
Bitstream has an opening house luncheon planned for the entire building. Also, the nearby Rochester Institute of Technology (RIT) is planning to utilize the theater for its Film and Animation school to instruct students on how to mix audio for 5.1, 7.1 and perhaps Dolby Atmos surround sound. Besides the grand opening last fall, Control4 has hosted a dealer training event, and Bitstream invited a group of architects and interior designers for a tour and demo.
"The fun thing about that event is the interior designers basically told us they would simply let us design their clients' home theater rooms from top to bottom, so they don't have to," says Fairbrother, who works out of the location. "Every day there is a walk-in client," he adds.
If you enjoyed this article and want to receive more valuable industry content like this, click here to sign up for our digital newsletters!