When it comes to vacationing, some homeowners prefer to stay close to home and opt for a staycation, which has become extremely popular during the pandemic, but others want to live the high life while communing with nature. In the case of this install, the client wanted to create a vacation home for the perfect remote, up-north retreat with all the amenities to entertain during any season or weather.
In order to make this dream a reality, the homeowners contacted local integrator Spire Integrated Systems to tackle the challenge. Spire built the theater to offer the ultimate space to relax in, but integrating it into the main living area after the plans and mechanical strategies were in place was a tough task, notes Spire's Michelle Richardson.
"We needed to make sure that all electrical plumbing and HVAC were redirected to new paths to be able to maintain a quiet space," she says of the project, which included collaboration with interior designer Jones-Keena & Co.
---
Equipment Highlights
Sony projector
Screen Innovations screen
Meridian, JL Audio speakers & subwoofers
Savant controls
Lutron lighting
AudioQuest cabling
Sony Blu-ray
Cineak seating
---
Everything was engineered by Spire, from the acoustical treatments behind the ceiling lattice and in the retracting door sweep, to the Meridian directed speaker placements and tuning, to the ease of control including Sony VPL-VW695ES projector adjustments for aspect ratio on the 145-inch Screen Innovations screen.
The structure includes a 2×6 framed wall with a layer of quarter-inch-thick mass load vinyl inside and out, plus five layers of drywall and layer of plyboard. Meridian in-wall DSP 640.2 and 320 speakers are isolated with additional framing.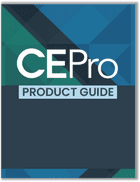 CE Pro's 2022 Product Guide showcases some of the latest and innovative solutions from manufacturers serving the custom electronics industry in a cross-section of categories.
Download the guide now!
Savant integration brings everything together and adds Lutron lighting control scenes for ambiance. Cineak leather chairs and chaise lounges with reclining back and electronic foot and head rests complete the luxury home theater experience.
While the whole home is stunning, the home theater install is so noteworthy that it won a 2020 CE Pro Home of the Year Award for Best Home Theater Install Over $100K.
To see high-res images of this award-winning project, click here!