Roughly nine months ago the way that millions of people worked changed dramatically. Back in March of 2020 COVID-19 first began to spread rapidly in the U.S. Reacting to the pandemic, governments across the globe shut down schools, businesses and non-essential government buildings forcing millions of people to suddenly work from home.
Today the term work from home (WFH) is fully engrained into our culture and businesses are now implementing solutions to help their employees maximize their productivity from their homes.
Now with this shift happening so quickly many companies and employees are taking commercial products from the unified communications (UC) category and installing them into home environments.
Technology giants and market leaders such as FaceBook, Zoom, Crestron and HP are leading the way and providing integration professionals with the means to outfit home offices and home "flex spaces" with UC systems that facilitate remote AV communications.
UC Systems Support the Future of WFH
Earlier this fall HP released its "HP Workforce Evolution" study, which found among other things that 59% of those surveyed felt WFH would be a part of how the workforce operates from this point onward.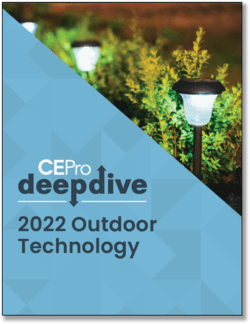 The 2023 CE Pro Outdoor Technology Deep Dive reveals unique set of impediments, including explaining pricing and interacting with outdoor-centric trades.
Get your copy now to take a "deep dive" into the trends and challenges of outdoor technology.
Download the report now!
A couple of other important points to come from HP's study: Two thirds learned how important technology is order for them to properly do their jobs, and another 66% percent said they had either purchased or upgraded their home offices.
CE Pro's sister publication MyTechDecisions reports the future of WFH will bristle with technology. Over the past several months the site has chronicled ASUS' launch of the Google Meet Compute System, as well as Facebook's move to bring the Zoom, BlueJeans, GoToMeeting, Webex video conferencing platforms to its Portal hardware device, and Zoom's launch of Zoom for Home.
More recently MyTechDecisions reported that during its Zoomtopia event, Zoom announced a number of new Zoom Room features. These features are designed to support the now more than 300 million daily meeting participants it hosts, including more than 125,000 schools that use the platform.
Taking a look at some of the products and solutions that translate well in residential environments, here are 13 products from some of the top manufacturers in the UC category: