CE Pro Podcast #70: Behind the Music of the CE Pro All-Star Band
CEDIA industry musicians discuss their backgrounds and how musicians such as Eddie Van Halen, Chick Corea and Paul McCartney influenced their taste and style.
Listen to this podcast using the embedded player below.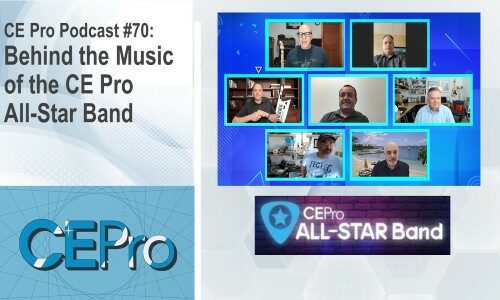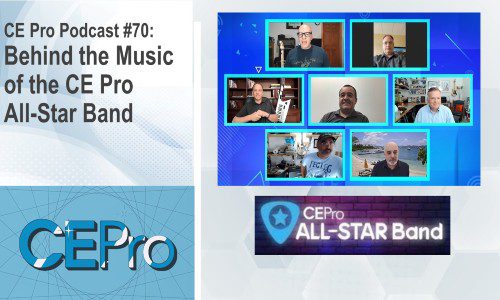 With the custom electronics industry rapidly maturing and now highlighted by technologies such as lighting, home control and networking, it is easy to forget that music is the foundation that built the market.
Serving as a bridge to the electronics industry's beginnings when music and audio served as the primary source of home entertainment, the CE Pro All-Star Band represents the origins of the custom installation industry.
I've assembled groups in various forms over the years, with many core players performing on multiple occasions that range from when we did a gig at the EHX (Electronic House Expo) events over a decade ago to more recently at CEDIA Expo including last year's virtual performance.
Looking back at their musical beginnings and what inspired them to pick up their specific instruments after hearing their favorite artists on the radio or perhaps a variety show such as Ed Sullivan's, several members of the CE Pro All-Star Band took time to discuss the impact of music on their lives in this week's CE Pro Podcast.
Band Members Talk Favorite Musical Influences & Instruments
Fondly recalling those early days of their musical beginnings, Dave Silkin, Mitch Klein, Vince Luciani, Jason McGraw, Richard Charschan, Rick Santiago, and Shane Rich, took time to talk about how they respectively picked up the bass, guitar, saxophone and trumpet.
These full-time professionals who represent a cross-range of companies within the custom install market, also took time to talk about the inspiration they drew from the electrifying talents of music royalty such as Edward Van Halen, Chick Corea, Paul McCartney, Victor Wooten, Jon Lord and John Entwistle.
Finishing up their discussion, the band members also explained what instruments they will use during their performance at the event, and why they are bringing these respective instruments to the show.
Additionally, CE Pro All Star Band members talked about instruments they aspire to own. These instruments range from Gibson Les Pauls to electronic valve instruments (EVI).
It should be pointed out that listeners of the CE Pro Podcast may even hear about a few surprises the band has in store for show attendees as part of their setlist.
At press time, the CE Pro All Star Band is scheduled to perform on September 1 from 5 p.m. to 6 p.m. during CEDIA Expo 2021 in Indianapolis. Find past episodes of the CE Pro Podcast by subscribing to the CE Pro YouTube channel or our Apple and Spotify podcast feeds.