CE Pro Podcast #51: Capitalizing on the Red-Hot Home Video Market
Joel Silver of Imaging Science Foundation, Jason Dustal of Murideo and Robert Zohn of Value Electronics talk 4K, 8K, HDR, streaming & more.
Listen to this podcast using the embedded player below.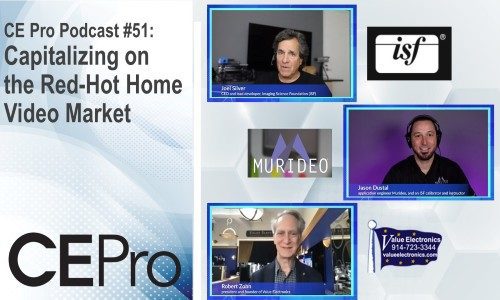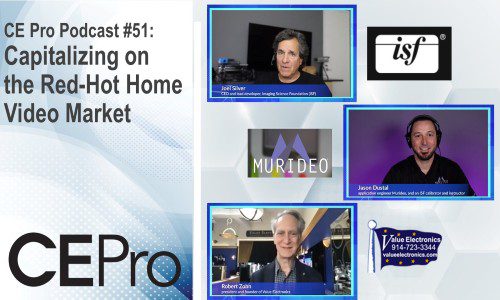 Episode #51 of the CE Pro Podcast could be called "speaking the language of light," to paraphrase this week's guest Joel Silver, CEO and lead developer for the Imaging Science Foundation (ISF) and industry video icon.
Silver, was joined Jason Dustal, application engineer for Murideo, and certified ISF calibrator and instructor; and Robert Zohn, president and founder of N.Y.-based integrator/specialty electronics dealer Value Electronics, to talk about the hot home video market.
Like many other residential electronics products, Silver, Dustal and Zohn, all emphasize that COVID-19 quarantining has driven increased spending on new and more advanced video solutions.
"People that would normally buy entry-level to mid-level, are buying a higher end product because they are enhancing the entertainment in their homes, so we are seeing a much larger demand for premium products this year," comments Zohn, whose company annually produces the popular "King of TVs" display contest.
Dustal adds that he's been receiving more requests from homeowners and dealers to calibrate displays – good news for integrators who can profit of enhanced video services.
Silver stresses the advancements in the home video market are happening at a rapid pace. "Well, I think we can be conservative by saying we've got under our belt five years where there [was] progress in one year," he states in terms the evolution adapting to the latest generation of video, "which was really laid out conceptually in 2012 with the state of Ultra High Definition."
Video Content & High-Performance Equipment Come Full Circle
Supporting the advancements made in hardware, software and industry standards, the content creation community has also stepped up to produce higher-quality programming.
Silver points out that in the midst of a global pandemic, streaming services such as Netflix, Amazon Instant Video, Disney+ and YouTube have upped the ante in terms of delivering HDR-enabled video, and audio mixes with immersive audio formats such as Dolby Atmos. The home theater category is benefitting in a big way.
"Some of the [sound]tracks in the movies right now were not ever engineered for movie theaters. They were designed by audio engineers for home viewing," he explains.
"There is some incredible audio coming over the streams and for me to say publicly I'm watching streaming is an accomplishment. It is strange — I am anti-stream generally — I'm 4K Blu-ray, which are real 100Mbps, but some of the streaming quality is looking pretty good even for me to say out of a projector; it's working fine when I go to standard dynamic range stream. It doesn't really cut it for me on a projector, that's when I go to a flat panel, but that's five years' worth of progress in one year gives us content, which drives everything."
Mentioning some of TVs now available, the three video experts underscore the notion that today's models are approaching Hollywood studio-quality levels of performance.
Dustal says consumers can buy TVs for $500 or $600 that can be calibrated to deliver good results. It wasn't all that long ago, he says, that to get these results from affordable televisions was more a dream than reality.
They add that projector performance has also dramatically increased, but note that integrators ought to include some level of room design to optimize the system's picture quality.
"We ask the designer and decorator, and all of the people that are involved in making these beautiful houses beautiful, to let us have our one space where we can come into and watch movies and wrap it in black duvetyne and make it a reference theater. Because room design, as everybody before me has said, it is the single most important thing to do," explains Zohn.
"After that we can select the right screen, the right fabric, you know the right audio system, the right projector, the right screen size, but we have to design the room to be absent of light and not to reflect any light either. If you do, that's the single most important thing you can do."
Asked to look into their crystal balls and predict what will be the most important technology to come from today's era of home video, the guests cited the ever-improving OLED category, as well as mini LEDs and micro LEDs as technologies that should age well. Additionally, they cited advancements such as higher refresh rates, higher brightness levels and expanded color gamuts such as BT.2020, as developments that could stand the test of time.
To hear the entire conversation, watch or listen above. Find all of CE Pro Podcasts by subscribing to our YouTube channel.