The "King of TV" for 2018 is the Sony A9F Master Series OLED TV.
That is the result from this year's TV Shootout competition held by Value Electronics, an independent A/V retailer/integrator in Scarsdale, N.Y. The company hosted its well-respected annual TV Shootout evaluation event at its showroom to determine who makes the best TV for 2018.
The Shootout participants and professionals test, evaluate and compare picture quality attributes of the latest flagship TVs each year side-by-side, with the winner crowned "King of TV."
The four TVs competing for the 2018 crown were:
The company says it selects the flagship TV series from each of the premium TV manufacturers that are available in the U.S. at this time.
While the Sony 65-inch A9F Masters Series OLED TV took home the top "King of TV" honors, it was a close shootout between the Sony XBR-65A9F (MSRP $4,499) and the LG OLED65E8P. These two displays stood apart and led in most of the voting categories. Both had top performance in major picture-quality attributes. Sony's OLED TV had a slight edge with the panel of expert judges, leading to its win in the competition. (See scoring results below.)
SEE RELATED: 11 4K TVs for Your Clients
Other specific award categories include:
Best HDR TV (HDR Reference Mode) — (tie) LG OLED65E8PUA and Sony's XBR-65A9F
Best Living Room TV (SDR Day Mode/Video Processing) — Sony A9F OLED TV
Best Home Theater TV (SDR Reference Mode) — Sony A9F OLED TV
VIDEO: Value Electronics' 2018 TV Shootout
The results are available on Value Electronics' website and everyone is encouraged to use this information to determine what TV is best for them.
Robert Zohn, owner of Value Electronics, comments, "Consumers are advised to use the voting results to assess which criteria are most important to them and review each category to determine the TV that best matches their priorities and viewing conditions."
This year's judges included:
David Medina, Manager of Media Operations, HBO
Greg Tarr, HDGuru Managing Editor, Freelance Writer
David Mackenzie, CEO, Fidelity in Motion Master Compressionist
David Abrams, Video Systems Specialist, Avical
Bill Schindler, Display Industry Consultant Inventor, Digital Video Engineering Executive
John Reformato, Electrical Engineer
Rob Sabin, Editor-in-Chief at ProjectorCentral
Steven Cohen, Senior Writer, High-Def Digest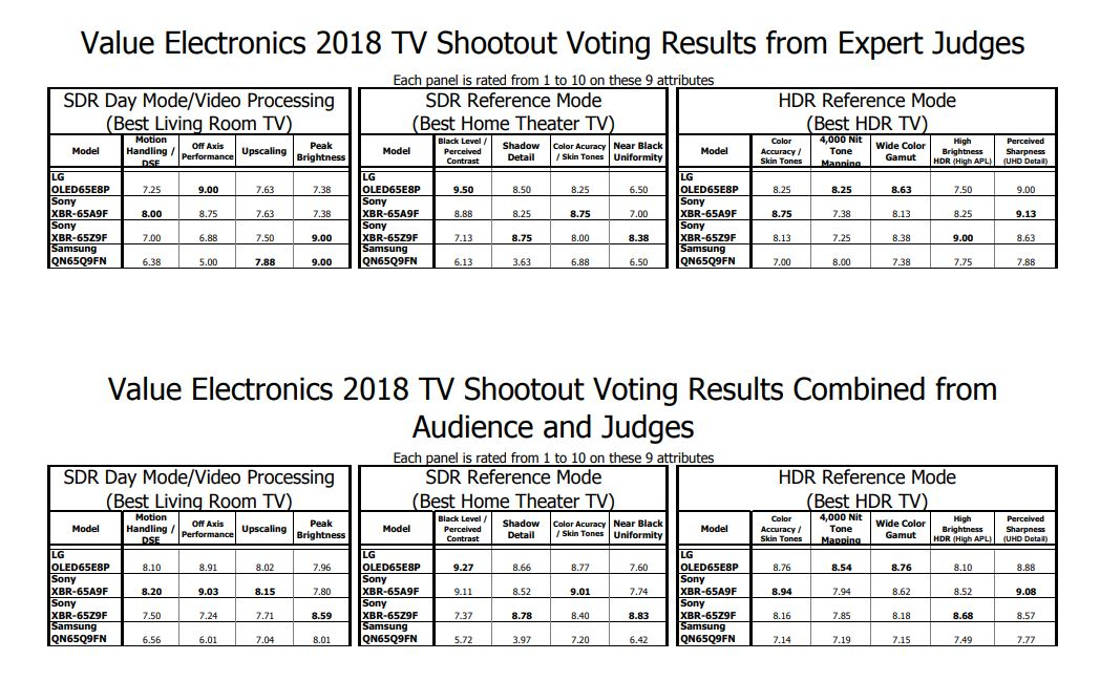 Evaluation Methodology
In case other TV dealers are interested in hosting their own TV shootouts, be warned: This is no trivial matter. This is how the Value Electronics Shootout is conducted:
The number one most-used professional calibration software, SpectraCal's CalMAN®, and calibration hardware, procedures and workflow will be used.

Konica/Minolta's professional CS2000A spectroradiometer, Klein 10A meters and the new Konica/Minolta CA-410 color analyzer will all be used in the calibration process. The Klein 10A meters will be profiled using the CS2000A spectroradiometer for each TV.
SDR, HDR and Dolby Vision patterns will be generated and fed from Murideo's SIX-G 4K Pattern Generator and a preview selection from Stacey Spears upcoming HDR test disc.
All of the cables and interconnects are Metra Home Theater Group Ethereal brand Velox True 24 Gbps passive cables with their Gigabit Accelerator the HDM-GA1.
All of the TVs will be visually matched to the white point of Sony's BMV-X300 professional color grading monitor. Sony's BMV-X300 reference monitor will also be used as the reference for all TVs to be judged against.
Well respected top professional calibrators will be tuning each TV to its best possible FHD/SDR and UHD/HDR performance. The calibrators are David Abrams, DeWayne Davis, and John Reformato, supervised by Tyler Pruitt.
All tested panels will be concurrently fed through AVPro's Edge for 18G Uncompressed professional HDMI distribution matrix switch from four Panasonic UB820 Blu-ray players, 1080 FHD/SDR for Cable/DIRECTV, 4K streaming, SDR and HDR test patterns.
During the event, several industry experts present educational sessions on TV-related matters. This year the slate included presentations on video processing and compression, the transition from HDMI 2.0 to 2.1, Out of the Box vs. Professional Calibration, and of course, DCI and BT.2020 color gamut, color saturation and HDR.
If you enjoyed this article and want to receive more valuable industry content like this, click here to sign up for our digital newsletters!