CE Pro Podcast #44: Access Networks Addresses Succession, Expansion Plans
Access Networks founder Hagai Feiner and CEO Bryce Nordstrand discuss the past, present & future of enterprise-grade home networking provider.
Listen to this podcast using the embedded player below.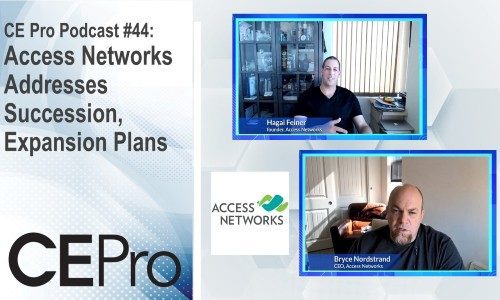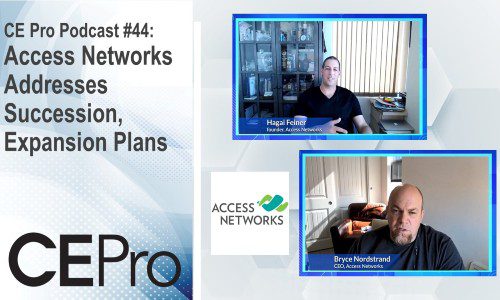 If there's one technology category whose value and demand has stood out more than any other during the past year of the pandemic, it's home networking. Perhaps no company in the custom industry has evangelized the importance of home networks more than Access Networks, and company founder Hagai Feiner and CEO Bryce Nordstrand joined the CE Pro Podcast to discuss a variety of related topics in this week's episode.
For one thing, the enterprise-grade networking provider recently announced that Feiner would be handing over the CEO keys to this Ferrari of a business to Nordstrand, who has risen up Access Networks' sales ranks and most recently served as chief sales officer.
Home Networking Goes from 'Validation' to Mission-Critical
It's fascinating hearing Feiner retrace the early steps that led to the company's launch, including how working with fellow Southern California-based CE Pro 100 integrator Signals Audio/Video influenced Access Networks' beginnings.
We talked about whether he could pinpoint a tipping point for when home networking really elevated to the level of the more traditional technologies foundational to the custom industry, and Feiner says CEDIA provided an important piece when it rolled out certification for the category now nearly a decade ago.
"The 'network has arrived into the channel' was actually in 2012, when CEDIA decided to finally recognize networking as a discipline within the residential technology world," Feiner recalls. "Until then, you'd walk into [the CEDIA Expo] and you would see AV and distribution and all of the stuff that our channel is used to, and then all of a sudden we were recognized as a part of their business, and so to me that was that turning point … that was essentially the validation."
From there, of course, as myriad smart devices were introduced and homes began adding them to their wireless networks, reliable network installations became crucial and some savvy integrators "lead with the network" now.
So why is now the right time for Feiner to pass the torch to Nordstrand? Well, he has every confidence that Nordstrand is fully prepared to continue propelling Access Networks into the future, and the company actually accelerated the timeline for the move because of that.
"We were ready, Bryce has been ready," Feiner says. "Bryce ran his own business, he's still involved in it. He comes from an integration background and he understands our clients I think better than anyone inside Access. And so in the last couple years we've been working closely ever since we decided we were going to start walking in that direction … he's been part of every decision I've made."
New Access Networks CEO Ready for Exciting Road Ahead
Assuring Access Networks dealers that the company is indeed in very good hands, Nordstrand gives us a look back at his own history of hard work and experience and how it's helped him prepare for the moment.
"I think I was fairly driven from pretty early on," he says. "I got a paper route as soon as I could get a paper route, I think I was 12, 12-and-a-half years old, and just to give you an idea of what that looked like, I lived in Alaska at the time – Anchorage, Alaska. And so having a paper route meant that you had to walk through sometimes 2-3 feet of snow to deliver newspapers at 5 o'clock in the morning."
Regarding the future of the company, Nordstrand provides insights about upcoming Wi-Fi 6 products and selling more into markets such as commercial/resimercial. Dealers can be on the lookout for remote capabilities via an imminent Access Networks cloud service for Wi-Fi control, management and system deployment; a revamped integrator portal; and new outdoor/indoor access points, for instance.
Regarding Feiner's future, the founder delves into his exciting plans in the real estate, architecture and design sector but notes he will still be contributing to the company and the industry.
His hands-on involvement in the opening of two Access Networks offices in California and Pennsylvania impacted his decision to follow his heart on this move, and interestingly he hopes to parlay his career passions into a future building development that can also serve as an educational/training facility for grooming industry talent – something that has been attempted here and there but not really achieved ongoing success.
Hear all about those plans and more from Feiner and Nordstrand by watching or listening to the CE Pro Podcast above. Subscribe to the CE Pro YouTube channel to find more episodes of the CE Pro Podcast.