CE Pro Podcast #41: What's Your Wellness Technology Game Plan?
CEDIA's Walt Zerbe joins the CE Pro Podcast to discuss wellness strategies, trends, CEDIA Propel, assistive living and much more.
Listen to this podcast using the embedded player below.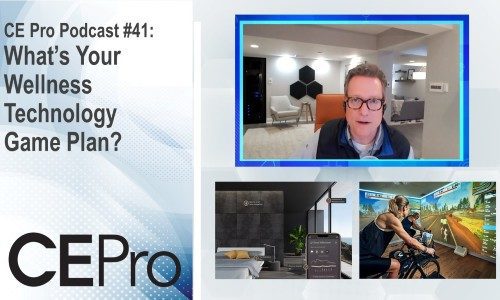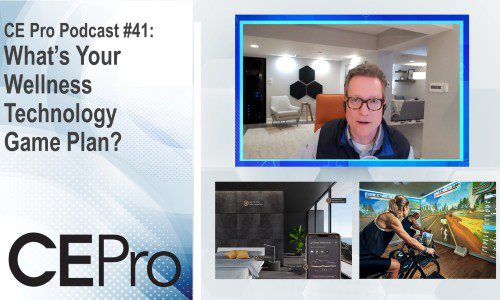 2021 stands to be the year wellness technology becomes as commonplace as audio, video and automation in the custom integration world. Where is your company progressing on that path?
To help put wellness and biophilia strategies into better focus for integrators, we chatted with Walt Zerbe, CEDIA's Senior Director of Technology and Standards, on this week's CE Pro Podcast. Zerbe's experience in CEDIA education and general role as a go-to tech guru provide sound insights into ways integrators can mold their wellness plans.
"As we all know this word 'wellness' is going crazy – everything is wellness and I think COVID has definitely accelerated wellness," he says. "I think people have realized, or really rediscovered, their homes. They just took their homes for granted as pretty much hangout spaces, go to bed, get up and leave. And now that people are home, the opportunity for wellness and things like that has never been greater.
Wellness technology for integrators can start with a category they've already been entrenched in for years, but one that's evolving.
"I know that we are seeing record growth right now in lighting," Zerbe says. "Lighting is becoming a big-ticket item, it's becoming a major area to margin on a job and it has a huge effect on how somebody feels being in their space when they're able to change color temperature
There's also "immersive everything," Zerbe notes as another wellness driver. On the audio side of 'immersive,' he notes that while high-resolution audio on its own might still be too tied to superior gear for people to truly appreciate it, the difference between stereo audio and immersive Dolby Atmos or DTS:X for their home theaters is readily apparent.
"I know that people are going through the roof installing immersive systems – that is absolutely a wellness thing too. Because all the album companies are remixing their albums into immersive and/or creating new ones in immersive formats."
So for starters, Zerbe says, lighting and "immersive" are two elements that "are controlled by 'us'" meaning custom integrators. Plus piping in nature sounds, or soundscaping, is an additional immersive biophilic element.
Speaking of the natural, biophilia aspect, Zerbe points to outdoor technologies such as AV and lighting as another way integrators are already being involved in consumers' wellbeing.
Strengthening Cores, Collaboration to Address Wellness Sales
That being said, the tougher part will be for integrators to address other wellness elements that are still more under the emerging technologies label perhaps – indoor air quality (IAQ), water purification, anything sleep- and health-related.
To dig into how integrators can "get into wellness" as the mantra of late has been, Zerbe turns to three tenets of the industry. Harkening to his role and experience on the CEDIA Technology Council, he breaks down the potentially daunting prospects into these main areas: the cores (networking, AV, lighting, automation, etc.); discovery and understanding the needs of and observing the client, or what he calls human skills; and finally the design aspect of creating a system solution … in this case wellness, which essentially is a "recipe of cores and discovery," Zerbe says.
"Once you've gotten your cores and your discovery down, you can prescribe a wellness solution."
That could involve a redefined home theater that incorporates previously mentioned wellness aspects, extending automation to things like air and water, working with IoT sensors and security products to deliver wellness-adjacent aging-in-place solutions and more.
Zerbe notes that collaboration must become a new core for integrators to master for gaining more traction in this category – it's not just the electricians and builders, but perhaps now fostering relationships with HVAC contractors, plumber/water system installers, lighting designers. Expanding these partnerships can help integrators expand their wellness technology acumen and solutions portfolio.
"This is an area I guarantee you an integrator needs to be focusing on to properly pull these things off," he says. "Whatever that recipe's called, it's always going to be made up of these [tenets] and if you don't master these, you're not going to be able to pull that recipe off."
Integrators can continue to become more well-versed in what solutions are available to them and figure out ways they can become more educated, find research and data points they can show customers about why wellness tech will enhance their everyday lives and more. It's more important than ever to educate the customer, see how their homes can benefit from these solutions, and connect the dots.
CEDIA Propel Can Expand Wellness Technology Portfolio
Toward that end, one way CEDIA is offering to assist integrators is with its recently launched CEDIA Propel affinity program, which connects members to some of the new cutting-edge technology that's out there in this realm.
Among those with which the Propel program initiated are the Bryte restorative bed and Immersive Gym (there's that word "immersive" again).
"We're trying to find products that are innovative, relate to our channel, and relate to where tech in the world is going," Zerbe explains.
The Bryte bed uses a wealth of actuators and smart technologies to aid people's sleep habits, something in general people are just not doing a good job of especially now, Zerbe notes. Sleep has always been high on the priorities for science-driven wellness company Delos, for that matter.
"So that's a product that clearly falls in the wellness bucket – and is a luxury product, so that would be a unique product [for the CEDIA channel]," Zerbe says.
Meanwhile, Immersive Gym is a recipe of "it's networking, it's audio, it's video, it's automation … it can be HVAC, it can be acoustics," he enthuses. "It can be absolutely every one of those things. And by saying 'Immersive,' I believe Immersive Gym requires a 120-degree field of view and what that's saying is you can just have a screen in front of you, it has to be in front and on the sides – and that is clearly in our world of ability to deliver well and to deliver properly."
And that Immersive Gym can also be a "wellness" space, a "chillout" space, a yoga space, a meditation area … you name it, Zerbe says. The point is, for integrators doing site surveys, it's now another distinct option for a home the same way a dedicated theater or, nowadays, dedicated home office might be of high importance.
For much more from Zerbe, check out the CE Pro Podcast video or audio above. Subscribe to CE Pro's YouTube channel to find all of our podcast episodes.