Integrator frayednot, an HTA-certified dealer based in Cranford, N.J., recently sent along several projects in the spirit of the CE Pro print publication's longstanding Neat-o! department's quest to showcase clean rack work in particular.
Founder and lead technician Constantinos Sandoukas briefly walked us through the jobs, which adhere to the company motto, "Never left stranded," including leaving all documentation for the customers onsite for reference.
Here's a look at what frayednot found in the customers' equipment rack closets, and how they tidied things up (see before/after pictures below each project description) — and earned more business by proving their capabilities.
Streamlined Technology Easier to Understand
The new homeowners, who were existing frayednot customers, moved into this brownstone and were greeted by "lots of tech, lots of wire and lots of 'how to use' confusion," Sandoukas says. "We came in and pulled out everything in the tech room."
During the four-day project frayednot reused some salvageable elements and added items such as Ubiquiti wireless covering three floors; audio and video zones with simplified operation; controllable door locks, Doorbird video doorbell and IC Realtime surveillance; and smart thermostats.
"We streamlined it for the customer making it very simple to operate," Sandoukas says. "The customer is much happier now that they know how to use the home — with a clean looking, understandable tech room."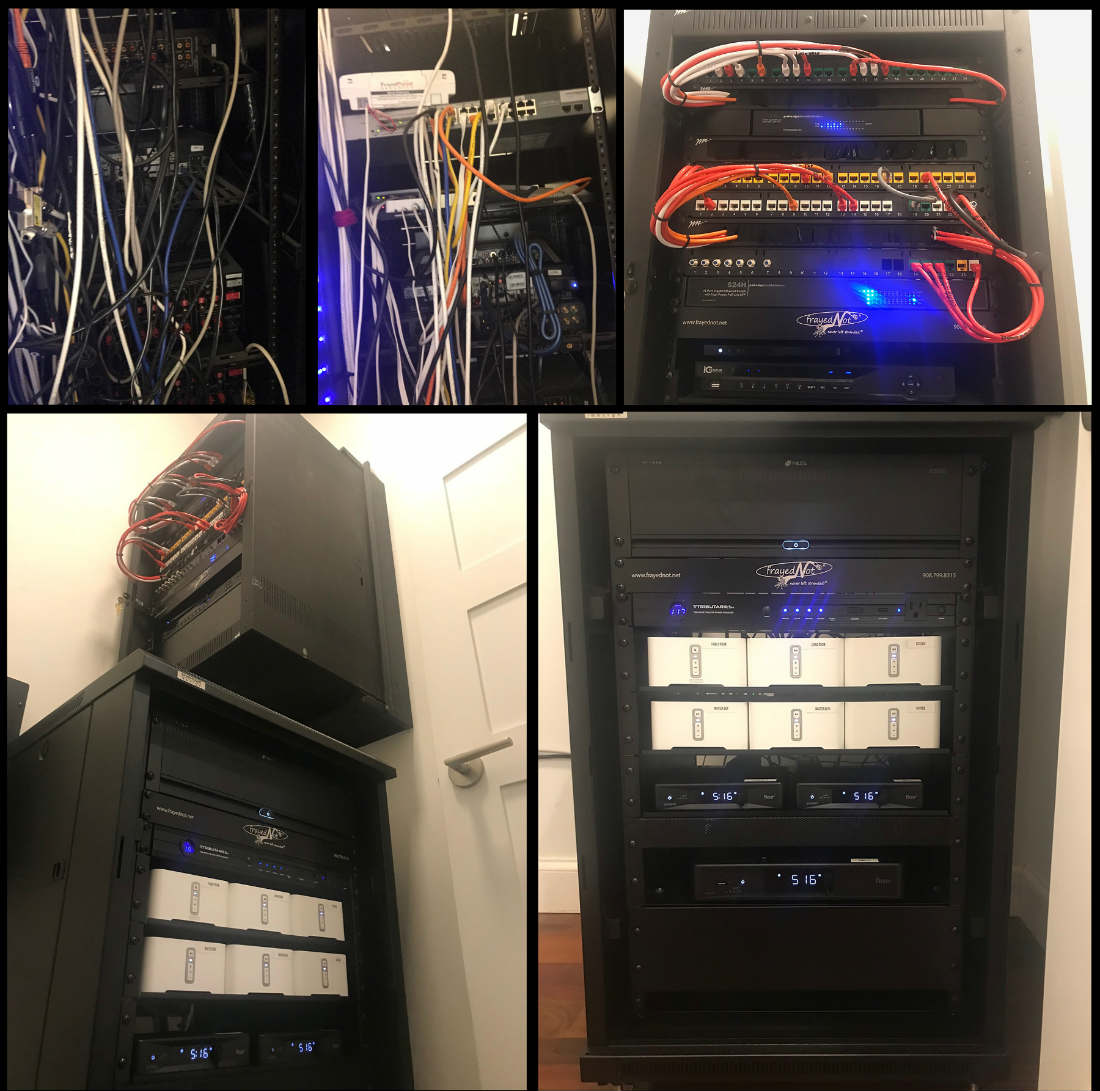 Rack Makeover Makes Up for Missing Parts
"This customer was burned in the past by another integration company. They felt they spent enough on having the home wired and set up centrally with a distribution rack, but the home never seemed to work as expected. Nothing but issues," Sandoukas explains.
The existing rack (before image) was lacking side panels, doors, fan system, wire labels — all the basic ingredients of a clean rack, he says. The team disassembled things while the customer was away on vacation, and the job took five days to complete.
The total redo included 10 audio zones, including some Sonos Playbars, and nine TV locations; balun kits replaced; amplifiers replaced, with Origin Acoustics models; URC remotes replaced and programmed; and network overhaul. Video doorbells and Nest thermostats were added as well. "Once we were done with this home," Sandoukas says, "the customer had us head down to their beach house to give it the full workup!"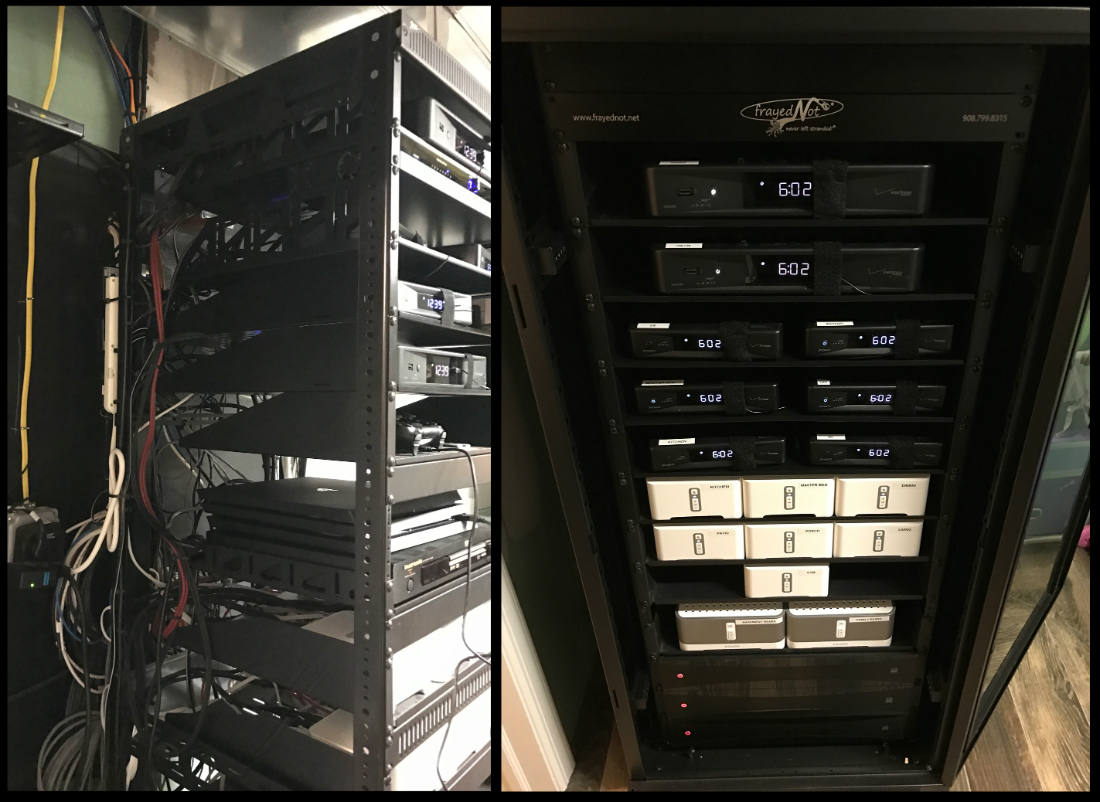 Another Satisfied Customer Yields More Repeat Business
This was another customer who was burned by the same integration company as mentioned above, and again frayednot worked during a vacation (this redo took six days) to not disrupt daily activity — and again led to more work at the client's beach house.
Some gear was saved, such as a SpeakerCraft subwoofer amp, DVD player, Sonos Connect amps, while the remainder was replaced with components including Origin 12-channel amps, NAD Electronics 7.1-channel receiver for the media room, and newer versions of laptop-programmable URC remotes as opposed to the handheld-programmable type originally there.
All audio zones were reconfigured as independent zones, while frayednot designed and installed a new distribution rack with fans/doors/panels as well as a completely redone patch panel behind the rack. "Once a customer is happy with you, the rest is easy," Sandoukas says.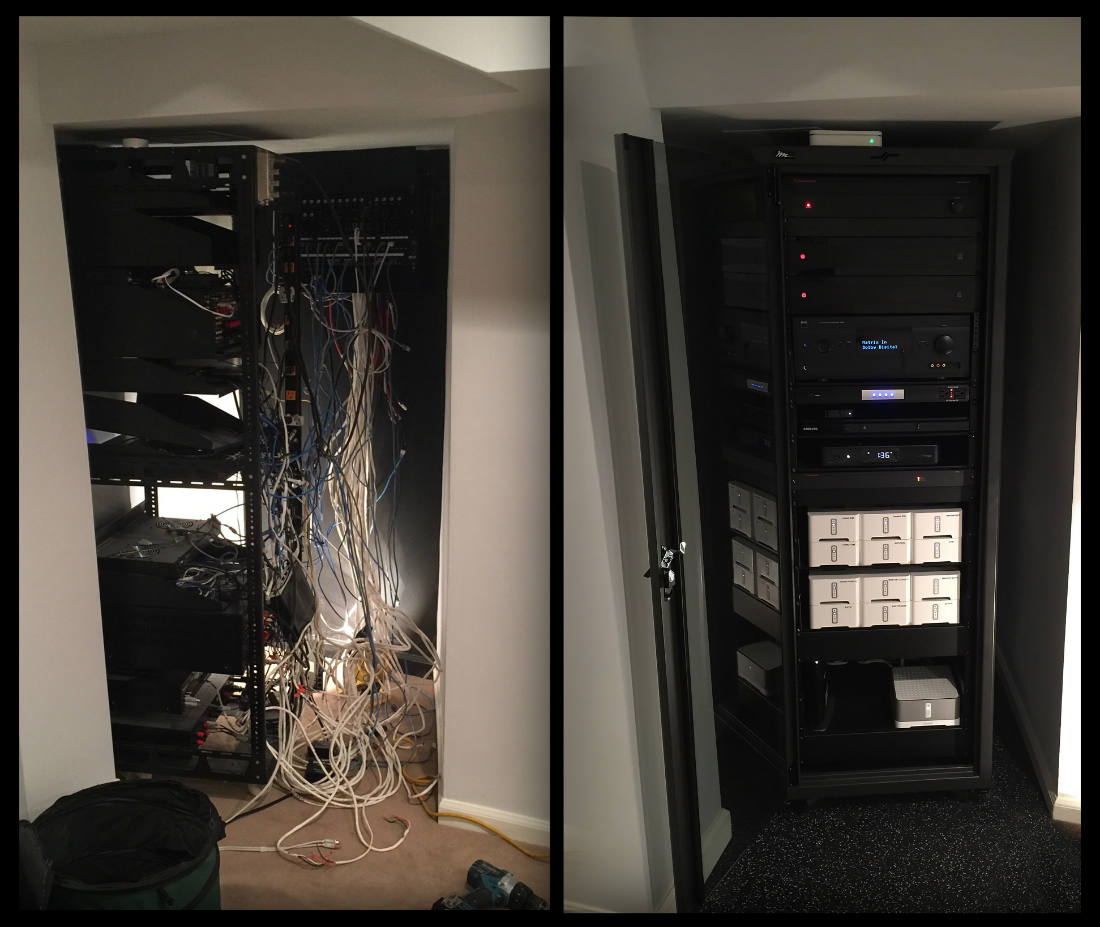 We're always looking for over-the-top projects, meticulous wiring/equipment closets, unique home theaters and other great work to show off in our Neat-o! department. For consideration, be sure to email submissions with descriptions and high-resolutions to arlen.schweiger@emeraldexpo.com.
If you enjoyed this article and want to receive more valuable industry content like this, click here to sign up for our digital newsletters!