Sonos filed an S-1 form today in its run-up to be a public company on Nasdaq under the ticker symbol SONO. The wireless-audio manufacturer is pricing the IPO at $100 million but has yet to name a price range for the shares.
Bloomberg noted in May that Sonos cut 6% of its work force to improve the bottom line in advance of the filing. The publication cited an anonymous source who said the company would be valued at $2.5 to $3 billion.
Highlighted in the prospectus are five, and only five, key "growth strategies." One of those strategies is this:
Build Direct Relationships with Existing and Prospective Customers.
We intend to continue to build direct relationships with current and prospective customers through sonos.com and the Sonos app to drive direct sales.
Home-technology integrators for years have been critical of Sonos's sales tactics, selling discounted products direct to customers who purchased their Sonos products from specialists.
What may be bad for Sonos dealers, though, will look good for investors as Sonos looks to put more margin to its bottom line.
Gross margin for 2017 was roughly 46%, but the first six months of fiscal 2018 saw margins dip to 42.3%.
Sonos lost more than $14 million in the fiscal year ended Sept. 30, 2017. The company has lost money for the last three years. Fiscal year 2016 ended with a $38.2 million net loss; 2015 with a $68.8 million loss. Both 2013 and 2014 were profitable for the company, with net income at $8.5 million and $21.9 million, respectively.
Employee compensation comprised a big chunk of those losses. In fiscal 2017, Sonos counted about $26 million in stock-based compensation, which goes towards GAAP expenses. In the company's non-GAAP adjusted EBITDA for the year, Sonos shows nearly $56 million in the black. In fact, Sonos shows positive adjusted EBITDA in all years since 2013, except for 2015.
Revenues for fiscal 2017 were $992.5 million compared to $901.2 the previous year. For the six months ended March 31, 2018, Sonos had revenues of $655.7 million — up roughly $100 million from the same period last year.
CE Pro will have a good look at the S-1 over the weekend and provide highlights from the filing, but here are a few notables:
About Sonos
Sonos was incorporated in Delaware in August 2002 as Rincon Audio, Inc. The company changed its name to Sonos, Inc. in May 2004.
Sonos had 1,478 full-time employees as of March 31, 2018.
As a company with less than $1.07 billion in revenue during our last completed fiscal year — barely — Sonos qualifies as an "emerging growth company" as defined in the Jumpstart Our Business Startups Act of 2012, or the JOBS Act. As such, reporting rules are relaxed versus non-JOBS companies.
Opened up its patent portfolio and reported its revenues for the first time in 2014 – $535 million in 2013 (prompting CE Pro to speculate on an IPO date, wrongly, and ticker symbol, correctly).
Claims to own the "foundational intellectual property for wireless, multi-room home audio."
Claims "some of the first applications of mesh networking in the audio industry."
Has 630 issued patents and 570 applications.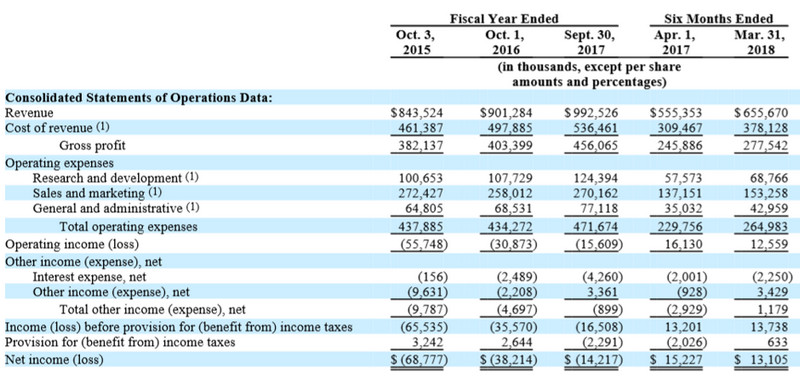 Customers
As of March 31, 2018, Sonos customers had registered over 19 million products in approximately 6.9 million households globally.
Based on customer data, Sonos estimates that, on average, its customers listen to approximately 70 hours of content per month
Customers listen to 80% more music than average after purchasing their first Sonos product.
Sonos estimates that its customers listened to five billion hours of audio content using its products in fiscal 2017, which represents 33% growth from fiscal 2016.
In fiscal 2017, existing customers accounted for approximately 38% of new product registrations.
55% of revenue in fiscal 2017 was generated outside the United States.
Fact Check?
"We debuted the world's first wireless multi-room home sound system in 2005 …."
'Not a Walled Garden'
Sonos still lags behind other multiroom audio systems when it comes to home-automation integration. The famously closed system exposes only basic information such as "favorites" settings. Sonos disabled existing integrations in 2017, making many smart-home pros rather unhappy.
Currently, only Crestron builds a full (sanctioned) app-within-an-app that exposes the full Sonos UI in its home-automation interface, which may be why it is the only automation company mentioned in the Sonos S-1 under this headline:
Third-Party Applications

We partner with third-party developers, including home automation integrators such as Crestron. These partners are building new applications and services on top of the Sonos platform, increasing customer engagement and creating new experiences for our customers.
We wonder: Does Sonos sell direct to consumers when the app is embedded in the Crestron interface by the integrator who sold the Sonos system in the first place?
Still, Sonos is at least open when it comes to most other services, as CEO Patrick Spence notes in the report:
A Commitment to Being Open

One of the most foundational and enduring commitments we make at Sonos is our commitment to being open. The reason why is simple: we don't want to limit our customers' sonic world. We want to broaden it. So we've built a software platform that enables hundreds of partners and gives our customers unparalleled freedom of choice. Across music services, audiobooks, television and video content, podcasts, voice service and home automation, our software ensures consistency of experience while our hardware delivers unparalleled sound quality.

Our system is not—and never will be—an entry gate into a walled garden. We're deeply committed to keeping Sonos open to every voice assistant, streaming service and company that wants to build on our platform. This approach is unique in our industry, and it requires substantial investment and longterm thinking. More than half of our product development team are software developers focused on building a platform that remains open, integrates with multiple services and improves over time. We believe this approach will deliver the best outcome over the long run for customers and investors alike.
Stay tuned …
Related: Sonos Doesn't Hate Home-Automation Channel; They Just Don't Communicate Well
If you enjoyed this article and want to receive more valuable industry content like this, click here to sign up for our digital newsletters!