Is this the year integrators get more serious about becoming 'energy automation contractors' and not just low-voltage A/V integrators? sonnen thinks so.
"This year at CEDIA Expo we are taking our offering to a whole new level by diversifying with home automation brands that dealers know and trust," says Jessica Weiss, national business development manager for energy automation and artificial intelligence at sonnen. "This gives integrators an even more flexible and robust solution to meet customers' needs."
The Germany-based manufacturer of sophisticated residential energy storage systems is ready at CEDIA Expo 2019 to showcase the higher-safety lithium-ion phosphate battery technology used by its sonnenBatterie ecoLinx.
The technology is the big differentiator in the market for sonnen, which aims to guide integrators into the energy channel. Most other battery storage companies, including Tesla, use cobalt-based batteries.
"As an integrator, if you are looking for a new and innovative home automation offering that will grow and differentiate your business, then you are definitely going to want to stop by sonnen booth #3547 to see our energy automation with ecoLinx solution in action," says Weiss.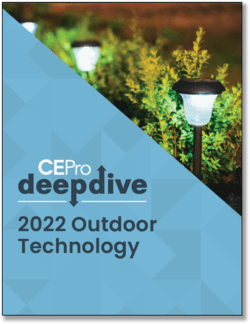 The 2023 CE Pro Outdoor Technology Deep Dive reveals unique set of impediments, including explaining pricing and interacting with outdoor-centric trades.
Get your copy now to take a "deep dive" into the trends and challenges of outdoor technology.
Download the report now!
Read Next: Inside Sonnen Factory—No-Heat Phosphate Battery Technology Is Differentiator
"Our intelligent energy management system integrates with leading home automation systems to manage and maximize energy usage in the home and to power it in the cleanest and most efficient way possible without disruptions to the homeowner."
"It is where clean tech and intelligent home energy storage meet home automation," she adds.
sonnen Educational Sessions
Tech Talk Panel Discussion:
Energy Automation: Growing Your Business with an Emerging New Category
Friday, September 13
11:30 a.m. – 12 noon
CEDIA Expo Smart Stage
Panelists:
Jessica Weiss, Sonnen
Richard Glikes, Azione Unlimited
Ron Callis, One Firefly
Chris Worthington, Personal Technology
Manufacturer's Product Training Session:
Growing Your Business with Energy Automation and sonnen ecoLinx
Friday, September, 13
2:30 p.m. – 4:00 p.m.
Room 4D