Smart Home Stocks Rise 40% in 2017
46 public stocks tracked by CE Pro rise 40.53%, led by Sharp, Control4, LG, Samsung and Sony.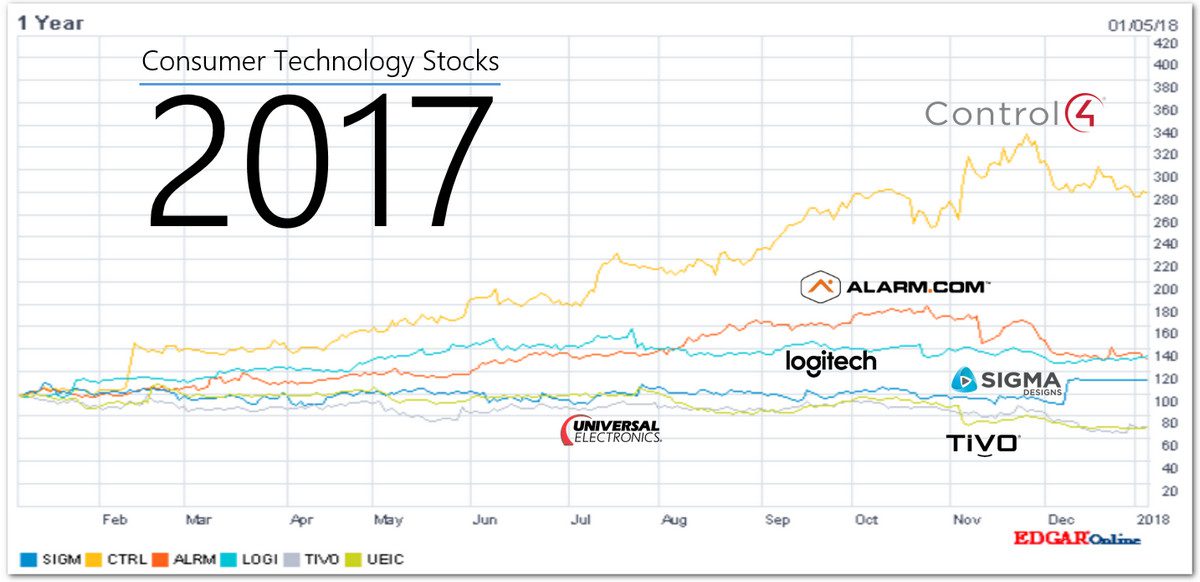 And you thought 2016 was a great year for the stocks of public companies engaged in the smart home industry! Coming off a year in which the cumulative stock performance of public companies in the smart-home, security and consumer electronics industries grew 22 percent in 2016, 2017 blew that away with a whopping 40.53 percent increase. It appears the investment community is firmly behind the industry, which is a good signal for integrators.
Indeed, the 40-percent stock price increase of the 46 public companies tracked by CE Pro outperformed the overall stock market soundly in 2017. Last year, the Dow Jones Industrials rose 25 percent increase. The past two years have been a nice comeback. Back in 2015, these smart home stocks fell 11.8 percent.
For 2017, 36 companies reported increase in their share prices while 10 stocks fell. Of course, most of the companies on the list are not pure-play stocks for the smart home industry. Most of them are diverse companies engaged in multiple industries, so the stock price increase may not be directly related to their performance in the automation, security or electronics' sides of their businesses.
Also, the list itself is always evolving. Several companies that were staples on the list for many years are no longer public, such as Nortek, which was sold to Melrose Industries, and AVAD, which Ingram Micro sold last year. ADT is also not on the list, but soon will be as the company just filed for an IPO to return as a public company after being spun out of Apollo Global Management. Also, long-time retailer HH Gregg was delisted from the stock exchange in 2017 after several years of struggling.
2017 Winners Led by Sharp, Control4
The company with the biggest stock price increase last year was Sharp with a solid 271 growth. It has been a nice comeback for this once-struggling company. Back in 2015, the Japanese company had seen its stock fall to a miniscule $1 per share. In August 2016, Foxconn completed its $3.8 billion acquisition of Sharp, and in 2017 the company announced its first profit in four years. The stock price had already grown to $2.30 per share to start the year and finished at $8.54. While Sharp had bid to acquire Toshiba Visual Solutions last last year, those assets ultimately went to Hisense for $113.6 million.
NEXT: CE Mergers & Acquisitions in 2017
Meanwhile, Control4 stock kept humming along nearly doubling in 2017. The company ended the year just under $30 per share, up from about $10 per share to start the year. Control4 made several strategic purchases in 2016, including Triad Speakers and most recently Ihiji.
LG Electronics was the only other company to more than double its stock price in 2017, rising 137 percent. Other big winners included IAC Interactive (HomeAdvisor.com) up 97 percent; Samsung (Harman) up 61 percent; Sony Electronics up 61 percent; Best Buy up 61 percent; and Amazon up 57 percent.
The most expensive stocks to buy are Samsung (equivalent of $$2,426/share in Korean won), Amazon ($1,189/share) and Alphabet ($1,065/share). The cheapest stocks on the list are Toshiba ($2.84/share), VOXX ($5.60/share) and Sigma Designs ($6.93/share).
2017 Losers Include Comcast, TiVo
It's never a good sign when the economy is cooking and the stock market is setting records, yet your company stock has fallen. Besides HH Gregg, the Indianapolis-based retailer that was delisted, the biggest declinere in 2017 was Comcast, which saw its stock price fall by 40 percent last year. Other big decliners were Ascent Capital (MONI central station monitoring down 28 percent); Universal Electronics (-26 percent); TiVo (-25 percent) and IMAX (-26 percent).
TiVo is riding a roller coaster. Last year, it was one of the best performing stocks on the list with a 134 percent increase following its acquisition by Rovi Corp., which then melded into the public stock of TiVo.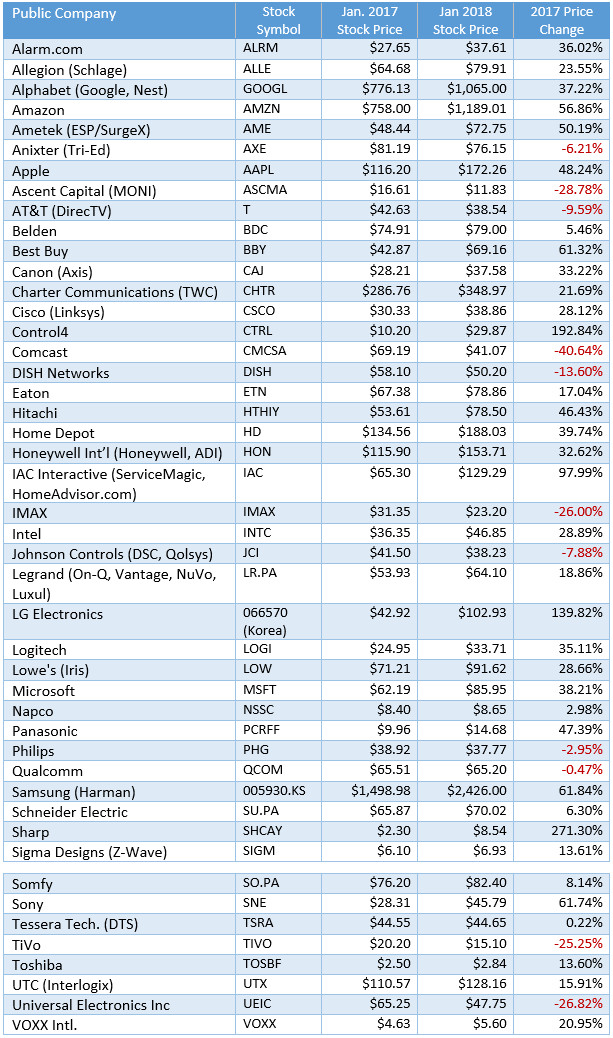 *The acquisition of Sigma Designs by Silicon Labs was announced on 12/7/2017. The closing price on that date was $5.6. The following day, the price surged to $6.925. Had the year ended on 12/7, SIGM would have been down $0.4 for the year, or 6%. IoT silicon provider Silicon Labs (Nasdaq: SLAB), to be added to next year's chart, rose $22.1 iin 2017, closing the year at $88.30, up more than 33%.