Despite the pandemic, it was absolutely imperative that dealers still receive products in a timely manner with as little hassle as possible, and companies like Savant helped make this goal a reality for many of its business partners. As a result, Savant earned a number of 2021 Quest for Quality Awards in areas like Best Consumer-Facing Website, Best Shipping Policies, and Best Dealer Protection Policies.
These awards show a continued commitment to excellent service no matter the challenges, and to show the company's appreciation for the votes it received, Savant provided the following statement on the company's five wins and one Category Kudos in this year's Quest for Quality Awards:
We are honored to be recognized across so many categories in this year's Quest for Quality Awards. Last year was an unprecedented year, and while no one could have been truly prepared for the whole new set of challenges that 2020 brought with it, the team at Savant is proud to have worked alongside our integrators to quickly pivot the way we do business, deliver service, and provide sales tools and education.
Our virtual experiences have been fun to watch come to life and it has been rewarding to see the impact they have made on our partners. We strive each day to just keep up with one of the most resilient industries on the planet. Integrators world-wide have shown creativity in their business practices and determination in their resolve to support their clients in new ways. You inspire us to keep innovating at every level and that is what drives us to do better each day.
2021 Quest for Quality Awards Won by Savant
Best Consumer-Facing Website, PLATINUM:
We appreciate the recognition across our marketing and lead generation tools. We strive to be an educational resource for consumers, builders and specifiers looking to better understand the smart living experience and how a complete ecosystem drives benefits across comfort, entertainment, security, wellness and energy. —Andy Hamm, VP of Design, Savant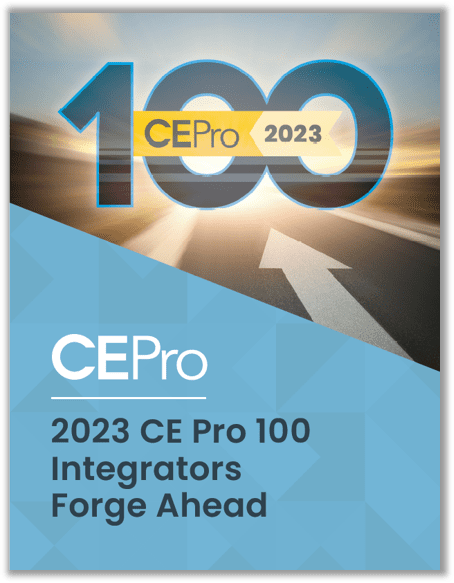 Which companies in the custom integration market made CE Pro's 24th annual CE Pro 100 list?
Best Lead Generation, GOLD:
We value the partnership we have with our dealers, and actively work to formulate programs that both deliver visibility to as well as drive business to our trusted partners. We truly believe in the Savant integrator to deliver the best end-to-end consumer smart home experience in the market. —Ian Roberts, Director of Education & CX, Savant
Best Virtual Trade Show/Conference Presence, GOLD:
We took the approach to jump in with both feet on virtual events of every kind, including education, virtual experience center tours, virtual trade events of every kind, and our first-ever virtual dealer conference in 2021. This strategy was not without its bumps and bruises, but we certainly learned how to add flexibility to our business model along-side our dealers who were learning the very same thing. —Angela Larson, Sr. VP of Customer Operations, Savant
Best Shipping Policies, SILVER:
We appreciate the recognition on our integrator programs and policies. We strive to be easy to do business with and deliver our dealers the product they need when they need it. 2020 was a tough year for all companies across the industry to keep products flowing to dealers, and we adjusted some key shipping polices to assure consistent delivery to our partners. —Bruce Myers, COO, Savant
Best Dealer Protection Policies, SILVER:
The Savant store is designed to offer our dealers best-in-class quoting, purchasing, and upgrade experiences including delivering immediate quotes for custom-built product like fixtures and shades. We are also proud to work with partners like Netgear and USAI Lighting, who have created product SKUs only available through Savant helping to protect dealer margin. —George Katsiris, VP Product Evangelist, Savant
Best COVID-19 Response, CATEGORY KUDOS:
Necessity drove us to innovate and be resourceful across our education, support, sales and marketing platforms. The only thing we regret is not doing some of it sooner. —Angela Larson, Sr. VP of Customer Operations, Savant
If you enjoyed this article and want to receive more valuable industry content like this, click here to sign up for our digital newsletters!