Immediately after the October 5, 2021 announcement of the $285 million acquisition of Nortek Control by Nice S.p.A. out of Italy, veteran executive Edoardo Malfè was named the new CEO of the Carlsbad, Calif.-based company. Malfè was a member of the Nice Group team that did the analysis to acquire Nortek Control, so he gained plenty of familiarity with its strengths and weaknesses. In an exclusive interview with CE Pro, Malfè offered his frank observations about the state of the market and how he plans to apply Nortek Control's technologies across multiple brands.
Indeed, Nice S.p.A. is no stranger to the smart home space. The company was founded in 1993 in the founder's garage making automation equipment. Today, the company, which is based in Oderzo in the northeastern portion of Italy near Venice, is heavy into Smart Home, Security, and Home & Building automation in residential, commercial, and industrial segments. In Europe, the company has positioned itself as a fully integrated provider of smart home equipment. In 2018, the company acquired Abode, one of the leading DIY home security system providers, and later in 2018 acquired Fibaro for $73 million, makers of Z-Wave sensors.
Among his priorities is integrating some of Nortek Control's technology solutions across multiple brands (both Nortek brands as well as Nice Group brands), while at the same time balancing both the DIY and professional installation channels while maintaining customer-centric product offerings.
Prior to his years in business, Malfè was an officer in the Italian Air Force then became an air traffic controller for 10 years all across Europe. From there, he moved into the consulting world, working the Bain & Co. in the United States, during which time Malfè earned an MBA. Later, he spent 10 years with CNH Industrial where he managed the global supply chain and distribution end of the equipment supplier for construction, automotive, aviation and agricultural products with stints managing North America, South America, Europe, Africa and the Asia/Pacific regions. In 2018, Malfè ascended to the role of vice president of global operations at Nice where he has been responsible for the sourcing the company's products, its entire delivery network and its 14 factories and R&D centers across the globe.
"Now I have the responsibility to lead this team and the consolidated North American community to be a single, winning team," says Malfè.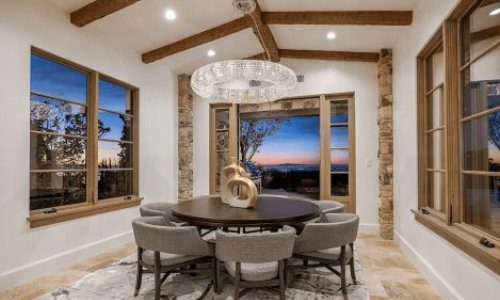 As a custom integrator, lighting is in demand. Effective communication, education and showcasing the value proposition of LED light fixtures in conjunction with integrative control systems are the keys to overcoming challenges and closing sales in this specialized market. Join us as we discuss the future of digital lighting and control with David Warfel from Light Can Help You and Patrick Laidlaw and Mark Moody from AiSPIRE.
Register Now! 
Integrating Nortek Technologies Across Nice Brands
As noted, one of the plans Malfè has for North American market is to integrate the connectivity that the Nortek Group already has in its own portfolio into some of the current Nice offerings.
"By doing so, we can offer a fully integrated solution to our commercial and industrial partners. There are significant offerings and product quality in each of these segments, but the next step is to integrate and be the single source for integrators," he says. "Part of the reason for this acquisition is to bring into the Nice the connectivity developed at Nortek Control and leverage those technologies across the entire Nice portfolio… that is in addition to the history of Nortek and the strong brand equity of its existing commercial brands."
Malfè cited Nortek's decision a few years ago to spin off most of its China-based manufacturing and focus on developing technology as a strong part of the value proposition Nice saw in the acquisition.
When the China tariffs hit in 2019 and then later when the pandemic hit, Nortek was hamstrung by its company-owned factories in China. Today, the company has a significantly different relationships with its factories than it did back then.
The previous Nortek management made the decision to focus 100% on technology development. So today, there is only one factory based in Michigan that is still in the family and makes a very specific product set within the Linear brand.
"The brand has a very loyal customer base and the factory was not affected by the tariff wars. We will explore all options as we move forward, but an industrial footprint in the U.S. is a valuable asset," says Malfè.
"The part that changed was the company's China footprint. The Chinese manufacturing was 100% spun off from the group and passed to our partner in manufacturing services. We have relocated into three factories: one is in Fuyong, China, about 20 minutes from Shenzhen, another is in Penang, Malaysia, and the third one is in Guadalajara, Mexico. Today, we have about 70% of our production with one major outsource manufacturer, another 20% is with commercial manufacturing partners for products, like sensors, that we did not manufacture before mostly in other electronic accessories, and 10% in other factories," explains Malfè.
This new position allows Nortek Control to focus more on its technology.
"That is why we decided to move forward with the acquisition. It is about market expansion. The Nice group rebalances very well with the acquisition making the Americas, including North America and Brazil, approximately the same size as our business in other parts of the world," he says.
"This acquisition allows us to gain a greater foothold in our North American business particularly with the distribution that Nortek Control already has, but that is not the full story. The story is really the competence of the integration."
He continues, "With one acquisition, we have more than doubled the R&D and engineering capacity that we have. We plan to leverage the technology within Nortek Control across the group. It is not only the IntelliVision acquisition that Nortek Control made several years ago, that the company is already leveraging to create differentiated product to stand apart from the competition, but also the technology integrated into the 2GIG EDGE Panel and the ELAN Controller brings a value to all of us."
Balancing DIY and Professional Installation
As noted, Nice already owns a strong DIY brand in Abode but Malfè does not see a lot of cross over occurring between the professional installation channel and DIY channel.
"They both are very good at what they do, so generally, you don't want to do anything to dilute either brand for some short-term efficiencies. Our intention is to really leverage each of them within their specific domain by enhancing their differences rather than looking for similarities. 2GIG is a very well-known brand in the professional channel with lots of historical brand equity. The GC2 panel is the best seller from 2GIG and has a very loyal following. The latest product from 2GIG is the EDGE that we released earlier this year. The team that I inherited has put a lot of effort into revamping the product line and updating the technology.
"On the other hand, Abode has positioned itself as one of the top Do-It-Yourself products, and we will keep that going. Of course, there will be synergies within the Nortek family and eventually within the Nice family because now we are ready to keep growing and accelerating," he says.
Malfè believes one of the keys to growth at the company is to take the Nortek technology and apply it to various Nice brands.
"We don't grow by blending our established brands into each other. The distinction between our brands will be even more sharply defined," he says. "We are already exploring how we might be able to take technology like IntelliVision and apply it to Nice brands. Exploring the if, when and how we can integrate technologies is on the table for brands like Abode. There are other practical gamechangers that we are examining, but I can assure you that Abode and 2GIG will remain two different offerings."
Malfè is frank in his recognition about the changing market in the security space.
"We cannot deny there is a lot of Do It Yourself out there, as well as a lot of consolidation. Most of it was happening before COVID, and we expect most of those trends will stay after COVID. There is also more sophistication among customers. The professional install segment will become more specific and more specialized. We will need to play in both the DIY and the professional channels. For us, having a strong DIY solution here and in Europe is a strength and we will keep developing in that area… no question."
He continues, "The professional installation market will stay, even though the statistics show a growing DIY trend. Another thing I see is this blending of boundaries. So we really need to play in a broad ecosystem. That is not anything that is new… lots of companies make devices that suit many markets. This is something we must continue to do even better than we do today."
One way he plans to succeed is by continuing to focus on how the customer interacts with the products.
"Whatever we do in the future, we need to put the customer more in the center of it. Even though systems are getting smarter and smarter and doing more things for us — they learn my scenarios, they learn my habits, they even prepare my food — I think there is going to be a rebalance focused the core role of the human factor.
"The customer experience will become even more important in both the professional installation and DIY segments. That is the founding principle of our group. We truly believe it. Anybody can offer a box that does things, but the touchpoints for the customer and the experiences our customers have with our products is most important," he says.
Malfè says the 2GIG EDGE Panel is a perfect example of how the company is focusing on the customer. The new panel, which debuted last March,. maintains the client data locally on the edge versus in the cloud, putting the privacy needs of customers first.
"The concern about data security is growing and it could become a factor that hampers the growth of the industry. We need to continue to find solutions to help maintain household and family security, and the same holds true for businesses and commercial operations," he adds.
Reviving the Nortek Brands
It was not long ago that many of Nortek's brands, from SpeakerCraft to Niles to ELAN to Xantech, had strong industry market share positions that have fallen off in recent years.
"We would like to see all the Nortek brands at the top of the poll in all their respective segments. Here and there, some of the brands in the Nortek family have been suffering for different reasons. We plan to value all the brands and maintain a complete offering," he admits.
"At the same time, we face the reality of the situation. If a brand has lost track for a long time, what does it take to revamp that brand and become the leader? There is DNA that makes a brand special, and there is competence from the team, but there are also competitors. In the ever-changing battlefield, where adjacencies are less and less defined and the boundaries of scope are blended due to the industry itself and geography, we need to recognize when to accelerate and hit the gas pedal to regain momentum and then leverage it."
So how is that achieved?
"It is a matter of time and prioritizing. It's just a matter of putting things one after another and building a strong plan to keep the momentum that was started by the last management team and is characterized by all these new product launches. There is already a healthy product package in place at Nortek. But as you can imagine, we did not get into this challenge to simply harvest what is already there. There needs to be a long-term, consistent, sustainable, cohesive offering added to the portfolio that we already have. So we want to do the things right, not necessarily in a hurry," he adds.
If you enjoyed this article and want to receive more valuable industry content like this, click here to sign up for our digital newsletters!