Nationwide Marketing Group's recent PrimeTime event in Phoenix was designed to inspire its members to help their customers continue to "Experience the Journey" of doing business with independent retailers and custom integrators. But it turns out that the 5,000 NMG buying group members are pretty darn motivated already! As a group, they reported an amazing 31% growth in consumer electronics revenues in 2021, compared to just 7% sales growth in the overall industry, according to Lee McDonald, VP of Sales, Consumer Electronics Division.
"Almost everybody was down in terms of unit sales, but the average sales price among Nationwide members was double the rest of the industry," reports McDonald.
The growth in consumer electronics was just one of the bright spots among NMG members, which cover not only consumer electronics but also furniture, bedding and major appliances as their key categories. Of course, members were somewhat strangled by the supply chain crisis, which is among the reasons the group was dynamic in terms of establishing and maintaining its key vendor relationships.
On the TV display side, NMG has relationships with Samsung, LG, Sony, TCL and Hisense.
"There has been a lot of shift in business over the past year," says McDonald. "Vendors who are taking more marketshare will invest more with NMG members, and likewise, those vendors who lost marketshare will also invest more with independent dealers."
McDonald reports that NMG members sold 80% of Hisense Laser TVs in 2021.
Looking ahead, McDonald foresees lower TV display prices and units in 2022 due to a surplus of panels. He cited NPD data predicting a 14% to 18% drop in flat panel display units sold in 2022, but McDonald anticipates TV display revenues among NMG members to be up 25% compared to the overall market.
The lower price outlook for this year is despite the enormous increase in freight costs. He said a shipping container of flat panels from the Far East that cost $3,500 in 2020 now costs a whopping $17,000, plus higher costs for warehousing and labor.
How NMG Members Are Preparing for 2022
To prepare for the market in 2022, McDonald advised members to:
Negotiate everything, from delivery to bank/credit unions to supply chain
Multisource your inventory — NMG currently has seven different distribution partners. "Product availability was the No. 1 reason consumers gave in 2021 as to who they purchased from," he noted.
Use data to drive your decisions — NMG has a data tool called Primetrix that provides members with deep insight to buying behavior from their Point of Sale solutions. Primetrix will look at dealer's top 50 best-performing SKUs in terms of sales and profit, and then identify any missing opportunities. The technology helps take the guesswork out of retail and also helps NMG suppliers forecast better.
Leverage your programs to increase your margin — McDonald cited offerings such as a new Samsung margin program that is being rolled out for members. He also advised members to leverage the buying group's consumer finance program, noting, "If you finance, you will sell more."
Some of the other programs NMG has put in place for members include:
A new Direct TV program that encourages members to sell the wireless network, broadband and streaming video bundled service online with an exclusive offer
An exclusive offer to resell Vivint smart home control and security. As part of the offer, NMG members can offer customers a $180 service credit for purchasing from them, as well as a healthy commission, even if the customer ends up buying via the Vivint call center versus from the NMG member directly.
Utilization of TBI for NMG members to upgrade their own phone, internet, cybersecurity, managed IT services for their storefronts and offices. NMG members who have already used TBI have saved an average of $1,000 per store.
Randy Derr, Director of Distribution and the buying group's eXchange portal for distribution, reported the total volume of products moved through the portal in 2021 was up 37%. NMG has relationships with distributors D&H, WAVE, Next Level Distribution, IMG, O'Rourke with recent additions Liberty AV Solutions and Anixter coming onboard as part of the merger with Azione Unlimited. Excluding Anixter, there are 40+ warehouses among the distributors (with another 60 locations from Anixter) and more than $500 million in inventory on hand. Derr reports that NMG plans to expand the eXchange portal beyond just AV equipment to bedding, surveillance, furniture, pro AV and kitchen and bath appliances.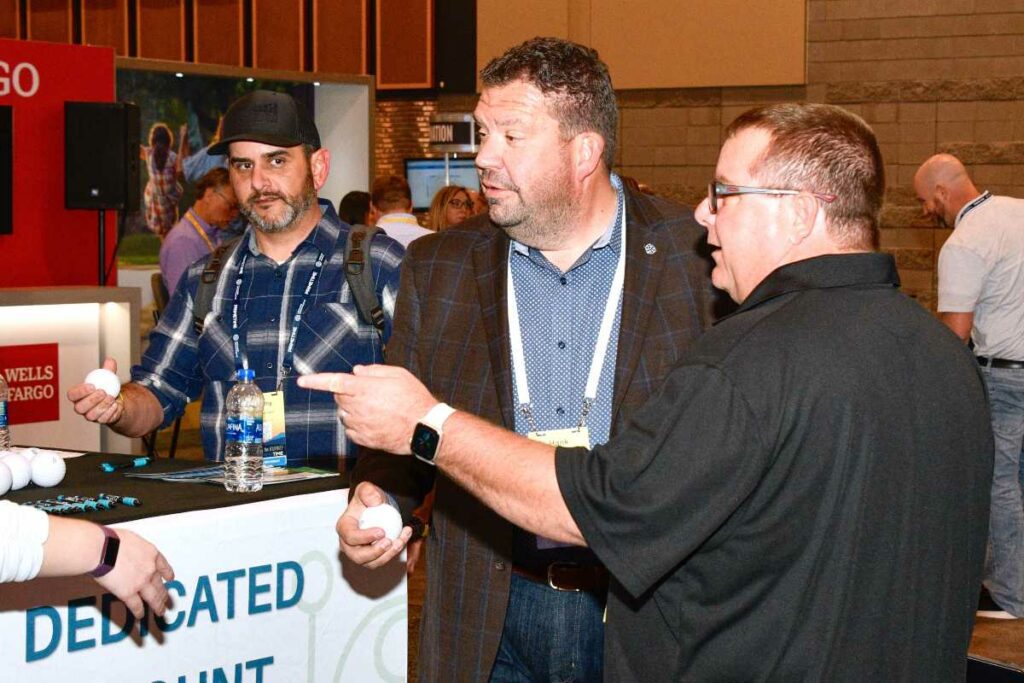 Hank Alexander, director of the Home Technology Speciliasts Network (HTSN) within NMG, was excited to note that the buying group has brought Snap One onboard as a new vendor. (The relationship is solely as a manufacturer and does not include Snap One's Partner Store distribution locations.)
Other new suppliers added in 2021 include Screen Innovations screens and shades, Eero mesh networks, and Kanto mounts. The addition of Liberty AV Solutions also brings more wire, racks, pro AV gear and security equipment options to the members. Alexander also noted a new cybersecurity vendor called Armorpoint that offers free training and assessments for NMG members.
Experience the Shopper Journey
Following the theme of the event, Aaron Bundschuh, chief digital and technology officer, and Rob White, VP of brand and strategy, laid out the shopper journey for members and how they can improve that within their organizations.
White describes the shopper journey in these phases:
Awareness
Initial consideration
Active evaluation
Moment of purchase
Service
Loyalty
At PrimeTime, the buying group held education sessions aimed at each portion of the journey.
"Our goal is to help members grow business every day. So we look to map our services versus their needs," says White. "The shopper journey is a baseline that everyone can rally around. Everybody understands that."
Bundschuh notes, "It all starts with awareness. Are the customers aware of you? Are you top of mind? If you are not, are you there digitally with the info they need?" he asks rhetorically.
He explains that while most shopping experiences start online, among NMG businesses 90% of purchasers will still physically go in-store, especially for big ticket items like appliances , furniture and bedding.
"There are so many touchpoints online — from social to inventory to marketing — that there is no way an NMG company on its own can keep up with it. So NMG has done some major upgrades to make it easy to compete in digital. One of those upgrades is in its integration with POS systems — the website today MUST show regional distribution, dynamic pricing and inventory. With dynamic automation, we want to give clients the modern experience online with less workload for the NMG member."
White cited, as an example, that all NMG members are encouraged to put terms like "On display," "In stock" and "available" on their websites and show real-world delivery times.
"That transparency is an advantage for our members," he adds.
NMG PrimeTime Keynoted by Blind Adventurer
PrimeTime was kicked off with an inspirational presentation from blind adventurer Eric Weihenmayer who described his "no barriers mindset" that he uses to reach impossible goals. Weihenmayer took the stage with his guide dog, quipping, "I bet most of you are most interested in my dog. If you start to walk out, I have trained the dog to attack anyone who makes sudden movements toward the door."
Weihenmayer detailed his various exploits from white water rafting, climbing Mount Everest, rock climbing and rappelling in a lava-filled volcano. His theme for attendees was how vital it is to rely on your team. The NMG crowd gave him a standing ovation at the conclusion of his presentation.
Tom Hickman, president and chief member advocate for NMG, described the last 18 months as the most challenging business environment ever. Following up on Weihenmayer's theme, Hickman described the buying group as the "rope team" for all the members.
"We are here as your team to support you. Most independent businesses don't have all the resources you need on your own," he adds.