Metra Home Theater Hosts 'The HDMI Cable Face-off' Workshop at CEDIA Expo 2019
Jeff Boccaccio of DPL Labs and Metra Home Theater's Brent McCall will lead one-hour seminars on the pros and cons of all transmission lines during the CEDIA Expo 2019.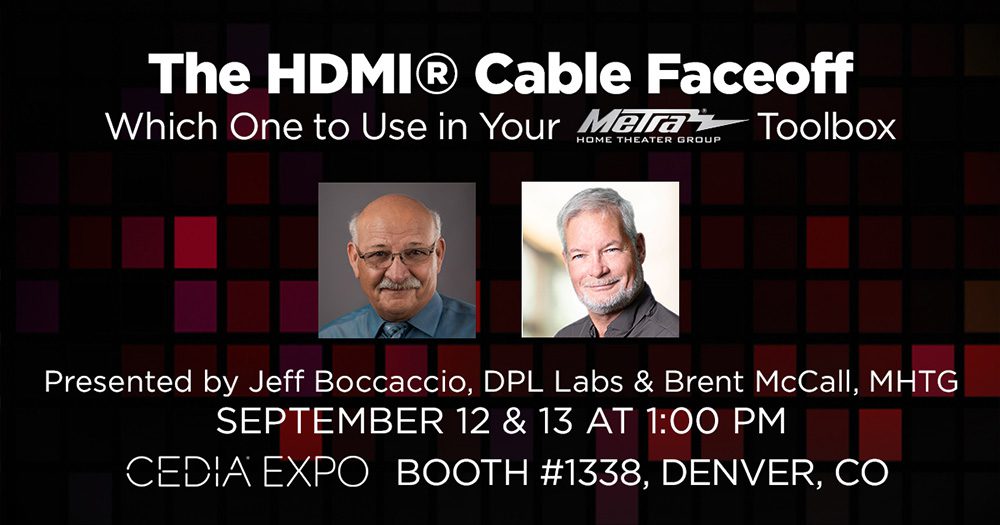 Announcing what has become an annual event during CEDIA Expo, Metra Home Theater is hosting its "The HDMI Cable Faceoff" in booth #1338 during the CEDIA Expo 2019 trade show.
Metra Home Theater is offering this one-hour workshop on Thursday Sept. 12 and Friday Sept. 13 at 1 p.m., and it says the 60-minute seminar will be conducted by Jeff Boccaccio, president of DPL Labs, and Brent McCall who is part of Metra's technical support and product development team.
"Metra Home Theater Group has a great working relationship with DPL Labs and our customers look forward to hearing Jeff at every CEDIA Expo they attend," states Jessy Crabb, general manager, Metra Home Theater Group.
"We look to DPL Labs for their expertise and distinct leadership in the field and to also help our customers adapt to the constantly changing technology that impacts their projects."
The Holly Hill, Fla.-based manufacturer says it developed the upcoming seminar to teach CEDIA Expo attendees the pros and cons of all transmission lines in order to help integrators adapt to any installation situation.
Metra Home Theater Seminars Cover 4K and 8K Resolutions
According to Metra, the goal of the workshops is to enable integrators to problem solve issues in the field.
Through the workshops, integrators will learn when it is appropriate to use copper and fiber cables, as well as passive and active cable products.
The seminars will also cover the latest HDMI tools for 4K and 8K home theaters, and Boccaccio will also showcase a new technology that is designed to fix or upgrade existing systems to help integrators transition clients to 8K.
Related: Metra Gigabit Accelerator Helps Upgrade HDMI Cables to Support 8K
During the seminars, Metra will demonstrate HDMI testing procedures to show attendees the differences in cabling products.
Metra Home Theater says dealers can contact its sales representatives to receive a promotional code for a free CEDIA Show pass. Workshop attendees will also be entered into a drawing to win an HDM-GA2 Velox EHV-HDP18 HDMI cable or the Install Bay 50-foot fiber IB-HDAOC-050 HDMI cable.
Winners for the Metra products will be drawn at 2 p.m. on Thursday and 2 p.m. on Friday, and Metra notes that during the show it will launch new HDMI and power products.
Registration for the workshops is now open.