Lutron Electronics has signed an agreement to acquire Ketra, makers of high-quality "natural light" solutions that emulate daylight in interior spaces. The acquisition makes Lutron a manufacturer of light sources/bulbs for the first time in its 57-year history. Terms were not disclosed.
Founded in 2009 in Austin, Texas, Ketra offers high-end lighting and control solutions that deliver customizable light in residential and commercial environments. Ketra's selection of light sources creates high-quality white, pastels, and saturated colors, which enhance the look of any space and allow integrators and homeowners to precisely tailor the light to meet the needs of the space. For example, a bright, energizing light in an office or a warm, comforting light in a living room can be created.
"Clearly, making light sources is very new for Lutron. It is going to make a big difference for our dealers."
— Ed Blair, Lutron
Ketra uses a common light emitter technology platform across all its products, which is controlled via a proprietary ZigBee network. The solution is able to calculate the exact performance of the RGBW LED emitters many times per second, which allows end users to control each individual LED in real time. Ketra has simplified the set up for integrators with its Design Studio tool that can dial in color temperature and saturation levels.
"Our company started over 57 years ago with our founders innovating the electronic light dimmer – a device that delivered beautiful light controlled by the end user," says Mike Pessina, co-CEO and president at Lutron Electronics. "Ketra's range of quality light complements the Lutron light control product offering and enables our customers to create a more comfortable, productive and pleasant environment at home and at work. We're excited to deliver this expanded light control solution to the industry."
Extending Tunable White Light Trend
Blair says it was a natural extension for Lutron to expand its product portfolio with Ketra light sources and controls. Tunable white lighting was identified as one of CE Pro's "Top 5 Technologies to Watch for 2018" and Ed Blair, Lutron senior vice-president, believes this acquisition will help integrators deliver those solutions more simply.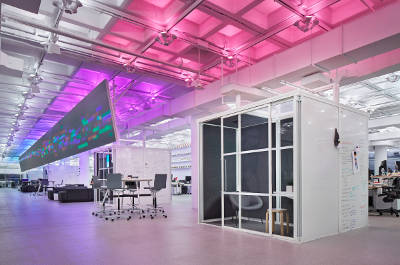 "This acquisition allows Lutron to take care of its customers with the most comprehensive portfolio of light control solutions in the industry. Moreover, it uniquely positions Lutron for the greatest success in the market's areas of growth, like simulated natural light, smart homes and buildings and tunable white," says Blair.
"Clearly, making light sources is very new for Lutron. It is going to make a big difference for our dealers," comments Blair. Historically, Lutron's fixtures, including its Ivaloa and Finire lines, have used outside light sources.
"Our objective is to create the best environment for dealers to succeed at the high end. Ketra combined with our Palladiom shades and keypads fits in perfectly," he says. "This will bring tunable white light into the mainstream. Other solutions are complicated, but with Ketra's Design Studio, the process is greatly simplified. An integrator can effectively do this without having to be a 20-year expert in lighting design."
Nav Sooch, Ketra CEO, says the acquisition will provide numerous benefits to lighting professionals and homeowners alike.
"Lutron's global reach, unmatched service, support, and outstanding reputation offer new opportunities to expand the market for Ketra's unique Natural Light offering," he says. "We're excited to join the Lutron family and together bring new solutions to our customers," says Sooch.
Ketra light sources are compatible with the Lutron HomeWorks QS total home control system and Lutron Quantum total light management system. Blair says Lutron will be evaluating Ketra solutions, which includes fixtures, controls and keypads in addition to the bulbs, and incorporate them into Lutron's offerings.
He notes that while Ketra is a perfect match for HomeWorks, Lutron would be looking for ways to move the technology downstream to its other control solutions, including RadioRA2, which uses Lutron's proprietary Clear Connect wireless technology versus ZigBee.
Ketra R&D Stays in Austin
According to Blair, Lutron plans to maintain the Ketra R&D facility in Austin. Lutron already has engineering facilities in Boston, Philadelphia, and Florida, in addition to its headquarters in Coopersburg, Penn.
Currently, about 90 percent of Ketra's business is in the commercial realm, but the company started working with residential integrators about six months ago and is pivoting to offer more residential solutions. One of those initiatives was joining the Home Technology Specialists of America (HTSA) buying group to offer its lighting solutions to that key group of 78 top custom integration firms. Lutron does not participate in any buying groups, but Blair says Lutron is evaluating that situation.
Ketra products are sold through select U.S.-based lighting showrooms and A/V dealers. Lutron will showcase Ketra's Natural Light solutions integrated with Lutron lighting control at the Lightfair International tradeshow from May 8-10, 2018 in Chicago, as well as at the CEDIA Expo from September 4-7, 2018, in San Diego.
If you enjoyed this article and want to receive more valuable industry content like this, click here to sign up for our digital newsletters!