Is Wi-Fi the future of home automation? Is this ubiquitous technology the smart bet to play nicely with some big names that are bringing "smart home" to the masses?
Leviton Manufacturing has good reason to think so and is backing that horse more than ever as it heads into CEDIA Expo 2019. The company, which will exhibit in booths 4257/4358 at the CEDIA/ADI Security Solutions pavilion, continues to push the envelope of smart Wi-Fi-based products and integrations as well as the devices in which today's smart home intelligence resides.
Though Z-Wave and ZigBee communications platforms remain a big part of Leviton's business, the major path to more installations for dealers, more potential for working with homebuilders and more vendor partnership integration will traverse Wi-Fi.
"We need to be the best Wi-Fi solution, and that's where we're moving into the future with," says Greg Rhoades, director, marketing – Energy Management, Controls and Automation, Leviton.
"Z-Wave has been a great technology, it's done us very well, same with ZigBee. But really where we see a lot of the future with home automation is in that Wi-Fi space and making it easy to set up, easy to program, easy to use … kind of following in the footsteps of those successful platforms like Nest and Ring, and leveraging your voice and the ways that people interact with the house today."
New Receptacle, Keypad, Dimmer, Fan Controller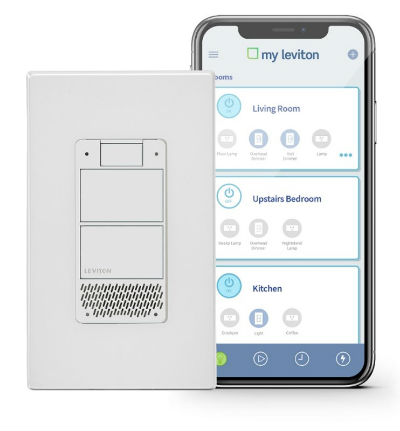 "We recognize that professionals really want that solution especially to replace our older Z-Wave keypads or UPB keypads; they want to upgrade to the future as well so we're giving them that four-button device," says Rhoades of the keypad that debuted earlier this year.
"The cool thing is it's going to allow local controls so your Wi-Fi goes down, that doesn't matter; I can still hit 'all on' and it sends a multicast message over the local network to say, 'Hey, everybody turn on, we just got an awakening.'"
Toward that end, Leviton has been working to expand its Decora Smart lineup with recent and new additions that dealers will be able to see at CEDIA Expo 2019 in Denver.
Decora Smart lighting and load control is available in several protocols – Wi-Fi, Z-Wave, ZigBee and HomeKit – but also look for the Decora Smart Wi-Fi Receptacle (also in Z-Wave Plus); Decora Smart Wi-Fi 4-Button Controller, which is an in-wall keypad; Decora Voice Wi-Fi Dimmer with Amazon Alexa Built-In (see image at left); as well as what Leviton calls the first Wi-Fi 4-Speed Fan Controller on the market.
Rhoades adds that more Wi-Fi integration partnerships are underway with other manufacturers, service, and software providers, under the banner of "Works with My Leviton" that designates its compatibility with the My Leviton app.
Regarding the in-wall receptacle, "Builders and integrators are really asking for that, being able to tuck it behind a TV or certainly in your living room or your dining room or wherever you'll be installing that," Rhoades says.
"The top would be controlled, the bottom is always on. Maybe the bottom is plugged into an alarm clock or a health device or a diffuser or something like that that we don't want to turn on or off. The top is controlled by schedule, by voice, by app, by automation of course and just builds [the intelligence] into the wall, and builds it into the mortgage. That's why the builders love it; they can have it actually be a component of their home," Rhoades adds.
Read Next: Leviton Partners with Alarm.com to Integrate Z-Wave Lighting Controls
Meanwhile, the in-wall keypad represents the shifting smart paradigm Leviton is embracing by converging previously disparate smart wireless lighting products such as dimmers, outlets and controllers. Throw in not only Wi-Fi but local controls and multicast messaging to ensure reliability, and Rhoades is confident in its appeal as a solution for both new construction and retrofit.
Importantly, it's the streamlined nature of going from a hub-based solution to one in which the smarts are within the keypad itself.
"There's a lot of innovation we're building directly into these devices," Rhoades explains. "They have scheduling; they know even if your Internet goes down, say, I'm the front porch light, it's 7 p.m. I'm supposed to be at 100% right now … so it turns on."
HAI Still in Company's Blood, and Engineering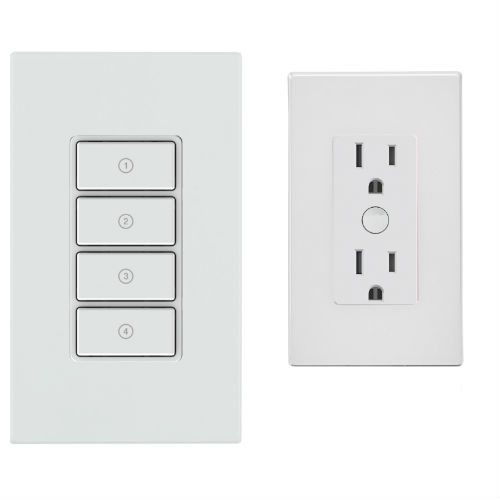 Speaking of replacing older products, part of the impetus with current and future Leviton products stems from the DNA that remains in the company from its acquisition of HAI back in 2012, Rhoades notes.
"An important product line in our heritage, the [HAI] Omni, is beginning to phase out. But we continue to create and grow with more partners and more intelligent devices than ever," Rhoades says of the system that helped many integrators bring more affordable automation to a wider swath of customers.
He says Leviton's technical support and repair departments are actively supporting Omni solutions, and that warranties will be honored for customers and experts can still assist via phone or email.
Moreover, the ace up Leviton's sleeve in terms of thinking like HAI is that plenty of HAI minds are still with the company. They're still figuring out how to make smart home more accessible – only now the technology at their disposal has led to new ideas of what a modern solution, and perhaps a replacement for something like Omni, should look like.
That also meant learning how to embrace the likes of Amazon, Google, Ring, Alarm.com and more, in a way that makes sense for forthcoming Leviton Decora Smart and Voice solutions, as well as the integrators, builders and end users.
"[Amazon and Google are] not just voice assistants, they want to be the operating system of the home and we recognized that early on we could create our own hub and compete with them, but it just didn't make sense for our business," Rhoades says. "We recognized that we could be the attachment device and play into that.
"We've built the hub into every light switch, now we're going to build an Amazon Echo into every dimmer."
— Greg Rhoades, Leviton
"They're creating massive ecosystems with massive marketing campaigns, and we can be the best smart lighting solution that we can be, especially if it doesn't require an extra box. We've seen a lot of success, especially in the builder market as builders recognize, wait, my Nest thermostat doesn't need a hub, my Ring doorbell doesn't need a hub … why do I need another box inside of the house?"
And, of course, fueling even more smart home appeal for consumers these days is the voice control aspect, which Leviton has now baked right into the device with its latest Wi-Fi dimmer. The product was shown privately at CES in January but CEDIA Expo 2019 will be the first public hands-on demonstration for the custom channel.
"We've built the hub into every light switch, now we're going to build an Amazon Echo into every dimmer," Rhoades says.
"As soon as the homeowner comes in they can say, 'Alexa, turn on this light' or 'turn on every light' or they can set a timer – and all those advanced features that voice control allows us to do beyond smart home; you can order pizzas and Uber and whatever else from this device."
Leviton worked with Harman on the audio portion. Rhoades notes they leveraged JBL's experience incorporating quality speakers and microphones into similarly small devices like cellphones and laptops.
"It's incredibly impressive what we can fit into that form factor," he says of the dimmer. "That innovation from the days of HAI, so many of us are still around [with Leviton]. Our engineers just keep on innovating. Imagine this in a nursery where I can walk in and say, 'Alexa, turn the lights off and play a bedtime story,' and it'll come right out of that smart dimmer."