CEDIA continues to help guide its members to emerging product categories and new relationships, the latest being kitchen and bath design opportunities as Kohler joins the CEDIA Propel affinity program. The announcement comes as the Kitchen & Bath Industry Show (KBIS) kicks off this week at the Orange County Convention Center in Orlando, Fla.
Recently, CEDIA added cybersecurity provider guardDog.ai to its roster of Propel program partners that also includes Autoslide, Immersive Gym and Zuma, plus discounts on Amazon offerings.
Kohler is a global leader in the design and manufacture of kitchen and bath products, and will have a major presence exhibiting at KBIS 2022 in Orlando.
The partnership will give CEDIA members in the United States access to exclusive discounts and benefits as part of CEDIA Propel, which launched in fall of 2020. Plus, in priority markets they will also get early access to Kohler's Authorized Service Rep (ASR) program, connecting them directly to new customers, the association adds.
"CEDIA's members fulfill a crucial need for Kohler as they expand their connected product offerings," says Giles Sutton, "Not only do our members have the training and experience to deliver reliable and delightful smart product integrations, but they also know the luxury market. CEDIA members are the ideal ambassadors for Kohler's most technologically sophisticated offerings."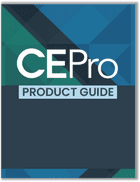 CE Pro's 2022 Product Guide showcases some of the latest and innovative solutions from manufacturers serving the custom electronics industry in a cross-section of categories.
Download the guide now!
All CEDIA integrators in the U.S. can sign up for Level 1 of the partnership, which includes discounts on select Kohler products, dedicated virtual training with the Kohler Smart Home team, and a direct line of contact to product experts and Kohler's inside sales team.
CEDIA members in the Los Angeles, Miami, and San Francisco areas can also apply to The Kohler Authorized Service Rep (ASR) program, which is now in its pilot phase. The ASR program directly connects integrators with Kohler customers in need of service, warranty, and setup support, bringing the technology designer into projects during the early stages of new installations.
"Kohler enhances the user experience by seamlessly integrating technology into our kitchen and bath product design," says Kohler associate channel manager Megen Rapp. "Essential to our success is ensuring our customers have access to trained and certified professionals for installation and support. Kohler is proud to support CEDIA, whose members have the expertise to deliver technology-driven experiences in every room of the home."
Kohler Partnership Can Improve Link Between CEDIA Members & Designers
CEDIA members who sign up and are accepted into the program will receive additional training and entrance into Kohler's business portal. Kohler intends to expand the ASR program into additional markets as demand requires.
According to Houzz's 2021 US Houzz and Home Study, kitchen and bathroom renovations are by far the most common renovation project types in the United States, comprising a quarter each of all renovation projects, CEDIA notes. However, the NKBA's 2022 Design Trends Survey finds that under 10% of respondents regularly work with technology integrators.
This unique partnership between the tech and kitchen & bath sectors gives integrators direct access to one of the largest home improvement categories in the country, bringing smart home expertise to new customers, CEDIA emphasizes.
"Luxury and ease go hand in hand: It doesn't matter how beautiful or innovative a product is if it's not reliable," says Integration Controls CEO and co-founder Jamie Briesemeister, a CEDIA Board member who has been a leader in the industry evangelizing the tech-design connection.
"Members of the design community have historically been reluctant to specify products with innovative features like app or voice control, temperature control, or digital personalization because of the additional complexity. CEDIA members have the technical mastery to overcome this hurdle. This partnership brings CEDIA integrators and design professionals together, allowing them to create elegant, intelligent spaces that work precisely as designed. It's a perfect application of CEDIA members' skillsets to a whole new category of projects and customers."