Motorized shade manufacturer J. Geiger has nothing on Lutron Electronics, at least as far as Lutron's new Palladiom shades are concerned.
That's what a judge ruled on inventor James Geiger's request for a preliminary injunction against the lighting and shades giant, prohibiting the sale of its new line. Geiger claims Palladiom infringes on a "concept" patented in 2016 (under GeigTech East Bay LLC) for a "high-end exposed roller shade."
The motion, filed in June 2018, was denied this week.
J. Geiger was a sleeper in the home automation channel until last year, when smart-home maker Savant adopted it for its own line of motorized shades. Savant introduced the line at CEDIA Expo 2017 at the same time Lutron introduced Palladiom. Unlike other Lutron models, the new line features a roller mechanism and brackets that hide unsightly components of the shading system, making the finished product look elegant enough to stand alone, without the need for fascia or other obtrusive design elements.
J. Geiger does that, too.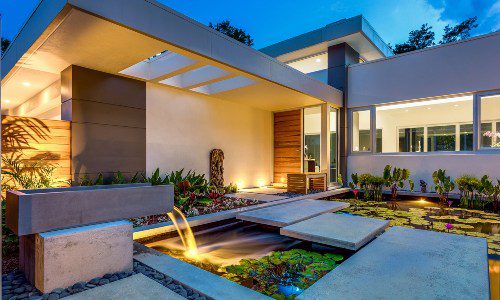 Landscape and architectural lighting create a magical and elegant ambiance for homeowners. The outdoor lighting industry has always been a phenomenal one and continues to grow in popularity. Now is the ideal time to learn more about this rapidly growing and highly profitable industry. Join our panel of esteemed lighting experts that will dive into why it's time for integrators to rethink their role in the outdoor lighting industry.
Register Now! 
Calling it "garden variety patent and trade dress infringement suit," Judge C.J. McMahon ruled that GeigTech fails on both patent and trade-dress claims.
While the preliminary junction is denied, Geiger can certainly proceed with the patent-infringement lawsuit.
No on Patent-Infringement Claim
As to the patent-infringement claim, GeigTech fails on two crucial legal standards for preliminary injunctions, the justice concludes: 1) that it would "likely prove" infringement, and 2) that the patent would "likely withstand" a validity challenge.
There is discussion in the GeigTech patent about a "key" and "pin" configuration in the shade assembly that the court found nebulous at this time. The plaintiff didn't help his own case here, failing to provide any attorney arguments or expert opinions on the matter – a serious lapse the judge cites more than a few times in his decision.
In any case, Lutron says Palladiom does not employ this "key/pin" structure.
Judge McMahon notes:
GeigTech has not offered any expert testimony from one skilled in the art to establish that its new Palladiom bracket infringes on either the "key" or the "pin" elements.

In short, Lutron has raised a "substantial question" concerning infringement.

Plaintiff counters by arguing, in conclusory fashion, that the two products are both exposed roller shades with a sleek, modern look – ergo there must be infringement. Since the "concept" of a sleek, modern-looking exposed roller bracket cannot be patented, GeigTech needed to engage Lutron's argument that the Palladiom shade does not achieve its "sleek modem look" by aping GeigTech's "key-pin" features – whatever those words may mean.
The Court seems to chastise the plaintiff for his request to speed discovery in the case, given that Lutron's product literature and specs had been available for eight months prior to the lawsuit being filed. Presumably Geiger, as an expert in the field, could have examined the literature during that time and prepared convincing arguments, with expert testimony, to present to the Court … or waited to break down the Palladiom product when it began shipping in spring of 2018 to show with some certainty that the product might infringe.
He didn't do that, according to Judge McMahon, yet he presumed to tell the Court how Lutron infringes.
The justice quips, "And of course GeigTech needs no discovery whatsoever in order to tell this Court how it – the patentee – defines the critical terms bearing on infringement that it used in its own patent."
Regardless, Lutron says Geiger failed to note in his patent or elsewhere that his "invention" was simply a bracket for existing Somfy motors, and that Somfy's own brackets used for many years anticipated the "key" element claimed in the GeigTech patent.
No on Trade-Dress Claim
To prevail in a trade-dress claim, the plaintiff must demonstrate all of the following:
The design is either inherently distinctive or has achieved secondary meaning
The design is non-functional
There is a likelihood of confusion between the plaintiff's product and the defendant's competing product.
Here again, Geiger fails on all counts.
The Court concludes GeigTech "utterly failed" to demonstrate that its design has any meaning in the marketplace or that consumers would confuse its products with Lutron's.
"GeigTech presents not a scintilla of evidence demonstrating that a single consumer has purchased Lutron's products while under the mistaken impression that they are GeigTech's brackets."
— Judge C.J. McMahon
GeigTech showed no evidence regarding the sale of its products, nor testimony or surveys suggesting any recognition of its product design.
"A couple of postings to a web site that remark on the similar look of the two products is not sufficient proof" of plagiarism, the justice opined.
RELATED: Savant's First Motorized Shades Offer Simple Ordering, Installation, Integration
"As for likelihood of confusion," he adds, "GeigTech presents not a scintilla of evidence demonstrating that a single consumer has purchased Lutron's products while under the mistaken impression that they are GeigTech's brackets."
In any case, other motorized shading brackets on the market also look pretty much like GeigTech's, Lutron showed.
As the justice notes, "Plaintiff's trade dress cannot be deemed strong when there [sic] other products that serve the same function and have a similar appearance."
Finally, the design of Geiger's brackets has functional as well as aesthetic value. There appear to be no superfluous, distinctive flourishes that are unrelated to the operation of the motorized shades.
Rather, GeigTech describes its trade dress as little more than "clean," modern-looking circular and U-shaped brackets, which the judge characterizes as "no more than 'a generalized type of appearance,' something that is not protected by the trade dress doctrine."
Importantly, the Court rules, "Nothing in Plaintiffs description of its trade dress suggests how the features it claims are distinctive are such – a fatal flaw when seeking to state a trade dress claim."
If you enjoyed this article and want to receive more valuable industry content like this, click here to sign up for our digital newsletters!