Something wonderful lives at the intersection of design and technology and we saw it articulated at the recent International Contemporary Furniture Fair (ICFF) in New York City at the Javits Center.
There was lighting that was said to be the lovechild of a tree and a chandelier and lighting that infused etched plastic with LEDs. We saw speakers wrapped in bespoke fabric.
There was the most beautiful glass thermostat/smart home brand on the market (that's right…we said it) and in the area of wellness, we were introduced to a brand that is elevating home spas in ways that combine technology and design to provide users with the best experience.
Stickbulb's Modern Take on Chandeliers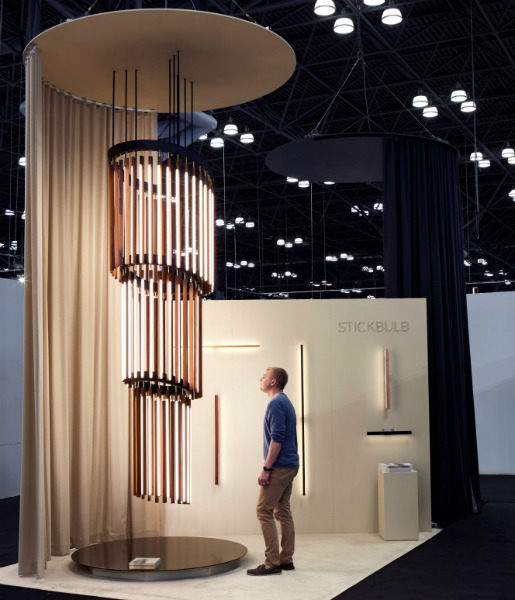 A New York-based lighting manufacturer with an experiential showroom in Long Island City that we sadly did not have a chance to visit during ICFF – Stickbulb so cleverly planted their innovative flag with Chime.
Designed by RUX, the creative team behind Stickbulb, Chime is a playful reinterpretation of a classic chandelier.
Here's where the reinterpretation gets interesting; the 10-foot tall cascading fixture is made from reclaimed redwood from the recently demolished water tower (darn) atop Brooklyn's first skyscraper (again…darn), itself a landmarked building.
Unique to Chime is a ball joint connector that allows each Stickbulb 360 degrees of rotation within its socket, as well as the ability to sway in a gentle breeze. Chime was originally designed as a custom one-off project but as oftentimes happens, custom begets collections, and this baby will have siblings shortly!
Parachilna Lighting-as-a-Sculpture
It's not easy to surprise an old brand gal like me but Barcelona-based Parachilna did just that. It was a stopped-in-my-tracks moment when I saw their Gweilo Collection (shown above).
This hand-molded, transparent acrylic structure has an LED strip embedded in the gold anodized extruded aluminum profile.
The sculptures themselves are handmade using thermoforming, a technique that allows etching optical grade acrylic sheets to be custom-shaped while they are still in their hot plastic state.
While still molten and pliable they are sculpted and then once the embedded LED strip is affixed to the cooled sheet's edge, light is diffused across the etchings, amplifying the luminescent output.
Ethereal is the word that comes to mind.
Vitrea's Touching Automation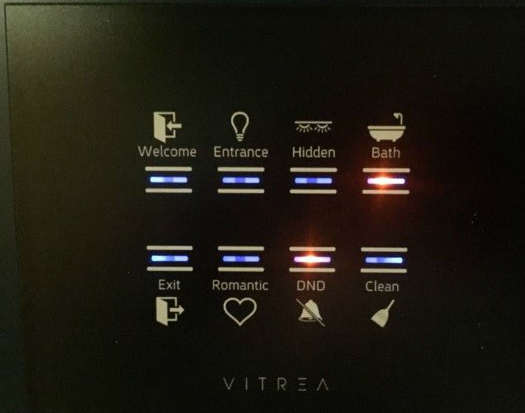 This Israeli-based brand continues to innovate and do it beautifully. They were exhibiting their Vtouch Pro system at ICFF, claiming that smart homes just got smarter, simpler and more affordable.
Because of its unique ability to simply replace regular electrical switches, VTouch Pro's innovative use of wireless technology provides all of the benefits of a typical home automation system without the need for expensive infrastructure, renovations or complicated, wired installations.
These gorgeous super thin glass panels can be customized or even inset into a wall to create an even more refined look.
Your home's electrical fixtures can all be connected and managed through an app, calendar or scenario switches and of course their system is compatible with virtually all the major players (Savant, Control4, etc.)
They were showcasing both their residential touchpanels as well as their new boutique hotel version which is designed to help facilitate maintenance of the rooms.
Hammam Steam Generators for Wellness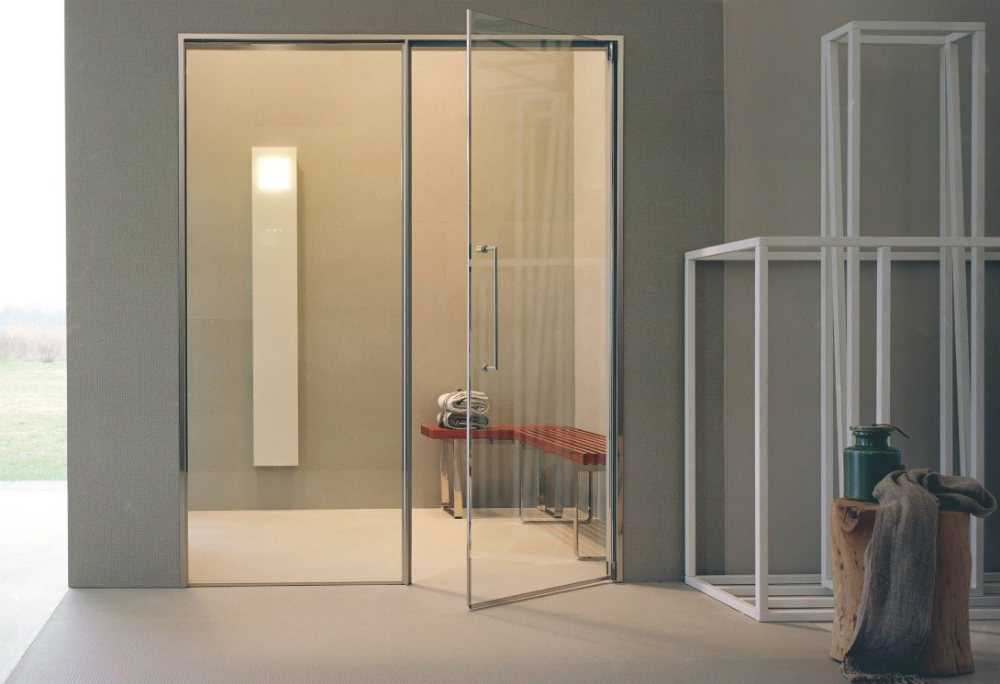 Wellness, wellness, wellness…have we mentioned that we are all about wellness? We are, and we were excited to see and learn more about this beautiful steam shower system from EFFEGIBI.
This company has been extolling the virtues of water via Turkish baths, saunas and steam for 30 years, and if they seem obsessed, we can't blame them. Here in North America we are playing catch-up to what Europeans have taken for granted for centuries.
The design is elegant and compact – consisting of a screen-printed tempered glass sheet with a thickness of only 3.7 cm. An air ventilation system minimizes temperature layering inside the cubicle and the system is considered low maintenance thanks to the automatic boiler-cleaning system that minimizes lime-scale build-up.
At ICFF, EFFEGIBI introduced their Touch & Steam product, a professional-grade steam generator complete with chromotherapy and aromatherapy and a control panel that works with either an external or internal steam generator.
Read Next: Biophilia—Nature Sounds vs. White Noise for Productivity and Wellness
The entire system is insertable in every shower or hammam environment.
We love that its sophisticated sensor detects when the door is open and automatically blocks steam generation and of course there are remote control capabilities from a smartphone or tablet. I'm in (and by that I mean, I'm in the steam shower right now so don't call me.)
Vifa's Prettier, Red Dot-Winning Wireless Speaker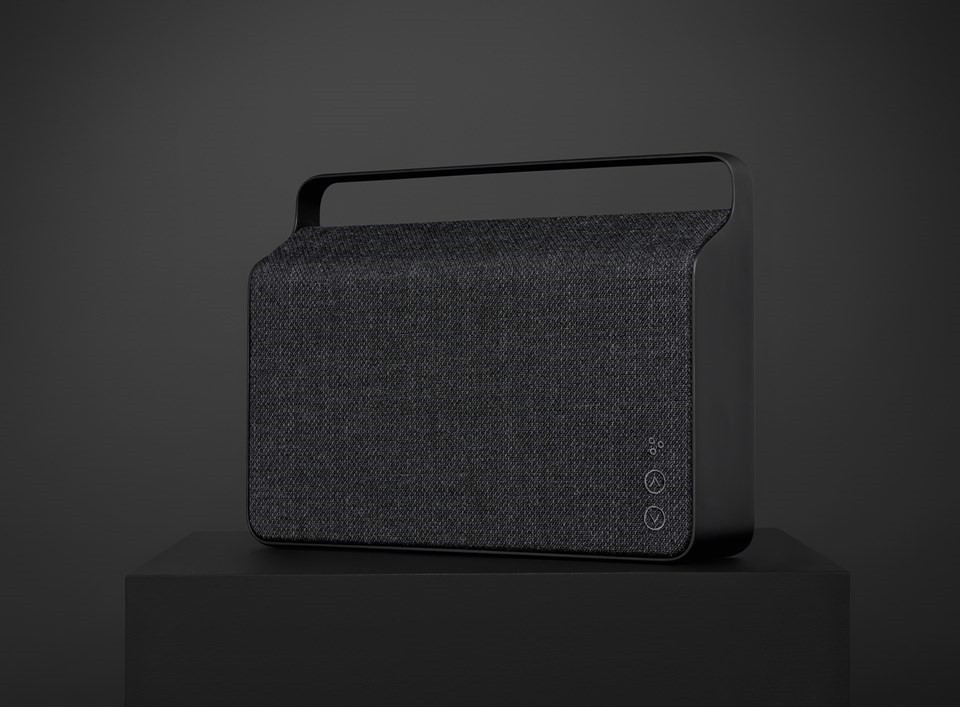 I love a good backstory and Vifa's got one. Their founder, N.C. Madsen began his career as an auto-mechanic but eventually switched to his real love; loud-speaker technology. From a small Danish countryside village, he started designing and manufacturing speakers for other companies until eventually the brand struck out on its own.
At ICFF, Vifa introduced their portable wireless WIFI Bluetooth loudspeakers – all covered in an elegant slate colored fabric (slate is the new black, they claim).
The fabric design is a collaboration with the Danish textile manufacturer Kvadrat. What's special about Kvadrat? Their fabric is Eco labeled. Their speakers are extremely well-designed, Red Dot award-winners and we love being able to pick up a speaker and move it wherever and whenever.
We did see many other technology-infused products, and many products that we couldn't say utilize technology in their design, but their attention to detail was such that it reaffirmed my belief that there is nothing too small to be designed.
Long live product designers!