I remember when I saw it for the first time – that headline flashing quickly across my screen: BREAKING NEWS! AMAZON LAUNCHES HOME SECURITY SERVICES! JULIE IS THE LAST TO KNOW.
If that doesn't stop a girl's heart, I just don't know what ….
I dropped the groceries and raced into traffic, knocked a little old lady out of the way and broke through a "wet cement" sign to get upstairs to a computer to break the news.
I had already concocted my own headline and half the story before learning any details of the actual program (totally out of character, of course). As it happens, I was completely wrong … today … but hold that thought for about a year.
The 'Amazon Security' story in my head went something like this:
Amazon has finally conquered the "last mile" of its smart-home services empire, creating a security installation business that the alarm industry has feared for years.
Competing with Vivint, ADT and other national providers, Amazon has quietly amassed its own army of licensed security contractors, telemarketers and door-knockers to sell and install professionally monitored life-safety systems, including fire protection.
Through a series of acquisitions, the e-commerce giant has built out its own triple-redundant UL-certified central monitoring station. Basic alarm monitoring will be offered free of charge to Amazon Prime members, who just saw their annual fees increase from the old $99 plateau to the new $119 level. Advanced security monitoring, including video verification, will be available at additional cost.
Amazon officials say they waited to launch the new Amazon Security Service (ASS) business until they had "feet on the street," namely, certified alarm installers and service providers at the local level.
— The Amazon Home Security story that lives in JJ's head
Concurrently, Amazon has developed its own SHaaS (software as a service) platform to meld home-automation with UL-rated alarm services, following a model similar to those of industry leaders Alarm.com (and Icontrol before that), Comcast's Xfinity Home, Honeywell Total Connect and others.
The new "Amazon Interactive Security" (the "AI" acronym is not coincidental) features technology from the now-defunct Zonoff, whose Z1 platform was built over the course of several years in cooperation with ADT, which contributed $36 million and substantial intellectual resources to the effort. After lawsuits were settled, the Z1 technology and all the Zonoff people eventually made their way to Ring (Bot Home Automation), which Amazon acquired in February 2018 for about $1 billion.
Amazon officials say they waited to launch the new Amazon Security Service (ASS) business until they had "feet on the street," namely, certified alarm installers and service providers at the local level. Amazon plans to tap other human-resource pools within the vast organization to supplement ASS teams on the ground. For example, home-delivery personnel – whether they provide white-glove in-home service or front-door drop-offs – will be incentivized to promote ASS to customers and their neighbors through leave-behind promotional materials and personal engagement.
RELATED: Amazon Debuts Smart Home Services, Security Package Tiers
Currently, Amazon is trialing a marketing program in San Antonio, Texas, where drivers leave a sign at a home's doorbell location whenever they drop off a package. The notice, designed to fit over an existing "dumb" doorbell, features the image of a shifty-looking dude as seen from a front-door camera. The caption reads: "I could have stolen your package and scared your children. If you don't want that to happen next time, check this box and leave it at the front door or call ASS today for your no-obligation home-security assessment."
The e-commerce and logistics giant is launching an ASSessor certification program for field personnel who want to be "on call" to provide these assessments within one hour. The immense reach of Amazon fleets and the sophistication of the company's logistics systems would enable the company to provide these on-demand calls with virtually no lost time – simply by re-routing drivers as their schedules and locations allow – eliminating the usual "truck roll" costs that strain the resources of traditional providers.
The beauty of the program is that it provides a career path for delivery drivers to become security and/or home technology specialists in a field that is vastly short of qualified labor.
Amazon expects to grow its base of monitored security customers rapidly, which not only provides new revenue streams for alarm monitoring, but also builds a captive market for its Amazon Key unattended-access program. From there, Amazon can boost sales of perishable products from its Whole Foods stores, and open doors (so to speak) to other goods and services to be sold, delivered and serviced by Amazon.
Any of these products and services, naturally, could be ordered with a simple voice command or the press of a button.
Amazon is no closer now to the security model in my head. Give it a year, though.
The Real Amazon Security Story went more like this …
The same connected products that Amazon has sold for years, will now be bundled into packages labeled with terms such as "smart security."
If customers don't want to install these standard video doorbells, smart bulbs, IP cameras and wireless sensors themselves, they can hire Amazon to do it – the same Amazon Smart Home Services people that have been installing these products for over a year. Except they were called "smart-home" systems. Now they're called "smart-security systems."
At the end it is just a "portal," as TechCrunch calls it.
There is no professional alarm monitoring. There are no licensed alarm installers. We won't see ASS salespeople canvassing the neighborhood. Amazon is no closer now to the security model in my head. Give it a year, though. You will see this ASS-case scenario play out, but it won't happen organically. Amazon will acquire one or several alarm companies and probably a central monitoring station – or both in one fell swoop.
Then you will see the rest of this scheme fall into place. There is no question.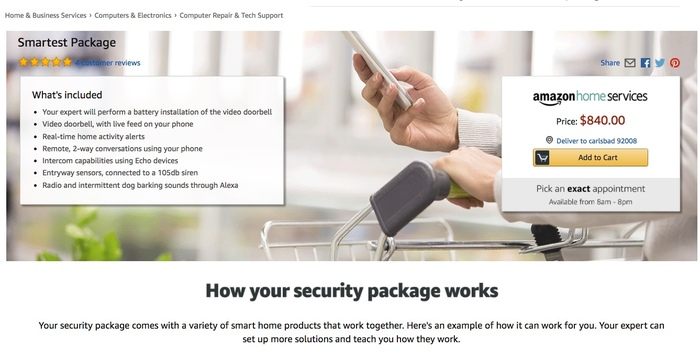 If you enjoyed this article and want to receive more valuable industry content like this, click here to sign up for our digital newsletters!