ZigBee 3.0 is the new "standard" in the ZigBee home-automation standard — the one that says everything with a ZigBee logo is (should be) interoperable — and now we have the first thermostat to earn the new mark.
At Parks Associates' Connections 2018, Lux Products debuted the new KONOz Smart Hub Thermostat, certified as ZigBee 3.0-compliant by the ZigBee Alliance on April 23, 2018.
Beyond the ZigBee 3.0 compliance, the KONO product has a few unique features, notably, the faceplates are interchangeable so users can select their own finish or create one themselves via Lux's plain ol' primed unit.
Lux also touts KONO's ease of installation, with its relatively large access hole for wires, and screwless wire terminals.
More interestingly, KONO offers flexible geo-fencing for the thermostats.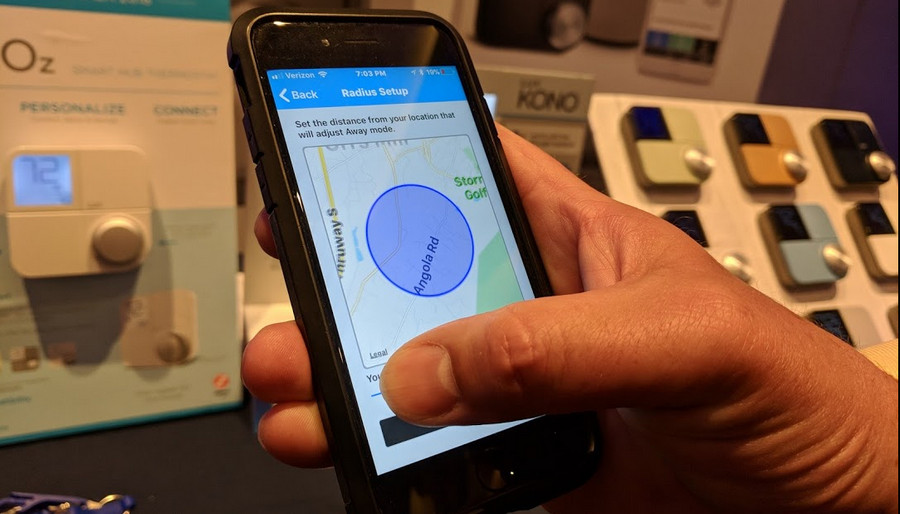 Most competitive products offer only a fixed "fence," according to Lux senior product manger Justin Pasquale, but KONO allows variable and multiple radii.
If one household member works at a school one block away, and another at an office way across town, he explains, each can set a geo-fence to optimize the thermostat's operations.
Other thermostats might see the teacher as home all day.
Lux aready makes a Wi-Fi thermostat. The ZigBee version is due out soon.