First Ever Biophilia & Wellness Meet-Up Slated for CEDIA Expo 2019
CE Pro hosts biophilia and wellness presentation and networking session at CEDIA Expo, Thursday 10-11:30 am.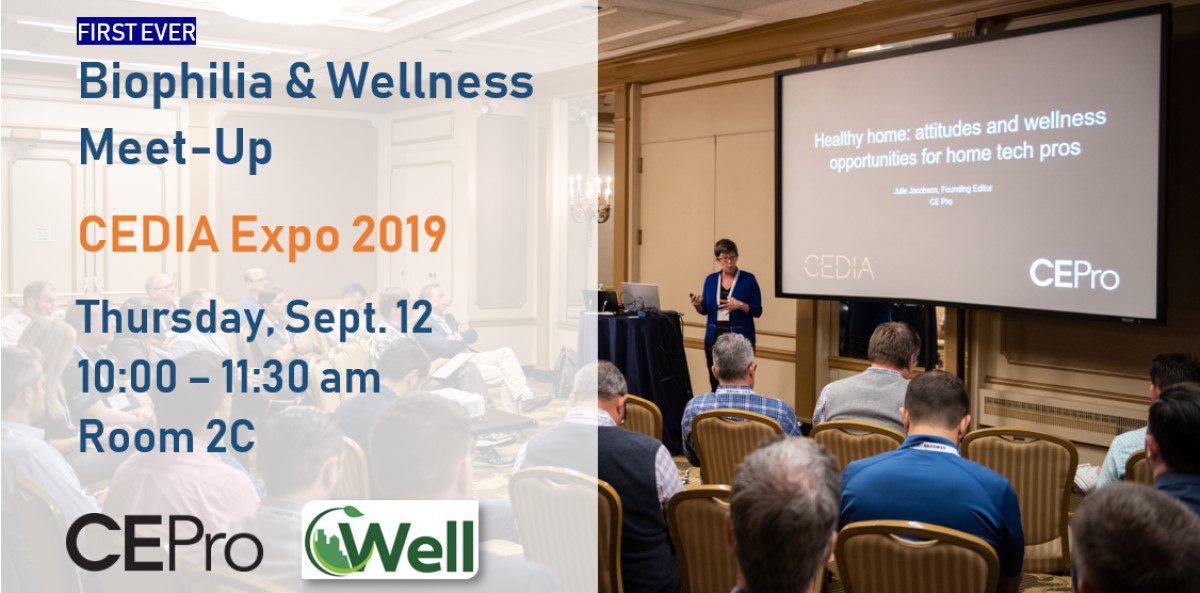 Biophilia and wellness have consumed the home-technology channel in just a few short months. During that time, individuals and companies have been scrambling to make connections and establish strategies to capitalize on the hottest category to hit the design/build/integrate community since the "green" movement over two decades ago.
CE Pro is hosting the first ever biophilia meet-up at CEDIA Expo 2019, bringing together a wide range of interested parties who want to connect and conquer. We expect to see integrators, manufacturers, technology providers, lighting designers, interior designers, architects, home builders, standards bodies, researchers and others already thriving in the field … or hoping to do so.
The session is open and free to anyone who is registered for CEDIA Expo, Sept. 9-12, 2019, Denver. (Register for Expo here).
Below is the "course" description.
How to Register
Log into your Expo registration
Add a course to your registration
Go to Manufacturer Product Trainings
Enter a keyword or the session #MPT124 to pull up the course.
Register for $0.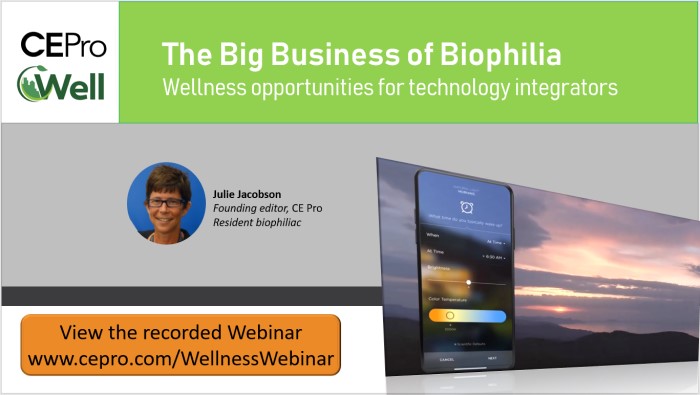 ---
Thursday, September 12
10:00 AM – 11:30 AM
Room: 2C
This first-of-a-kind session unites otherwise disconnected disciplines, product categories, channels, markets and business models around one common theme: Wellness and its sidekick biophilia.
Julie Jacobson, CE Pro founding editor and resident biophiliac, will begin the program with a 30-minute overview of the big "wellness" movement and where the opportunities lie for the home technology channel.
Following the brief presentation and Q&A, Julie will invite some of the attendees to speak briefly on their areas of interest and expertise. She will facilitate networking among the group to ensure attendees make the right connections and meet the people that matter most to their business.
Julie invites all interested parties – attendees or not – to begin the conversation in the biophilia/wellness group on linkedin: http://bit.ly/biodigitry.
THE PRESENTATION:
Understanding biophilia and its role in health and wellness
The science and research of biophilic design: bringing nature indoors
How "nature" can be simulated with technology (biodigitry), such as circadian lighting and artificial skylights, with positive effects on health and wellness
Key categories in biodigitry, including human-centric lighting, indoor air quality, water purification, artificial windows and skylights, aromatherapy, content featuring sounds and images of nature, climate control, "living" elements such was water and plant features, motorized skylights, motorized shades, air-movement devices and more.
Why the smart-home channel is uniquely positioned to dominate this field.
Biophilia and wellness on the Expo floor: what to see
For more information, or to simply connect to the wellness movement, contact julie.jacobson@emeraldexpo.com.
To get in on the conversation, join http://bit.ly/biodigitry on Linkedin, or post your comments below.