Eaton Lighting Rolls Out Downlight with Alexa Built In
Light fixture illuminates and listens for verbal commands without the need for a smart speaker.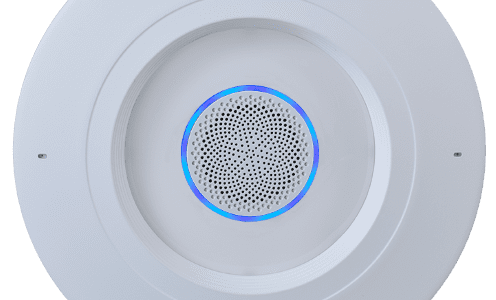 Since the dawn of voice assistants, consumers have been asking questioning and commanding smart speaker devices. From the original cylindrical Echo-esque speakers to the tiny disc-shaped Dots, many iterations of the listening devices have emerged. There are light switches and thermostats, smoke detectors and complete home control systems that now have the technology built in, offering a more streamlined approach to hands-free home control.
Adding to the voice-enabled options is Eaton Lighting. The company last year announced that its Halo line of lighting products were voice-enabled—a solution that required the addition of compatible smart speakers.
But now the company has a device with Amazon Alexa built-in, and it's about as unobtrusive as they come.
The new Halo Home Voice downlight illuminates a room while it listens for voice commands. It still listens even if the light is off. It looks and installs just like an ordinary recessed lighting fixture—but with the added ability to listen for and carry out voice commands.
"Eaton's Halo Home Voice downlight features voice-first capabilities that make it easy for customers to manage their lighting and more from throughout the room," says Pete Thompson, vice president, Alexa Voice Service.
"Combining Alexa with Eaton's industry-leading lighting products enables customers to have their favorite voice service on hand and ready to help, anywhere, in any room," adds Eaton Lighting chief technology officer Parth Joshi.
Related: Voice Assistant Adoption Growing Despite Security and Privacy Concerns
The downlight is fitted with two microphones, a quad core processor, and enough RAM to support complete Alexa control. The product can be set up using the Halo Home app, then configuring voice settings using the Halo Voice app for iOS or Android.
The Halo Home Lighting line from Eaton includes smart floodlights, lighting dimmers and keypads, plug-in modules and other accessories.
The system enables dimming, white-tuning, grouping, scheduling and scene setting. With the exception of the new Alexa-enabled downlight, Eaton's smart lighting products require the addition of a smart speaker to respond to voice commands.