The 3G/CDMA sunset is the security industry's dirtiest little secret. More than 10 million alarm systems could go dark in the next year or two – three years tops – as AT&T, Verizon and other carriers kill their legacy networks in favor of 4G/5G/LTE.
Currently, no reasonable DIY solution exists for replacing 3G radios with modern-day communicators. And rolling 10 million trucks over the next couple of years is an impossible task.
The alarm industry is scared, but they don't want you to sense the fear (see sidebar).
"People don't want to talk about it, because then it becomes a liability," says Mike Lamb, the serial entrepreneur behind wireless security and home-automation companies Secure Wireless, Street Smart and Ecolink – all of which were acquired by public companies.
Can Lamb's latest start-up CellBounce save the day? The company's forthcoming patent-pending gateway promises to revive 3G devices for another 15 years or so … without a costly truck roll. The provider simply tosses the gateway in the mail and the user plugs it into an AC outlet.
CellBounce appears to have the only solution even being contemplated for a hands-off upgrade to 3G-based alarm systems.
"Nobody has anything like this," says Lamb in an exclusive interview with CE Pro.
The alarm industry agrees. CellBounce is backed by the who's who of the security industry, including 2GIG co-founder Lance Dean, along with founders and former leaders of Vivint, Honeywell, ADT, ESX and Z-Wave (as well as my husband, which is an important disclosure here).
How bad is the looming crisis?
The 3G sunset dates are still a little fluid, but AT&T is saying February, 2022 for its network. Verizon says it's axing 3G at the end of 2019, with exceptions for some machine-to-machine (M2M) devices including IoT security products.
Any alarm panel that communicates exclusively over these legacy networks will need a new modem in the next couple of years, or else ….
Not that consumers even know how their security system communicates with a central monitoring station or interactive service (SHaaS, or smart home as a service). They could wake up in six months to the blare of a fire siren … and no one responding.
3G Sunset: Security's Dirty Little Secret
The alarm industry is spooked by the prospect of mass attrition from subscribers with 3G/CDMA security panels and communicators.
More than 10 million of them could see their alarm systems go dark when the sun sets on 3G/CDMA cellular networks in the next year or two. Goodbye customer, hello potential liability.
Even if providers could roll 1 or 2 or 10 million trucks to replace cellular radios during that time, they're looking at about $200 per customer. ADT alone might be looking at a $740 million tab.
---
Privately, they tell you they're petrified. Publicly, however, they're relatively mum.
"People don't want to talk about it, because then it becomes a liability," says Mike Lamb, founder of 3G-upgrade company CellBounce.
During the January 2019 ESA Summit, hosted by the big Electronic Security Association, not one word was said about the 3G sunset in the marquee panel session, "What Keeps You Up at Night?"
When I asked a participant about the 'oversight,' he replied, "Because no one wants to talk about it." -JJ
ADT, Other Alarm Companies Face Costly Truck Rolls
Alarm providers are terrified. ADT announced recently that half of its 7 million+ subscribers utilize AT&T's 3G network. Upgrading them all would require some 100,000 service calls every month for the next three years.
Currently, there is no DIY solution for upgrading legacy (cell-only) security panels and alarm communicators employed by ADT, Vivint, Brinks, Guardian and virtually all of the leading security brands.
Until about two years ago, leading suppliers like Honeywell (now Resideo), 2GIG, DSC, Napco, Interlogix, Alula (formerly Resolution Products), Tellular/Telguard, Alarm.com, Xfinity Home and so many others locked down their cellular radios, without user-replaceable options.
New alarm communicators are touted as savers-of-the-day with pin-for-pin replacements, Lamb tells CE Pro.
"But the problem is the truck roll," he says. "Nobody has solved that problem."
A single truck roll can cost a company up to $200, but even the most efficient provider tackling entire neighborhoods at a time can expect to spend about $125 per customer, according to industry estimates. The new hardware alone costs $50 to $100.
CellBounce (detailed below) is completely do-it-yourself, Lamb says: "Just plug it into an outlet."
He expects the product to sell for less than $150 – "about the cost of a truck roll."
The 'Upgrade Opportunity' Fallacy
Publicly, alarm companies are telling investors the 3G sunset represents a glorious upgrade opportunity. Privately, they're nervous as heck about the cost of upgrades and, worse, the loss of customers.
"There's this whole fallacy of the 'upgrade opportunity,'" Lamb says. "What are they going to upgrade to?"
It's not like security companies can eke out extra bucks for swapping out a radio or sweet-talking existing customers into new features as they explain their old system is useless. The hope, according to many security providers, is to upgrade users from security-only solutions to security with home automation and SHaaS. Many advanced systems, however, will also need new radios by sunset time.
RELATED: ADT Pulse vs. Command and Control; 3G Sunset Doom as 'Opportunity'
During ADT's Q4 2018 earnings call in March of this year, company execs gushed about the opportunities inherent in a customer touch – even with a touch of bad news:
ADT's new Command and Control security panel and service (the successor of Pulse) will "serve as a central piece of our upgrade strategy with current customers using legacy systems," said president and CEO Jim DeVries. "In tandem with the announcement a central part of our strategy will be to offset the expected one-time radio replacement costs, with the recurring benefits of upgrading a substantial portion of our customer base to our latest technology in security and smart home innovation."
And then:
We are assessing and we have been assessing the impact, but we're doing it in the context of a broader customer upgrade strategy and so we know that we have an opportunity to upgrade our legacy customers. We know that some number of these customers are going to attract. We're working with our partners on cost offset and working together to develop that upgrade strategy. And so we're really sort of waist deep in the assessment, but engaging — sort of engaging this process from the perspective of an upgrade strategy for us more than purely 3G.
And more:
[W]e see this sunset as an opportunity for our Company. There's some level of disruption in the marketplace as a result of it, with all the mom-and-pops that have 3G customers, even our traditional competitors and so there is an aspect of the 3G sunset that we're viewing it as opportunistic for ADT.
And from CIO Don Young:
There's a lot of features and capabilities that come with that Command and Control solution that we think fits nicely into the upgrade strategy.
The notable features include the ability for customers themselves to replace the radio next time 'round. Also, there's two-way encryption between the panel and sensors.
Plus, the new radios can work over the FirstNet cellular network reserved for emergency service providers, Young explains:
An easy thing that we're really looking forward to is, at the moment that we're talking to the customer about the 3G radio upgrade, to bring this value to them, to explain to them what the value of that land on the highway will bring in terms of responsiveness.
Not Enough Time, Money, Labor
Regardless of any inherent opportunities of 3G, however, big alarm companies still can't pull off the big swap-out – not in the next 30 months (AT&T) and certainly not in the next six months or one year (Verizon).
"There's not enough slack in the system," Lamb notes.
Even when the ADTs of the world take incoming calls from customers and prospects, it still takes multiple communications before an installer even knocks on the front door. Imagine when it's the security companies themselves trying to reach their customers to schedule an install for something they don't actually "want." (And by the way, would you like to buy a more expensive package?)
And who is going to open an email from an alarm company with the subject: "IMPORTANT MESSAGE ABOUT YOUR ACCOUNT!"?
"It could take 10 million calls," Lamb asserts. "Attrition is going to be impossible."
Worse, customers will be able to end their contracts early without having to pay the usual penalty that makes the provider whole. Often, ROI can run three years for low-money-down alarm providers.
What's the solution, then? Go door-to-door? Even Vivint, with its well-oiled direct-to-home machine, probably couldn't pull it off. Their machine works so well because the young door-knockers get paid handsomely to sell new systems – not to fix existing security panels.
What about big installation companies like Amazon Smart Home Services, Geek Squad or Dish Home Services? Even assuming they had enough certified installers for the job, they're charging providers about $130 per truck roll.
Adding the cost of a 4G module, "you're looking at $200-plus in the best-case scenario," Lamb says.
Multiply that cost by a conservative 10 million units, and you've got a $2 billion thing.
"Even with attrition and some percentage of upgrades," Lamb says, "this is a $1 billion problem."
He adds: "Everybody is calling it an opportunity. It's really a liability they should be accruing. The numbers would be horrific."
CellBounce's DIY 3G-Saving Solution: How it Works
CellBounce's solution is at once ingenious and stupid-simple. Basically, legacy 3G/CDMA radios keep on communicating as usual, but instead of talking to a cell tower miles away, they talk to a CellBounce gateway in the home. CellBounce receives the alarm panel's 3G signal and converts it to a 4G/LTE signal (or IP or both), sending the message on its merry way to the same place it always goes.
The monitoring station keeps the account. The SHaaS provider like Alarm.com keeps the account. The security dealer keeps the account. And importantly, AT&T and Verizon keep their accounts.
"The solution is fairly unique," Lamb says. "It doesn't exist out there. We are acting as a cell tower on site."
The technique, known as femtocell or small-cell (as opposed to bigger micro- and macro-cell towers) does exist for different applications, though. It's a similar technique used for cellphone boosters and cell-to-Internet calling.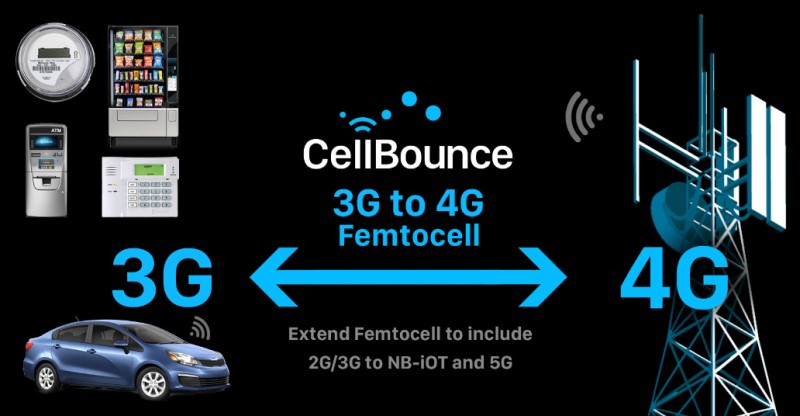 San Diego-based CellBounce is in a tremendous position to pull it off because of Lamb's long history in the security industry … and his proximity to some of the greatest minds in 3G.
"This product may not be possible to make outside of San Diego because most engineers that invented 3G/CDMA are based here and now work for us," Lamb says. "Qualcomm, Leap, AT&T and U-Blox senior engineers all left their jobs to be part of CellBounce."
Like any cellular device, the femtocells have to be licensed with AT&T, Verizon and other carriers to communicate over their networks … and with modems like the 3G/CDMA variety used in security panels. This feat requires the networking software to begin with, as well as authorization testing and of course a hefty licensing fee.
Lamb says CellBounce has secured three of the five requisite licenses, with the final two almost wrapped up.
"Slowly and methodically we sucked up all of those licenses," he says. "They all thought we were crazy. "They said, 'We'll sell you the license, but are you dumb? Can you count? We're at 5G, why would you want 3G?'"
Of course, the femtocells require 3G radios to communicate with the security panels, meaning the silicon providers need to keep cranking out those pieces, which apparently they're all too happy to do.
The cellular carriers are happy too. Assuming ADT is one of AT&T's largest customers – 3G and otherwise – then AT&T is going to want ADT to keep its alarm accounts. Any ADT account lost, whether from outdated technology or takeovers by competitive dealers, could be a lost account for AT&T.
"AT&T has been very supportive and a pleasure to work with," Lamb says.
3G Sunset and CellBounce Market Potential
CellBounce's 4G/LTE gateways (5G-ready with Cat M1) should be good for up to 15 years, Lamb says – 10 years for LTE and five more with 5G, at least in North America.
While his experience is in the security industry, he notes that other industries are in the same boat, with an estimated 220 million 3G devices – mainly for IoT and M2M applications – facing obsolescence.
The numbers tossed around include: 80 million 3G devices in North America alone, "most of which are IoT devices operating on national carriers' networks." In the U.S., some 7.5 million IoT devices used for fleet management run on 3G networks, according to research from Gartner. Millions of ATMs use 3G, too.
Talk about emergency responders: "Virtually all of them are on 3G," Lamb says. "They would have to change out everything in the truck."
He says CellBounce could be placed in the trucks to bridge 3G networks to the latest FirstNet first-responder network.
"We're so far ahead development- wise, it would be difficult for anyone to catch up."
— Mike Lamb, CellBounce
Tens of millions of smart meters run over 3G. Lamb suggests CellBounce as an easy fix: Just install a CellBounce gateway in the premises.
Of course, CellBounce isn't a permanent fix, but if it can extend the life of a mission-critical system for 10 or 15 years, it gives all the players time to plan and deploy their longer-term solutions that anticipate future obsolescence in cellular communications.
Nowadays, product and service providers are designing products with user-replaceable options for cellular and other technologies.
Lamb isn't sure if CellBounce will play in the larger, multi-application worldwide market. Negotiating with all the constituents and securing licenses is a costly endeavor.
For now, he sees tremendous opportunity in the U.S. alarm market and cannot imagine another entity encroaching on the CellBounce business.
"We're so far ahead development-wise," Lamb says, "it would be difficult for anyone to catch up."
So what does this mean for 3G?
"Everyone thinks 3G is dead," Lamb says. "Qualcomm is taking an end-of-life chip they no longer make and respinning it for us. They believe it's a multi-$100-million market."
CellBounce will offer a few flavors of gateways, including a version for dual cellular/IP communications. The company expects to begin shipping in Q1 2020.
Lamb says he's already received a letter of intent for an order of 1 million units.
post
If you enjoyed this article and want to receive more valuable industry content like this, click here to sign up for our digital newsletters!