What pandemic? That might be the question many custom integration companies are asking themselves after the first half of 2020. Despite a lull in March and early April due to the coronavirus lockdown, custom integration companies report an incredible 9.4% revenue growth for the first six months of 2020. Also, dealers report their number of installations grew 8.5% between January and the end of June, nearly in lock step with the revenue growth.
Digging into the data, 65% of integrators report their revenue increased during the first six months of 2020 compared to the same time period in 2019. Another 20% report flat revenues for the first half.
The data reflects the increased demand integrators are experiencing as clients are now stuck at home more and want improved home entertainment, networking and security systems. Likewise, dealers who are in areas where new construction is on the rise are reaping the benefits. New home permits and sales are way up, with The National Association of Home Builders reporting the highest confidence increase among its members since 2006.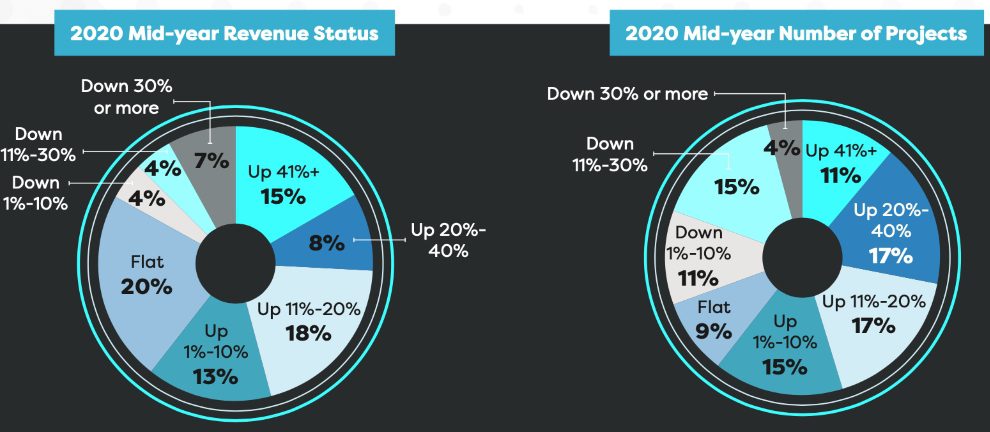 For integrators, that translates to strong revenue gains in the first half of 2020. A whopping 15% of integration companies say their revenues are up by 40% or more for the year. Among only those integration that have experienced revenue increases this year, the median rise is a very healthy 13.6%.
But not all is rosy. The pandemic is clearly hitting those less prepared to ride out the storm or those in hard-hit areas more disproportionally. Also, dealers who may have had a stronger portfolio of business from commercial offices, bars, restaurants and hotels have likely been hit hard. The data shows that 15% of dealers have lower revenues so far in 2020. Of those, 6.5% of dealers say business is down by more than 30%. And, among just dealers whose revenues have declined, the median decline is a hard-to-swallow 25%.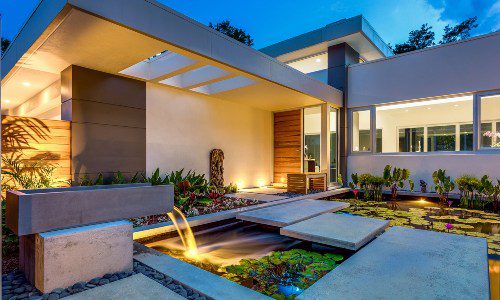 Landscape and architectural lighting create a magical and elegant ambiance for homeowners. The outdoor lighting industry has always been a phenomenal one and continues to grow in popularity. Now is the ideal time to learn more about this rapidly growing and highly profitable industry. Join our panel of esteemed lighting experts that will dive into why it's time for integrators to rethink their role in the outdoor lighting industry.
Register Now! 
Meanwhile, 61% of dealers say the number of new projects and upgrade projects is up, compared to 30% who say the number of projects is down. About 9% of dealers are flat.
Which Equipment Areas Are Hot?
Not surprisingly, home networks are the No. 1 area for growth, according to integrators. Indeed, a staggering 67% of integrators report their home networking business is "up slightly or "up significantly." As more clients work from home and have children who are distance learning from home, the need for a faster home network is imperative.
Right behind home networks is the demand for outdoor entertainment. When the pandemic first hit, many clients did not feel comfortable having tradespeople inside their homes, so outdoor entertainment upgrades skyrocketed because customers were OK having technicians on site outside. In the first half of 2020, 58% of dealers said their outdoor business was "up slightly or "up significantly."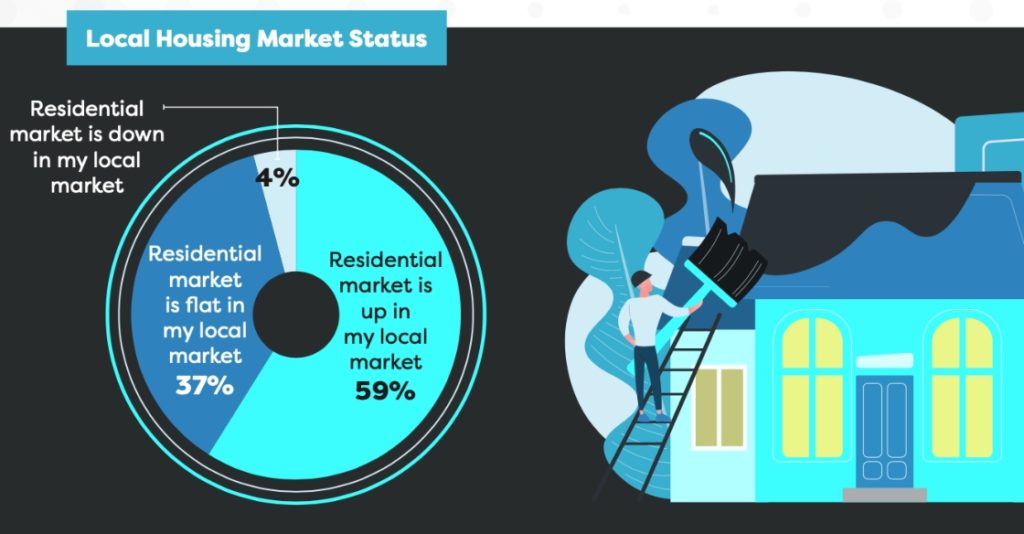 Security/surveillance systems were the No. 3 growth area from January to July this year. Just over half (52%) of all dealers said their video systems business was "up slightly or "up significantly."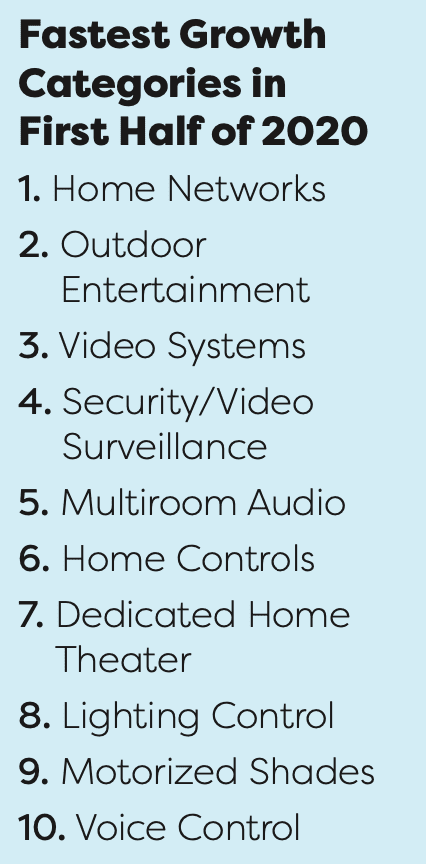 Other areas where a high percentage of dealers reported a strong first half are video upgrades (49% of dealers), multiroom audio (44%), motorized shade control (40%)) and dedicated home theaters (40% of dealers report "up slightly or "up significantly.")
"It's Christmas," says Azione Unlimited president Richard Glikes speaking during the CEDIA Expo Virtual keynote. "We were down 32% in April, we were down 20% and flat in June. But the clients finally got fed up and said, 'Come into my home. I wanted done now.' In July, we were up very nicely. It was our fourth best month ever. Everybody's very busy. Business is good. Whether it stays good really depends on what happens with the virus."
Jon Robbins, executive director at the Home Technology Specialists of America (HTSA), echoes that sentiment.
"Our guys are as busy as they've ever been. We anticipate we're going to be busy through the end of the year and going into 2021. We have completely full pipelines throughout our membership for the next 120 days at least."
Dave Workman, president and CEO at ProSource, says he has never seen anything like the current situation. "I'd never seen an increase across the board as high as I saw in June, and again in July. There has been clearly an emphasis on the home with the travel industry being largely shut down. Those leisure dollars have been refocused around the house," he says.
Hank Alexander, director, Home Technology Specialist Network/Nationwide Marketing Group, says for some HTSN members, "it was like … a pandemic what pandemic? We're so busy.'"
He says Nationwide members expect to maintain strong business throughout 2020 and for the entire year in 2021.
Housing Market Remains Strong During Coronavirus Pandemic
While the U.S economy is still finding its footing after weathering the ongoing coronavirus pandemic, there is still plenty of good news for integrators on the housing front.
In fact, according to the National Association of Realtors (NAR), total existing-home sales, including single-family homes, townhomes, condominiums and co-ops, jumped 20.7% from May to an annual rate of 4.72 million in June. While the total number of sales dropped a bit compared to 2019, economists are still largely optimistic.
"The sales recovery is strong, as buyers were eager to purchase homes and properties that they had been eyeing during the shutdown," says Lawrence Yun, NAR's chief economist. "This revitalization looks to be sustainable for many months ahead as long as mortgage rates remain low and job gains continue."
According to Yun, significantly low inventory was an issue for the housing market even before the coronavirus pandemic, which can lead to inflated home prices overall. "Home prices rose during the lockdown and could rise even further due to heavy buyer competition and a significant shortage of supply," adds Yun.
Even with inflated pricing affecting the market, first-time buyers are battling through higher-than-normal pricing and are responsible for 35% of sales in June, up from 34% in May 2020 and about equal to 35% in June 2019.
U.S. Department of Housing and Urban Development Offers More Reasons for Optimism
The U.S. Department of Housing and Urban Development, alongside the U.S. Census Bureau recently released data reporting sales of newly built, single-family homes rose to their highest level since the Great Recession, up 13.8% to a seasonally adjusted annual rate of 776,000 units in June, which is 6.9% higher than the June 2019 pace.
The same report suggests total housing starts increased by 17.3% in June to a seasonally adjusted annual rate of 1.19 million units, while sales of existing homes jumped 20.3% in June.
This emphasis on new construction by homebuyers has also led to an uptick in activity for builders, even if lumber prices have caused projects to become more expensive to complete on average.
"While Wall Street may have been expecting a smaller gain, anyone following the NAHB/ Wells Fargo Housing Market Index would know these numbers are in line with what we are hearing from builders," says Chuck Fowke, chairman of the National Association of Home Builders (NAHB) and a custom home builder from Tampa, Fla. "Builders are moving to ramp up production to meet growing demand."
Builders Prepare for Post-Coronavirus Surge of New Homebuyers
While the current housing inventory shortage has some realtors worried, builders are using the opportunity to expand into growing markets like suburban and rural areas, which may present more opportunities for savvy integrators.
"Along with rising builder sentiment, we are seeing increasing consumer demand in the suburbs, exurbs and rural areas," says NAHB chief economist Robert Dietz. "At the same time, builders are dealing with supply-side concerns such as rising material costs, particularly lumber, which surpassed its 2018 price peak this week. Nonetheless, low inventory levels point to construction gains ahead."
Integrators might want to reach out to local construction companies and try and develop a working relationship that is mutually beneficial, as there's currently a boom in construction across almost the entire country.
According to the NAHB, on a regional and year-to-date basis (January through June of 2020 compared to that same timeframe a year ago), combined single-family and multi-family starts are 2.2% higher in the Midwest, 0.2% higher in the South, and 2.9% higher in the West. The only region to see a dip in housing starts is the Northeast, which reported a 5.4% loss in starts.
If you enjoyed this article and want to receive more valuable industry content like this, click here to sign up for our digital newsletters!