Audiophile brand Bowers & Wilkins made its long-awaited debut in the crowded wireless multiroom-audio market with the launch of its Formation series, which incorporates proprietary mesh-network technology developed by the Silicon Valley startup Eva Automation with which it merged in 2016.
The company's high-resolution audio (HRA) platform, called Formation Wireless, will be available for licensing to other audiophile brands and already appears in Philips TVs in Europe that incorporate speakers designed by Bowers & Wilkins. Formation will be competing with other wireless-multiroom platforms that are likewise marketed to CE companies to deliver inter-brand interoperability. The platforms include DTS Play-Fi and Bluesound's BluOS.
"Formation has a lot of licensing opportunities," CEO Gregory Lee told CE Pro.
The products marry B&W's 53 years of speaker-design experience with technologies developed by Silicon Valley startup Eva Automation, executives said. Their goal is to deliver wired quality from a mesh-network wireless-multiroom audio system, they contended.
Eva was founded in 2014 and merged with B&W two years later to deliver what global brand marketing VP Jeff Connors called "a wonderful A/V experience with the quality of an audiophile brand."
Formation's launch marks "the beginning of the beginning of Bowers & Wilkins's next chapter," which includes an expanded consumer audience, Connors said. Formation technology was "100% created by Bowers & Wilkins," he noted.
The talent-pool merger enabled the company to combine "real audiophile quality" with the convenience demanded by younger consumers weaned on digital downloads and streaming, Connors continued. Formation "is the first step" in expanding the brand's appeal to younger customers, he said.
"We know we're not the first, but we know we're the best," Lee added.
Bowers & Wilkins' New Wireless Audio Lineup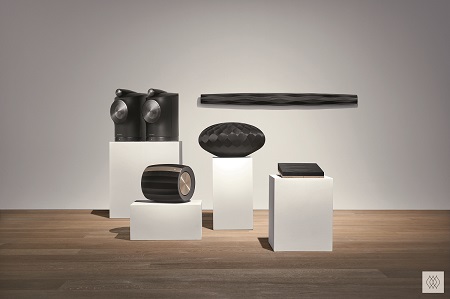 The initial Formation suite, which will be followed by an expanded selection sometime in the future, consists of the:
$3,999 Formation Duo wireless two-way DSP speaker pair with no wired connection between the left and right speakers, each rated at 125 watts. Optional Duo stands retail for $799/pair.

T

he $1,199 Formation Bar three-channel active sound bar with Dolby Digital 5.1 decoding, Toslink connection to a TV, and three-channel nine-driver speaker array that fires up 30 degrees to add height to the sound stage.

The elliptical $899 three-way Wedge stereo speaker with left and right drivers, angled backside, 240-watt amplification, 35Hz-28kHz response, 120-degree baffle, and angled stereo drivers said to create a true stereo effect and deliver sound to all parts of the room.

T

he $999 250-watt 20-150Hz Formation Bass compact subwoofer, which can be paired with the Duo speakers, sound bar, and Wedge.T

he $699 Formation Audio wireless-audio hub.
The hub plugs into a legacy stereo system's inputs to add streaming sources to the system, but the hub also broadcasts audio to Formation products in other rooms from such connected sources as CD players and phono-preamp-equipped turntables.
All speakers are actively crossed over to enhance audio quality and feature acoustic technologies from the company's premium passive component speakers.
Multiple Music Sources
Formation devices stream music at up to 96kHz/24-bit resolution, offer Spotify Connect, and feature Roon-ready endpoint certification. Roon-ready endpoints stream high-res music wirelessly from Roon music servers, which also access the Tidal and Qobuz high-res streaming services.
The devices also feature Apple's wireless-multiroom AirPlay 2 technology as well as Bluetooth streaming of the SBC, AAC and 48kHz/24-bit aptX HD codecs. Bluetooth sources can be redistributed throughout the house over Formation's mesh network. More wireless-streaming sources will be added in the future, executives promised.
Formation products incorporate proprietary and patented user-experience and user interface technologies along with patented wireless mesh-network technology, which extends range, enhances quality of service, and allows for extremely low synchronization times and robust interference resistance, said CTO Gaylord Yu.
"My three-year-old can navigate our app."
— B&W CTO Gaylord Yu
"My three-year-old can navigate our app," he added, noting that setup takes just a few minutes.
Within a multiroom installation, Roon and Spotify content are delivered through a home's Wi-Fi router to a Formation device that receives a strong Wi-Fi signal.
That device, which need not be playing back content, then redistributes the music over Formation's mesh network to other Formation devices without retransmitting the content through the home's Wi-Fi router, a spokesman said.
The Formation network also makes use of Dynamic Frequency Selection (DFS) in 5GHz bands that are set aside for radar systems but which can be shared with unlicensed devices. The DFS bands enhance quality of service because they are generally less congested, the spokesman continued.
Formation "is a dynamic system that routinely looks for cleaner air" in the standard 5GHz Wi-Fi band and in the DFS bands, he added.
As a result, the mesh network extends throughout a home "without impacting your home network quality," and it delivers greater range than AirPlay 2, the company said.
Low Latency Differentiator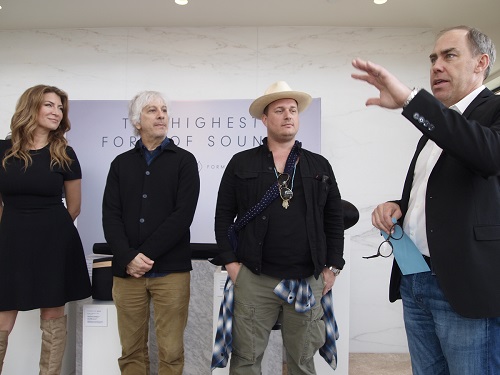 A low delay time among devices is touted as a key Formation differentiator. One-microsecond synchronization among devices within the same room "is several orders of magnitude better than the leading competitors today," said engineering VP Adam Ward. The delay time for room-to-room distribution is 1-millisecond.
In-room sync delays of 1 microsecond are achieved between separate left and right Duo speakers, between the sound bar and subwoofer, and between the subwoofer and Wedge speaker.
For the Duos, the sync time maintains a stable sound stage that prevents an image from "walking back and forth" between each Duo, said Yu.
Low delay time will also enhance surround-sound realism via a potential firmware upgrade that would enable the sound bar to pair with wireless speakers to create a 5.1-channel surround system.
Distribution via Retail, Custom, Amazon
Consumers can audition Formation products starting April 22 through the company's approximately 600 U.S. retail outlets, consisting of A/V specialists, custom integrators, Magnolia Home Theater stores, and Magnolia Design Centers.
The company is focusing on its core brick-and-mortar retail channels to launch Formation but is also "looking to expand distribution to the right channels" to reach a broader consumer audience, Connors told CE Pro. "There's only a certain amount of hi-fi stores."
The company is also looking at selling Formation products through Amazon, but "you have to find the right product for Amazon," Connors said.
Products like the Duo speakers, for example, might be restricted to the company's existing dealer base. Currently through Amazon, Bowers & Wilkins sells only headphones, its Bluetooth speaker, and its Zeppelin Bluetooth/AirPlay speaker.