Bluesound MQA Live Event Overcomes Network Glitches
Jazz artist Zara McFarlane's live London performance is MQA Live streamed using Bluesound Node 2i to an audience at Gilmore's Sound Advice in NYC.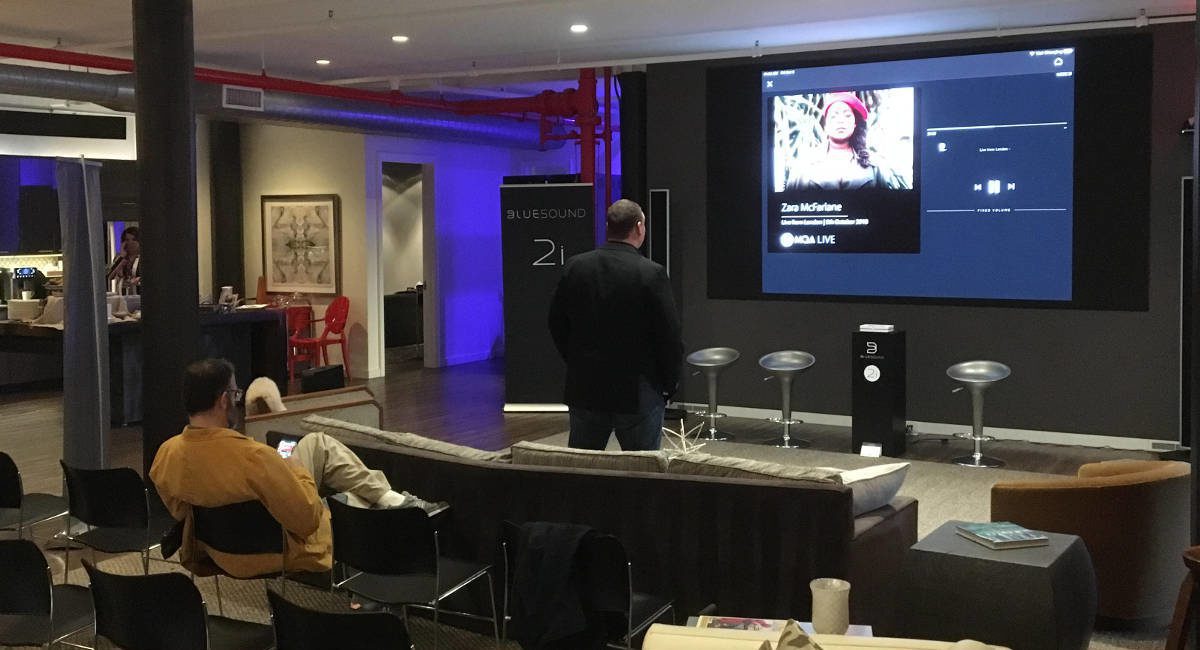 Photos & Slideshow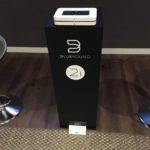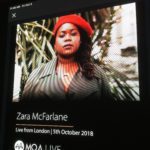 ---
The folks at Bluesound and MQA likely knew they were taking a bit of a risk by broadcasting a live event to three different locations across half the planet to a group of skeptical journalists. But in the end, the risk was worth it, despite having to overcome some networking glitches in one city that were beyond their control.
On October 5, Bluesound, a Lenbrook Group brand, worked with Master Quality Authentication (MQA) Live to stream and decode jazz artist Zara McFarlane as she performed live at RAK Studios in the Regent Park area of London.
McFarlane, who has been compared to the vocal style of Sarah Vaughan, performed six songs from her new album entitled Arise.
MQA Live is a new way for fans to connect to artists, wherever and whenever the artist is performing. Live concerts can be audio-streamed in real time in MQA, allowing fans to hear live performances across different countries and time zones – with the best possible audio quality.
MQA Live NYC Demo via Bluesound Node 2i
About a dozen journalists were gathered at high-end integrator Gilmore's Sound Advice showroom in Manhattan to listen to the stream over a $499 Bluesound Node 2i streamer and a pair of Wisdom Audio Sage Series floorstanding line array speakers.
Everything sounded good as McFarlane introduced her set from her third album, indicating a 35- to 45-minute performance. Back in London, the MQA Live system was plugged directly into the studio's mixing board providing a deep, low-latency stream.
Meanwhile, just outside the Gilmore's location, amid a cacophony of NYC sirens outside, a crew of utility workers were working.
Unfortunately, Murphy's Law took hold, and Bluesound's June Ip, marketing, and Matt Simmonds, product manager, had their Bill Gates-at-CES-like moment as the audio started clipping in and out as soon as the concert began.
Thinking there was a problem with the $60,000-worth of equipment which had just been installed for the demo, the gathered guests all moved into an adjacent vignette room to listen to the concert using the Bluesound Pulse 2i, but the network connection was also out of sorts in that room. (The MQA Live stream worked perfectly in Denver and London, two other locations where other journalists had gathered to listen to the stream.)
Watch the short 20-second video below to hear the audio clipping that was taking place.
Regarding the move into the separate room, Simmonds joked, "Well, we all got a true multiroom experience from the demo!"
When both speakers were engaged, the audio was fantastic with the jazzy, piano- and horn-heavy repertoire backing McFarlane's smooth vocals having every listener tapping their feet to the beat.
In all, she performed six songs with the tracks "Peace Begins Within" and "Free" as the highlight songs. So while the MQA Live demo itself did not go 100 percent smoothly, it did not diminish the event.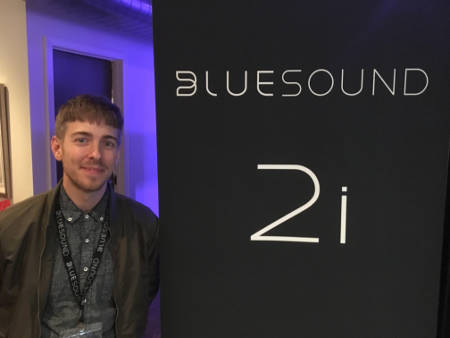 "The pace of our expansion has been astounding since we introduced the first generation of product three years ago."
— Matt Simmonds, Lenbrook
Bluesound was using the event to showcase Bluesound Generation 2i (Gen 2i) suite of products, which includes new features such as dual-band Wi-Fi 5, Apple AirPlay 2 support, upgraded Bluetooth codecs, and improved amplification and acoustics.
Related: Bluesound Gen 2i Wireless Whole-House Products Feature Apple AirPlay2
The full suite includes the Bluesound Node 2i ($499), Powernode 2i ($799), Vault 2i ($1,199), Pulse 2i ($799), Pulse Mini 2i ($499), Pulse Flex 2i ($299) and Pulse Soundbar 2i ($799). There are no changes being made to the Pulse Sub.
As before, all Gen 2i models will be offered in a choice of Black or White finishes. All models are available now, with the exception of the Pulse Soundbar 2i, which will follow in November.
"The pace of our expansion has been astounding since we introduced the first generation of product three years ago," says Simmonds. "We made upgrades in connectivity and amplification. The changes are upgrades, which is why we are calling this 'Gen 2i' instead of 'Gen 3.'"