Amazon IoT Patent Shows ZigBee Home-Automation Signals over Power Cable
Ideal for integrating Wi-Fi cameras with ZigBee door locks, Amazon invention shows ZigBee home-automation signals running over power cable to enhance wireless performance.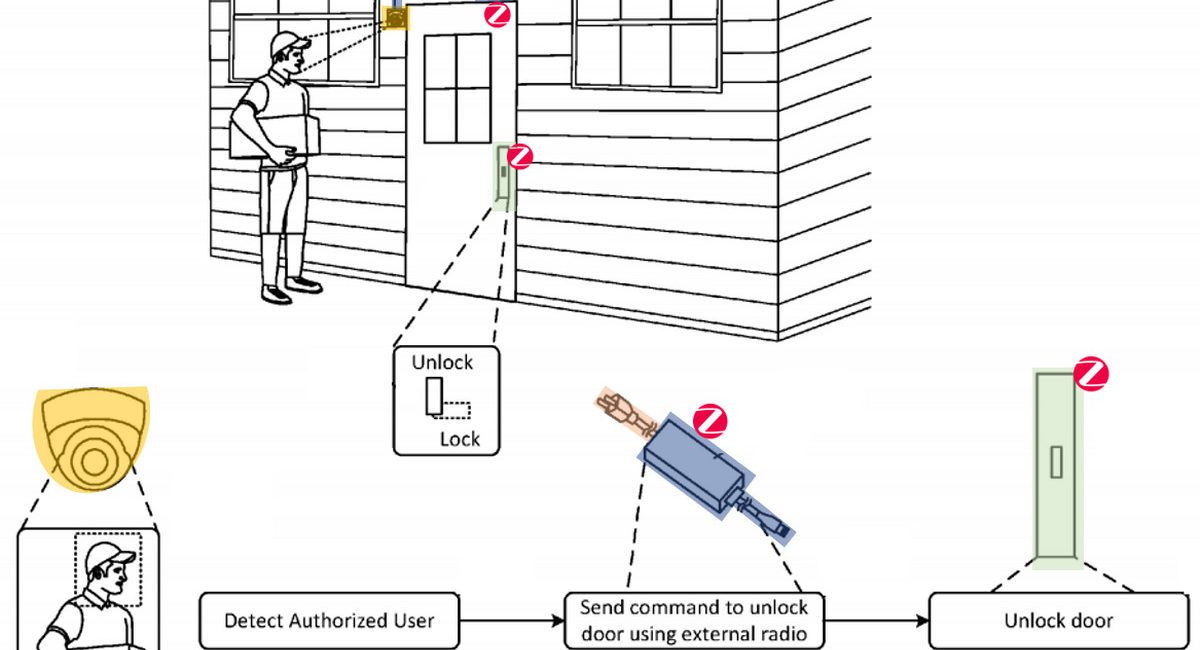 Photos & Slideshow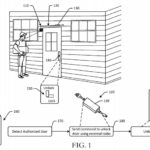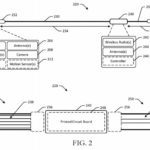 ---
These days, manufacturers are piling every type of IoT radio – Wi-Fi, Bluetooth, ZigBee, Z-Wave, cellular, sensor – into ever-shrinking smart devices, creating the potential for interference among so many RF signals.
Amazon has been awarded a patent for technology that would offload some of those wireless signals onto a power cable attached to a smart device. The patent singles out ZigBee home-automation technology for offloading, and illustrates the invention with an increasingly common IoT scenario: a front-door video camera or doorbell (powered over AC/DC) communicating with the Internet (Wi-Fi) and a smart phone or beacons (Bluetooth), as well as a door lock (ZigBee).
These three radios crammed into one little smart camera could be problematic, as the patent notes:
Use of multiple components for wireless communication and/or wireless networks within a device may create interference in the airspace about an electronic device, which may cause reduced data through-put, increased transmission errors, and/or reduced communication efficiency. For example, if multiple wireless radios or other components are sending and/or receiving data at the same time in a similar RF band like ISM, and are in a similar location, the respective streams of data may interfere with each other. Such interference may cause data packet errors and other issues.
The solution offered by Amazon is to give some distance (Fig. 2) between one or some of the radios, in this example ZigBee, by moving the radio out of the camera and onto a cord that powers the camera:
To reduce interference between components for wireless communication, embodiments of the disclosure include power cords with integrated wireless communication components, such as wireless radios, that can be coupled to electronic devices. The power cords or cables with integrated wireless communication components can allow the electronic device to communicate wirelessly using the integrated wireless communication component, while reducing interference due to a physical distance or separation between the integrated wireless communication component in the power cord and other wireless communication components or radios in the electronic device itself.

By positioning one or more wireless communication components external to an electronic device and creating separation between the external wireless communication component and any wireless communication components internal to the electronic device, embodiments of the disclosure may reduce potential interference between the external and internal wireless communication components. As a result, data transmission rates may be improved, data packet errors and transmission errors may be reduced, and functionality of the electronic device may be improved, due to the additional functionality provided by the external wireless communication component that may be integrated into a power cord for the electronic device. For example, an electronic device, such as a monitoring camera that includes an internal WiFi radio or component may be able to communicate using a ZigBee radio that is integrated into a power cord for the camera. Without the integrated ZigBee radio in the power cord, the camera may otherwise be unable to communicate or communicate effectively over a ZigBee network.
CLARIFICATION: This is Not Powerline Carrier Technology
Per a comment posted below, we should clarify that the Amazon invention is not like the traditional "powerline carrier" technology employed by X10, UPB, HomePlug, Insteon and others.
The technology described by Amazon in the patent is simply an extension of the circuit board in a powered device (a camera in the example given). The ZigBee transmission would not feed off the existing AC circuits. It would reside on a dedicated purpose-built cable like the one showed in the illustration.
Several manufacturers today are creating parasitic relationships between their front-door cameras and door locks.
As the hardwired device, the camera would provide the energy-sapping Wi-Fi and Bluetooth services, while serving as an Internet gateway for a battery-operated door lock. The lock would communicate two-way with the camera via a low-rate protocol like ZigBee, which is optimized for long battery life.
August employs this method for its video camera and door locks (Bluetooth), and Nest uses the approach for communications between its new Nest Hello doorbell and Nest x Yale lock (Thread/Nest Weave).
While Amazon recently acquired doorbell and camera manufacturers Blink and Ring, neither of these companies currently communicates directly with a "parasitic" lock. Not yet, anyway.
Even so, the Amazon Key service utilizes the technique with its Amazon Cloud Cam (Key Edition) and compatible locks from Kwikset and Yale. The products communicate with each other over ZigBee.
Indeed, Amazon uses the "Key" service to illustrate implementations of the new patent:
At block 190 [Fig. 1], the electronic door lock 140 may receive the unlock command from the wireless communication component 130 or the ZigBee radio, and may unlock the door. The deliveryman may enter the residence or other building and may deliver the package. As a result, unattended delivery of packages is accomplished using, in one example, the illustrated embodiment.
The Amazon patent, #9,985,731, "Power cables with integrated wireless communication components," was filed in January 2017 and awarded May 29, 2018.
NEXT: Parasitic Smart Locks: August and Nest/Yale Sponge Power off Doorbells