The first quarter of 2022 for ADT Inc. (NYSE: ADT) not only showed solid revenue growth, but saw the smart home and security giant move it net into positive territory. For the quarter ending at the end of March, ADT reported revenues of $1.545 billion, up 18% from $1.305 billion in Q1 of 2021. Moreover, the company had a net income of $52 million compared to a net loss of $48 million last year in the same period, with EBITDA of $601 million for Q1.
The company reaffirmed its targets for the year of revenue between $6.2 billion and $6.4 billion, with EBITDA between $2.335 billion and $2.435 billion, and cash flow between $550 million and $625 million. ADT's subsidized business model has a breakeven time frame of 2.3 years subsequent to the installation.
"The momentum we've built in our business is producing results, illustrated by strong improvements to our revenue and earnings, growth in subscribers, and record-high customer retention," says ADT President and CEO Jim DeVries.
"At our Investor Day earlier this year, we laid out a plan to meaningfully grow our revenue, earnings, and cash flows through 2025. With several of our achievements this quarter – from launching the Google Doorbell, to a strong start for ADT Solar, to expansion of our customer-friendly virtual service options – we are already showing progress against that plan as we lead the way in delivering safe, smart, and sustainable solutions."
Among the business highlights cited by the company are a 5% growth in RMR for the quarter, and an attrition rate of 12.9%. ADT says the company sold and installed 60,000 Nest Doorbells since launching its partnership with Google. Additionally, the company rolled out mesh Wi-Fi in April and is targeting to launch the Google indoor and outdoor cameras by the end of the third quarter.
Also, ADT's joint venture with Ford has closed in April 2022 that will bring ADT's professional security monitoring and Ford's AI-driven video camera technology together.
In terms of the sunsetting of 3G, ADT reports it has replaced approximately 2.8 million radio systems since 2019. As of today, less than 3% of the original customer base is left to be converted. ADT also touted its remote service program, which it says enabled the company to avoid truck rolls on 80% of its 200,000 virtual service calls.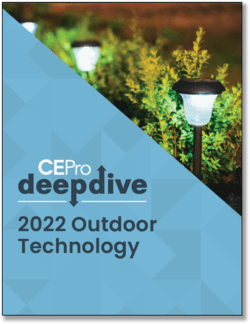 The 2023 CE Pro Outdoor Technology Deep Dive reveals unique set of impediments, including explaining pricing and interacting with outdoor-centric trades.
Get your copy now to take a "deep dive" into the trends and challenges of outdoor technology.
Download the report now!