The 2021 IoT/Connected Product Awards bring to light the connected residential and commercial IoT devices & products that make life better.
CE Pro, in conjunction with sister sites Commercial Integrator and Security Sales & Integration, is excited to announce the winners of this year's Internet of Things (IoT)/Connected Product Awards.
The program honors IoT-related products serving the commercial and residential markets. IoT is the network of physical devices, vehicles, home appliances and other items embedded with electronics, software, sensors, actuators and connectivity to enable these things to connect and exchange data.
"From thermostats to surveillance cameras to appliances to whole-house control systems… and everything in between… the Internet of Things (IoT) is becoming ubiquitous in the home," says Jason Knott, editor-in-chief of CE Pro.
Entries were judged on several key elements, including innovation / technological advancement, ability to integrate with other products, value, end-user benefits and integrator benefits.
The winners were originally announced during the annual Total Tech Summit event at the Orange County Convention Center, in Orlando, Fla.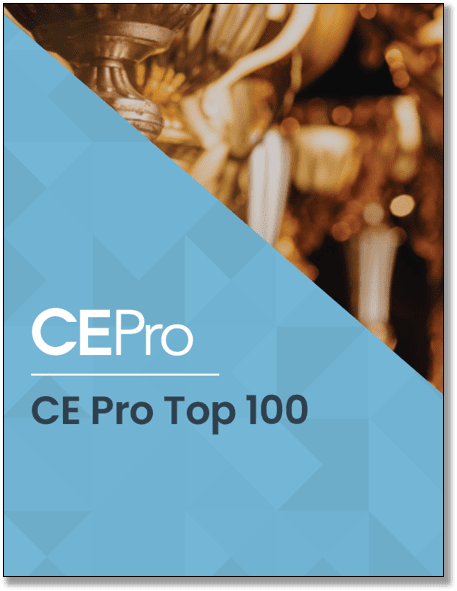 No matter how you slice it, 2021 was sweet music to the ears for the members of the CE Pro 100. The annual list of the largest custom integration companies had "record"-breaking growth last year.
Download your copy today!
---
IoT/Connected Product Awards Winners (Residential)
---
Audio/Video
Lighting
Home Enhancement
Physical Security – Access Control
Physical Security – Surveillance
Physical Security – Intrusion
Network Communication
Control Interface
---
IoT/Connected Product Award Winners (Commercial)
---
Smart Building Controls
Intrusion/Fire
AV and Collaboration/Communication
Video Surveillance
Miscellaneous
Access Control
Click here to see a slideshow of each of the winning products!