The field of artificial intelligence (AI) is evolving at a very rapid pace, with generative AI chatbot ChatGPT becoming the quickest tool to reach 100 million users, beating out the likes of Instagram, Spotify, Facebook, Twitter, Netflix and other popular apps. It is becoming ubiquitous in our daily lives, and advanced AI will undoubtedly disrupt the smart home market as it continues to improve.
This, according to Scott Steinberg, CEO of strategic consulting and market research firm, TechSavvy Global, through which he has advised countless companies and organizations on their digital strategies and future business opportunities, will lead to new levels of automation that were once considered to be many years away.
Steinberg, delivering the keynote speech of CEDIA Expo 2023, says technologies like ChatGPT and other generative AI tools are transforming the way the world works. Businesses are using these tools to automate processes like copywriting, advertising, drafting emails, and more. However, the smart home industry could benefit greatly.
"In around 25 years of doing this, I have never seen a technology that has more potential to transform any given industry and the way that we live and the way that we work than AI and machine learning, let alone at the speed and scale that we're seeing these transformations occurred today," Steinberg says.
AI has already proven adept many things, but once this advanced AI is applied to residential technology, life will never be the same. What passes for cutting edge today will be table stakes very shortly, the futurist says.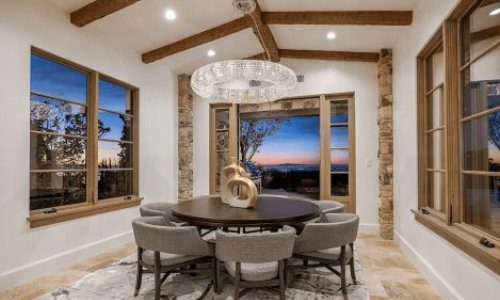 As a custom integrator, lighting is in demand. Effective communication, education and showcasing the value proposition of LED light fixtures in conjunction with integrative control systems are the keys to overcoming challenges and closing sales in this specialized market. Join us as we discuss the future of digital lighting and control with David Warfel from Light Can Help You and Patrick Laidlaw and Mark Moody from AiSPIRE.
Register Now! 
"We will see entire cities that are filled with dwellings that are fully self-aware, self-monitoring, and capable of self-maintenance," Steinberg says.
Essentially, Steinberg envisions a smart home future in which the technology learns the routines of the occupants and provides a hyper-personalized experience. For example, a smart home system could trigger a morning alarm to wake up an executive an hour early due to a busy work schedule. Or, systems could spot potential security risks much faster than any human.
The Blistering Pace of AI Innovation Matches Smart Home Goals
The number of connected devices is only going to grow, and customer demands will grow alongside those devices. Now, it's the integrator's job to continue to make them all work together in harmony, and AI can help.
To put things into perspective, Steinberg cited the speed at which ChatGPT acquired 100 million users: just two months. It took TikTok and Instagram more than two years to achieve the same. In addition, as of March 2023, there were nearly 15,000 AI startups in the U.S. alone in addition to leading AI innovators in Silicon Valley.
"What we're seeing is that the next 10 years are likely to bring more change than the prior 10,000 years ever did," Steinberg says.
This makes staying ahead of the curve extremely important, and smart home pros should be doing everything they can to stay tuned into the emerging trends and shifts in the marketplace, the technology consultant pleads. To do that, businesses need to give themselves the tools and capabilities to quickly and effectively respond to those market changes.
Advanced AI capabilities alongside a growing smart home market could lead to truly intelligent spaces in which virtually every object in home is connected, collecting data and communicating with one another, as well as the user.
"They'll be intelligent enough to recognize, anticipate and automatically adapt to individual family members," Steinberg says.
Steinberg: It's Time to Act Now Before It's too Late
Steinberg urges smart home professionals to start playing around with AI and begin applying it to smart home solutions now, because the technology is changing and advancing so rapidly that ChatGPT technology will be outdated shortly. In fact, the large language models (LLM) powering the free version of ChatGPT is outdated, as parent company OpenAI offers paid versions that run on newer LLMs.
Investors have poured about $40 billion into AI in the last 6 months alone, so the technology is ripe for disruption.
On top of that, leading tech companies in Silicon Valley are beginning to combine their surfaces and services divisions, which speaks to Steinberg's notion that future devices are going to be embedded with advanced intelligence capabilities.
"What I would tell you as a smart home pro and a business leader is that there is no better time to start playing around with and investing in AI technology than the present moment, and no better point in time to start planning for its impact on your business tomorrow than today," Steinberg says.
If you enjoyed this article and want to receive more valuable industry content like this, click here to sign up for our digital newsletters!