Travis Robinson, the VP of engineering for a tech company based in Southern Utah, owns a two-story houseboat on Lake Powell, which straddles the Utah-Arizona border. While the nearest town, Page, Ariz., is just 15 minutes away from where the boat is docked, the lake is positioned in a remote area, blocked by cliffs and sandstone islands, with limited ability to connect to the outside world.
Like many others, the coronavirus COVID-19 pandemic has forced Robinson to work from home. While inconvenient, this new remote work lifestyle opened him for the opportunity to combine two worlds: spend time with his family at the lake, while continuing to manage his work responsibilities from the boat.
As Robinson dreamt about a morning ski on the lake and a conference call and emails in the afternoons, he had to overcome the lack of Wi-Fi and poor cellular connectivity. Enter SureCall into the picture.
"Cell signal was horrendous," Robinson says. "I'm on a lot of calls and Zoom meetings for work. I could sometimes get a signal if I stood on top of the second story of the boat, but even then only sometimes could I get a bar or two. If I did get lucky enough to connect, calls almost always dropped, and video streaming was impossible."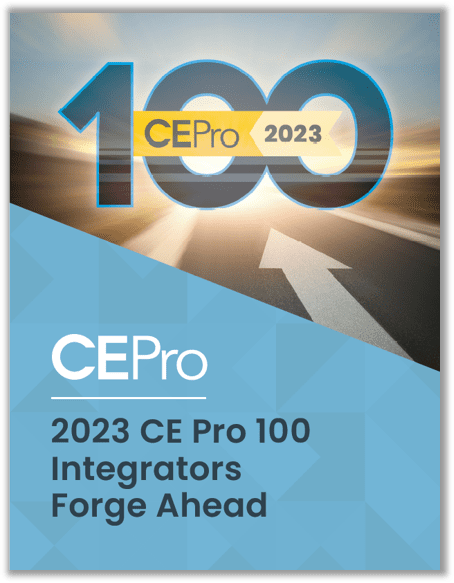 Which companies in the custom integration market made CE Pro's 24th annual CE Pro 100 list?
Houseboat Solution Akin to How SureCall Addresses RVs
Being on a houseboat on an isolated lake has additional challenges, but it's similar to working out of an RV or motorhome, which many decided to do this year instead of working from home. As the vessel moves around, cell phone signals come and go.
The hilly terrain around Lake Powell also hides cell towers, making it uniquely difficult to connect while motoring around the immense reservoir. Highly unpredictable weather during the spring months adds another layer of complexity when trying to obtain signals.
To achieve the reliable connectivity he needs to work effectively, Robinson installed SureCall's Fusion2Go 3.0 RV cell phone signal booster.
The Fusion2Go 3.0, originally designed for use in vehicles and RVs, features 2XP technology that boosts the boat-to-tower signal range by increasing the uplink transmission power two-fold. Compatible with all North American cellular networks and devices, including 5G, the booster provides reliable 4G connectivity and reduces dropped calls.
"SureCall's suite of boosters for small homes, offices and vehicles keeps our customers connected no matter where life takes them," says Frankie Smith, VP of sales for SureCall. "That includes the ability to boost signals for vehicles — like boats — that are constantly on the move in unfixed terrain."
Dual Antenna Usage Aids Signal Strength
The install kit includes the signal booster, an internal antenna and an external omnidirectional antenna. In Robinson's case, however, he opted to use a Yagi antenna, so he could point the aerial in the exact direction of the nearest cell towers.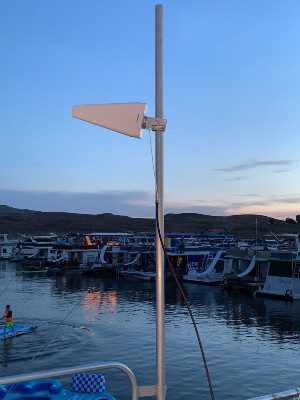 This is especially useful for when he takes the boat out to a remote location and anchors it, with minor tuning Robinson can manually point the receiver to the nearest tower on the undulating terrain to ensure the strongest connection.
It's worth noting that the Yagi is only able to be used in this type of an installation when the boat is docked in the slip or anchored, according to Smith. Robinson uses the omni antenna for when the boat is in motion, and opted to leave both up for those instances.
The Fusion2Go 3.0 booster plugs right into the boat's power system and can be easily mounted anywhere: on a wall, the ceiling or tucked inside a cabinet.
After installing SureCall's booster, Robinson went from having minimal reception to gaining enough steady connectivity to take calls, join video meetings and send emails from the boat. Whereas previously he couldn't get a single bar from inside the cabin, he now has the option to work inside or out on the deck — from anywhere on Lake Powell.
Of course, Robinson can't put a price on peace of mind knowing that he can call for help from the middle of the lake, if there is an emergency, Smith notes. As an added bonus, Robinson now gets enough signal to stream movies to watch during down time — as if working remotely from Lake Powell wasn't relaxing enough.
If you enjoyed this article and want to receive more valuable industry content like this, click here to sign up for our digital newsletters!