According to a massive report from Coldwell Banker, the inclusion of wellness products in homes is one of the most-desired features among luxury buyers. For integrators, the message is clear: it's time to get with the program and embrace the category and learn how to take advantage of the trend while it remains hot.
The Coldwell Banker report, titled "The Report: 2020 Global Luxury Market Insights," dives deep into what luxury consumers want, how the luxury landscape is changing, and relays important insights on demographics that all integrators should read and absorb.
Eco-Sensitivity Is Here to Stay

While 81% of survey respondents said home automation technology is still the most wanted feature in a home, many luxury buyers are looking for more.
According to the Global Wellness Institute (GWI), the wellness real estate industry grew 6.4% annually from 2015–2017 and is expected to reach $198 billion in 2022, with a lot of this growth being driven by an increased consumer desire to lead a "wellness lifestyle."
"Awareness and knowledge of the benefits of living in an eco-friendly environment coupled with an industry ready to support the building of wellness real estate will ensure that this segment continues to grow," says Paul Scialla, founder, Delos.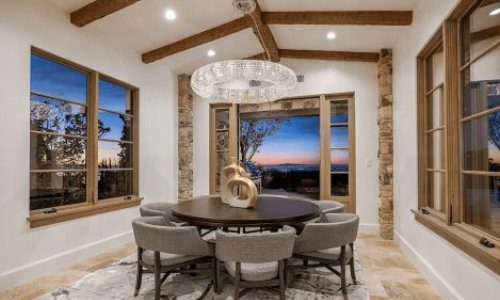 As a custom integrator, lighting is in demand. Effective communication, education and showcasing the value proposition of LED light fixtures in conjunction with integrative control systems are the keys to overcoming challenges and closing sales in this specialized market. Join us as we discuss the future of digital lighting and control with David Warfel from Light Can Help You and Patrick Laidlaw and Mark Moody from AiSPIRE.
Register Now! 
"Luxury is the trend leader in wellness, but developers are starting to leverage the benefits to create more affordable smart-healthy homes and neighborhoods," says Scialla, who notes designers are also taking note of increased consumer interest in wellness technology.
As it turns out, luxury homebuyers believe the place where they live plays a critical role in promoting their overall sense of wellness, whether that happens via air filtration systems, circadian lighting or other wellness and biophilia focused products. According to the report, energy efficiency, lighting quality, and the flow of air and water have become important considerations as wealthy buyers increasingly expect buildings to be more eco-sensitive.
After diving into the data, it becomes clear that a smart home in 2020 will become more than just a home with some voice-activated conveniences, a connected security system, and a control hub.
"If people buy a fully renovated turnkey home, part of that turnkey idea is to have smart-home technology that is voice-activated and precisely integrated," says Danny Hertzberg of Coldwell Banker Realty, Miami, Fla.
"A true smart home in 2020 goes beyond automated lighting and smart temperature control. The smart-home focused consumer wants every aspect of living to be seamless, from wireless security to curated pre-programmed sound systems for every occasion. Electric charging stations for cars are important, and many buyers are looking forward to the expansion of smart roofs, which generate back up power storage," says Hertzberg.
Read Next: It's Time to Develop a New Generation of Audio Consumers
Luxury homeowners and prospective homebuyers are also focusing much more heavily on connecting with outdoor spaces, even in city environments. According to Coldwell Banker's research, 72% of respondents say outdoor living spaces are a must-have for affluent homebuyers.
"The evolution of smart home tech has gone from convenience-focused applications to experience-focused integration of all components for daily living and energy efficiency," comments Hertzberg.
Millennials Matter
But why has there been a relatively sudden shift toward eco-sensitive buildings, wellness focused technology, and biophilic practices? Well, say hello to your new power purchasing demographic: Millennials.
The U.S. millennial generation born between 1982 and 1996 has over 73 million members, a number that has now eclipsed the 72 million U.S baby boomers to become the largest demographic grouping by age.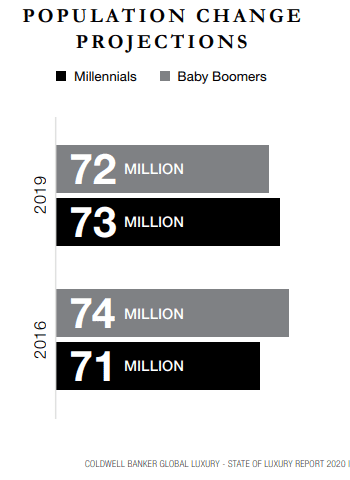 In its report, Coldwell Banker says CE pros, builders, and real estate agents need to be prepared for millennials to flex their economic muscle even more over the coming decades. In fact, by 2030, research estimates that millennials will hold five times as much wealth as they have in 2020, giving the group significant power in shaping future luxury trends.
"What's happening with luxury new construction is that there's a shift in what people are looking for because there has been a shift in who's buying," says Ricardo Rodriguez of Coldwell Banker Residential Brokerage in Boston, Mass.
"Buyers are getting younger, and these are established Millennials with kids entering the market, which redefines everything from unit size and composition to the level of amenities they expect."
Affluent Millennials are also looking to carve out new categories when purchasing a home. "Instead of home offices and work stations, now it's about 'homework stations,' and instead of screening rooms, we see more game rooms," says Rodriguez. "Kids are coming to showings with their parents, and they really value their opinions and take their input into consideration."
If you enjoyed this article and want to receive more valuable industry content like this, click here to sign up for our digital newsletters!