Now that the annual Kitchen & Bath Industry Show (KBIS) 2022 is in the rearview mirror – check out the recent CE Pro Podcast recapping trends, panel sessions and more – there are a handful of booths I wanted to make sure integrators heard about.
These exhibitors for the most part I would consider more integrator and CEDIA-channel adjacent. They're not necessarily products that AV and control experts are going to sell, unless they really have a fully outfitted showroom where design-friendly appliances and non-technology features reside.
But they have likeminded clientele and knowing these KBIS companies could help foster design partnerships. A few years ago CE Pro profiled a truly comprehensive outdoor showroom in which several vendors collaborated to highlight wide-ranging possibilities. Kitchen and bath, plus outdoor kitchen and living room projects can be enhanced – and upsold – if these exhibitors get to know home technology integrators too.
Here are several KBIS 2022 exhibitors and solutions that caught my attention:
Kessick Wine Storage Systems
More of a solution for finished cellars, though in large open kitchen spaces customers can show off some favorite bottles with these custom, modular systems (see image above). Greenville, S.C.-based Kessick has oenophile customers nationwide (California, naturally, is a big customer base) and can certainly play in the custom market.
Kessick's Ethan Bass told me they cross paths with high-tech homeowners; when I asked if he'd heard of eSommelier, the wine inventory specialist whose digital platform integrates (at least I recall from past CEDIA Expos) with third-party control companies to display on GUI navigation screens, he had not but he was definitely intrigued. Anyway, these systems are stunning, can be backlit and customized, very much in the wheelhouse of integrators who are also controlling climate (and even piping in audio) in expansive cellars.
Perlick Beverage Dispenser & Freezer/Fridge
This booth visit included a shot of nitro-infused coffee from Perlick's dispenser, which tasted great. The dispenser would fit in well with home theater designs or multipurpose/rec entertainment havens (or other beverages), which can up the space's usage for owners by adding food and drinks to projection and audio systems. On the outdoor living side, which product marketing manager Brian Madson notes is as strong in the kitchen business as it is in home technology, the Perlick refrigerator/freezer features hundreds of design possibilities with its modularity – so dealers can customize it for smart home owners while they personalize the lighting, audio and other goodies on a project.
Emtek 3D Printed Handles
A leading producer of door and cabinet hardware, Emtek director of design and product innovation William Zhang highlighted the company's 3D printed models. These aren't plastic printed either, but gorgeous 3D metal printed handles that can be custom to order and spruce up the wow factor of an interior designer collaboration that might include backsplashes with custom wall plates, invisible or low-profile speakers, multiple LED fixture and lighting control zones and more. The customization reminded me of companies like Leon Speakers, James Loudspeaker and Trufig in their capabilities.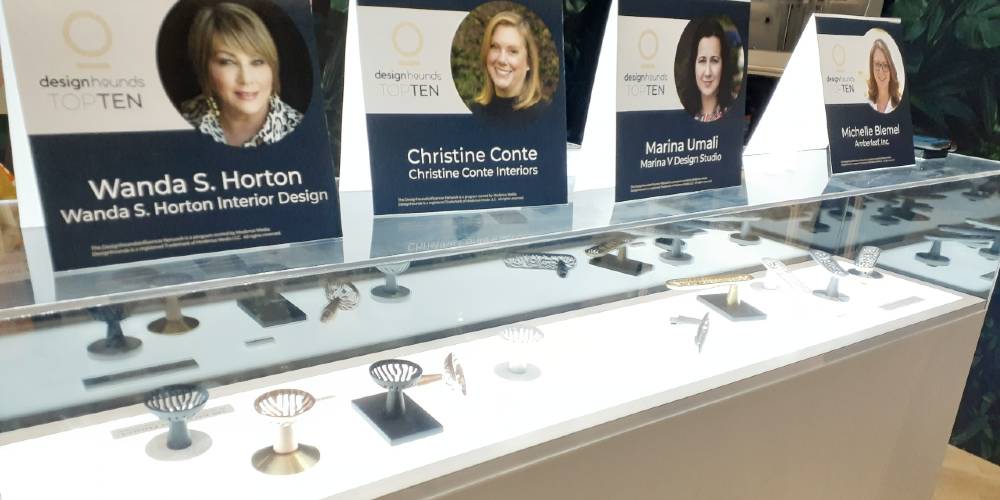 Beko Refrigerator & Other Major Appliances
Istanbul-headquartered Beko has been a leading European appliance brand whose sustainable and energy efficient business seemed to resonate with attendees of KBIS – multiple members of the Kitchen & Bath Business magazine's editorial advisory board mentioned the company's refrigerator. It featured RGB lighting cycles as part of Beko's HarvestFresh science that helps prolong produce lifespan.
Not only does the lighting look slick, but it pushes Beko's commitment to sustainability, which the company promotes and receives honors like multiple consecutive Energy Star Sustained Excellence as a green company. Integrators looking for an appliance manufacturer with on-point messaging for today's buyers can cultivate more eco-conscious kitchen customers – and upsell efficiencies of automated lighting and shade control, for instance.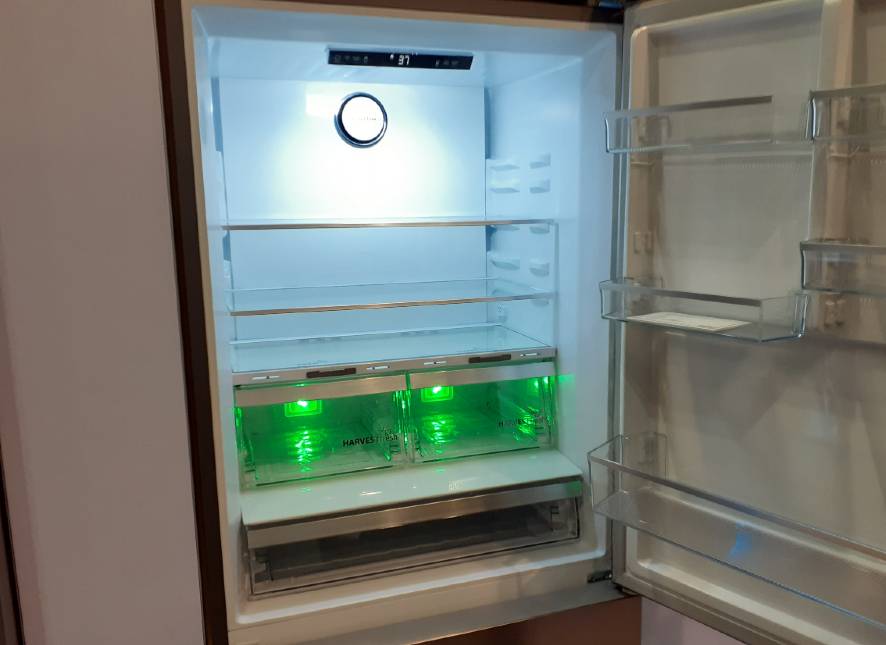 Other major appliances from GE Profile and LG Electronics booths also impressed me in their smarts and efficiency – using AI to learn cooking and cleaning patterns, and implementing smart ecosystems (GE Profile uses Android, so third-party controls could potentially be apps; LG has its ThinQ intelligent platform).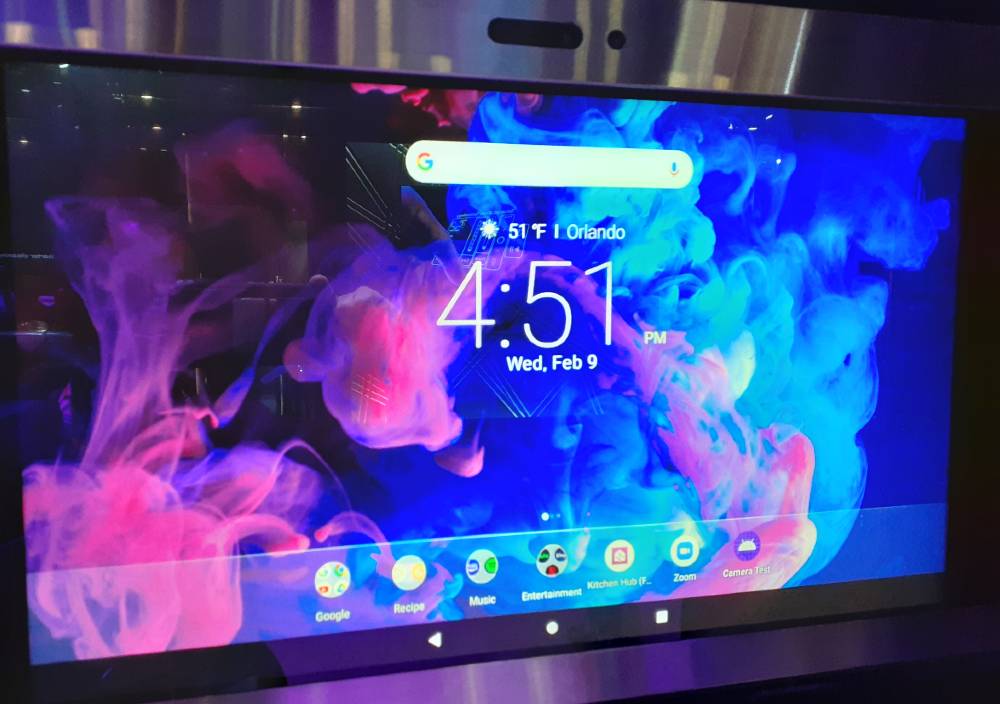 Nasoni Fountain Faucets
In the pandemic assisted demand for touch-free technology, Nasoni touts how its solutions provide fresh, clean water for tasks like teeth brushing, eye cleansing, makeup removing, shaving, etc., and make them more comfortable. For integrators working in assisted living and senior facilities, these solutions help eliminate vertigo from bending, Nasoni business relationship manager Dave Scouler explained to me.
The products are attractive for senior and handicapped customers in particular, he says, and showed me a prototype that goes steps beyond by adding sensors, AI and facial recognition so it knows which task the owner is there for and reacts. It made me think about the numerous case studies we've received over the years from the Gary Sinise Foundation and Wounded Warrior Project installing smart homes for wounded veterans – many involving Elan automation – and how this technology could integrate or how dealers could get Nasoni on a project.