After two successful years of hosting the event, Snap One has decided to put on its third annual #C4Yourself month from August 9 until September 30, 2021. According to the company, #C4Yourself day is a place where homeowners, architects, designers, and builders can gain first-hand experience with the benefits of modern smart home technologies.
The #C4Yourself initiative offers homeowners and industry professionals the chance to tour Control4 Certified Showrooms around the globe as they host a blend of in-person and virtual #C4Yourself events to highlight what can be achieved through the Control4 Smart Home system.
Throughout #C4Yourself, homeowners and design-build professionals can visit a Control4 Certified Showroom in their area for an immersive demonstration of Control4's full capabilities and latest products, including its brand-new Contemporary Lighting line that offers modern aesthetics sure to please designers and homeowners. Developed in response to user requests, the Contemporary Lighting line of light switches, dimmers and keypads offer custom engraving options and 10 available colors.
"Creating comfort throughout one's home is more desirable and more achievable than ever before," says Danielle Karr, Certified Showroom program marketing director. "As many homes have quickly become multi-use settings where families work, learn, play and relax, now is the time to explore how technology can increase the usefulness, security and connectivity of our living spaces. Our #C4Yourself Celebration is one of the best ways for homeowners and designers to learn how smart home pros can infuse homes with intelligent systems and reliable networking to simplify and improve home life."
Local Pros Provide Their Knowledge During #C4Yourself Month
#C4Yourself attendees will learn how every home system can be integrated and controlled through Control4's user interface, including lighting, security, multi-room audio and video, climate, networking, electronic door locks, pool and spa equipment, garage doors, intercoms and more.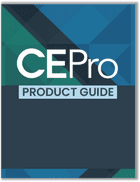 CE Pro's 2022 Product Guide showcases some of the latest and innovative solutions from manufacturers serving the custom electronics industry in a cross-section of categories.
Download the guide now!
The #C4Yourself event connects designers and homeowners directly with local smart home professionals who design and install intelligent systems that leverage multi-system integration to enhance and simplify home living. According to the company, Control4's independent Certified Dealers are rigorously-trained and experienced in wireless network design, smart security systems and lighting, whole-home automation and AV systems, and they use these skills to deliver customized comfort, security and efficiency in every facet of operating a modern home.
Customers interested in turning their home into a smart home can also take advantage of the special #C4Yourself offers running throughout the event, including free products with minimum purchase. Plus, guests who RSVP and attend a #C4Yourself Session will be eligible to win a Control4 Smart Home Starter Kit. Each participating smart home pro will select a lucky winner from their guest list at the end of September.
For existing customers who attend, the pros will have special offers for upgrading their Control4 Smart Home system or starting new projects. Homeowners, architects, builders and design professionals are invited to find a participating local smart home professional and RSVP to attend a virtual session here.