Integrated Systems Europe (ISE) has long been a go-to event for discovering the latest market and technology trends in the professional AV industry – and ISE 2020 will be no different. Visitors can expect to sense enormous confidence in the halls, not least because AVIXA's 2019 AV Industry Outlook and Trends Analysis (IOTA) Global Summary saw the organization raise its growth forecast, reflecting, it said, strong economies and demand for new products and services.
From €224 billion (~$248b) in 2019, AVIXA now believes 2024 will see worldwide revenues for the industry reach €296 billion (~$328b) – outpacing global GDP growth.
CEDIA's research gives similar grounds for optimism. The UK alone, for example, represents a market valued at around €779 million (~$864m), with home cinema installs rising 9% and 80% of participants in a CEDIA survey expressing confidence that their revenues would rise over the coming year.
It's widely agreed that the success of both the commercial and residential sectors is a function of two key drivers: the proven value that AV solutions deliver, and the AV industry's continuing embrace of new technologies. In the commercial world, AV is evolving from being "nice-to-have" into a highly strategic asset.
Growing Importance of AI
A recurring theme throughout the event is likely to be the growing importance of AI and machine learning. In smart homes, for example, ISE visitors can expect to see growing evidence of manufacturers embracing the likes of Alexa and Google Assistant – both enabled by AI – responding to consumer desire for a more integrated 'one ring to rule them all' unified environment. That's becoming increasingly important as growing numbers of home devices and appliances become IoT-enabled. ISE 2020 will reflect this shift in the connected home market.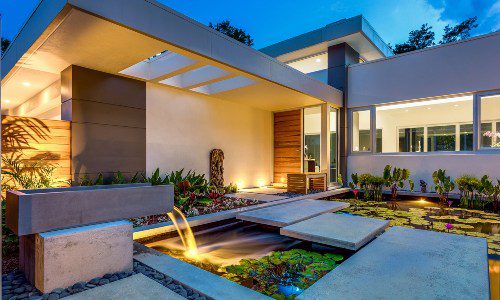 Landscape and architectural lighting create a magical and elegant ambiance for homeowners. The outdoor lighting industry has always been a phenomenal one and continues to grow in popularity. Now is the ideal time to learn more about this rapidly growing and highly profitable industry. Join our panel of esteemed lighting experts that will dive into why it's time for integrators to rethink their role in the outdoor lighting industry.
Register Now! 
On the commercial side, AI – especially in conjunction with sensors such as embedded cameras – is rapidly finding a place in digital signage (a market forecast by AVIXA to be worth $45 billion by 2024 – roughly 35% larger than 2019) as retailers especially look to try to create more personalized, more engaging, more relevant consumer experiences.
In fact, researchers expect the pro AV industry to see greater adoption of AI in any market where customer experience is important, such as hospitality and healthcare. Hospitality companies will spend vast sums on AV in the coming years in order to meet and exceed the expectations of a traveling public deeply rooted in technology.
AI is also believed to have the potential to transform unified communications and collaboration – and is already finding its way into AV solutions designed for education, where research indicates that almost nine out of ten pupils and students are now leveraging the benefits of AV technology for learning. Whatever the vertical market, ISE visitors can expect to see plenty of evidence of AI – including extended reality (XR) – being embedded across a number of platforms.
LED Displays, Projection, Object-Based Audio and More
AI is very much a 'behind the scenes' technology. One of the most visible manifestations of change in the industry is the rapid rise in popularity of LED as the screen technology of choice. Not only does it bring unique advantages in the creative deployment of displays such as video walls, but also, as its price declines, it is starting to displace single LCD screens.
ISE 2020 is likely to provide further evidence of LED's proliferation – and in the residential systems market too as 'multi-screen' becomes the new trend for home theatre installs.
A recurring question, however, is how long LED will enjoy its current place in the sun. OLED technology has numerous theoretical advantages in terms of image quality, installability and the opportunity for highly creative deployments. It's still not without its challenges – notably in the area of price – and ISE 2020 will provide an opportunity to assess the progress it's making toward prime time.
Projectors
A perhaps surprising fact is that, in the face of stiff competition from flat panel displays, the projector market remains remarkably vibrant as it reinvents itself. Having largely eliminated the reasons not to buy – predominantly cost of ownership – with solid-state illumination, new generations of projectors are becoming increasingly application-specific. The success of projection isn't limited to the commercial market either: PMA Research reports that worldwide sales of 1080p consumer projectors have risen by nearly 30% year-on-year.
Object-Based Audio
It's not all about images on screens, however. So-called "object-based audio" has taken the sound world by storm with its ability to deliver wholly immersive sound stages. Advances in the "placing" of sound are being matched by increasingly sophisticated DSPs that can "tune" an installation to create the optimum match with the acoustics of the room.
Together, they're creating some jaw-dropping aural experiences – and those will be demonstrated at ISE. Audio is no less affected by the progressive "IT-ification" of the AV industry, and visitors can expect to see numerous new audio-over-IP products – not to mention a plethora of AV-over-IP platforms.
Those platforms – distributing video, audio, control signals and more via IP networks – are becoming increasingly commonplace, and ISE 2020 visitors can expect to find more as the worlds of AV and IT progressively converge, bringing new levels of flexibility, interoperability and scalability – not to mention security.
What's exciting about ISE, however – and ISE 2020 will be no different – is not just finding out about the latest developments in today's AV technology. Where the excitement really comes in is when you get taken by surprise by something that you didn't expect. To find out what those surprises are, there's no substitute for being in Amsterdam in February.
---
ISE 2020 FAQs:
---
What is Integrated Systems Europe?
ISE is the leading trade show for the professional AV systems integration industry. Held annually since 2004, it has grown to become the world's biggest pro AV show.
Who owns ISE?
ISE is jointly owned by two professional associations: AVIXA, the Audiovisual and Integrated Experiences Association; and CEDIA, the Custom Electronics Design and Integration Association. Broadly speaking, these two bodies are concerned with the commercial and residential markets respectively. Each organizes an extensive professional development program at ISE, ranging from free 20-minute talks to all-day conferences.
Where is ISE held?
The RAI Amsterdam has been the regular home of ISE since 2007. Because of the show's continued expansion, it will relocate in 2021 to the Fira de Barcelona.
How is the show floor organized?
ISE 2020 will occupy all 15 halls at the RAI. The show floor is divided between generic space and six Technology Zones: Audio and Live Events, Digital Signage and DooH (digital out of home), Education Technology, Residential, Smart Building, and Unified Communications.
When does ISE take place?
ISE 2020 is a four-day exhibition, running from Tuesday, February 11 to Friday, February 14. The professional development program, which includes conferences and free presentations run by ISE and its partners as well as AVIXA and CEDIA, begins on Monday, February 10.
If you enjoyed this article and want to receive more valuable industry content like this, click here to sign up for our digital newsletters!