There aren't many things that everyone in the AV industry can feel unanimous about… except attending in-person trade shows. A new study from the team at Integrated System Europe (ISE) finds that nearly everybody — 98% of us — misses them.
This past October, Integrated Systems Europe (ISE) commissioned a study targeting the AV market to gauge the interest of the electronics industry for trade events. The study was conducted by Fusion-Insight, and the research company's findings are that 98% of those polled miss attending in-person events.
""The annual calendar of trade shows provides a rhythm and cadence to our ever-changing and advancing industry," states David Labuskes, CTS, CAE, RCDD, CEO of AVIXA.
"As individuals move in and out of roles within the industry, these shows have always provided a touchpoint that allows us to reconnect with the people we do business with. I am certain that all of our past and future attendees are anxious to meet again in person soon, and the research reinforces that emotion. The incalculable value of ISE to the exhibitors as a platform for engagement and thought leadership and to the attendees as a community from which to learn and grow compels us to do everything in our power to ensure that there will be a safe return of ISE in 2021 and an exciting debut in Barcelona."
Industry Pros Attend Trade Events for Several Reasons
In an effort to gain the market's opinion on the possibility of in-person shows in 2021, a survey was sent to ISE's database, and interviews were conducted with the trade show's exhibitors.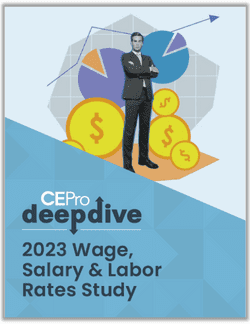 Discover the drastic difference a year can make when it comes to wage, salary, and labor rates in the custom integration industry.
After collecting more than 700 responses, Fusion Insight and Strategy found that 98% of those asked missed attending events.
According to the research, 42% missed meetings and networking, while another 32% said they missed seeing products in person, and just over 20% missed interacting with suppliers and customers.
"In our industry, the experience is everything. Home technology products need to be touched, seen and heard if integrators are to recommend and specify them on projects for their customers," comments Giles Sutton, co-CEO, CEDIA.
"More than that, our industry is a community that benefits from meeting, talking and build relationships with others as well as the opportunity to learn from experts at in-person training. These are all massively important factors for professional integrators who want to grow their knowledge and continue to do good business. That's why we support the safe return of the ISE event in June 2021."
57% Willing to Attend Int'l Events Like ISE
Other key findings from the newly announced survey discovered that 70% of the survey participants are ready to attend trade shows, and 57% indicated they would attend international shows (71% of those polled are from Europe).
ISE emphasizes the research was conducted before news in early December 2020 that the U.S. government and European Union (EU) countries approved vaccines from Pfizer and Moderna.
Mike Blackman, managing director of Integrated Systems Europe, points out the study's findings validate the importance of trade events to foster business in the electronics industry.
"We felt it very important to listen to our industry in shaping our offering for 2021 and so we commissioned independent market research specialists to conduct this intelligence project for us," adds Blackman.
"The results clearly demonstrate that, for an industry at the cutting edge of immersive technologies, there is no substitute to the touch-see-hear experiences that are at the heart of the AV industry and shows such as ISE. We are working very hard towards the goal of ISE 2021 in Barcelona in June next year and it is reassuring to confirm that strong demand is there too."
More news from CE Pro: Total Tech Summit Virtual Keynote Tackles Industry's Labor, Diversity Issues
If you enjoyed this article and want to receive more valuable industry content like this, click here to sign up for our digital newsletters!