Home entertainment demand and wealth of content has provided a spark to the custom integration industry over the past two years, driving growth in home theaters and media rooms. Marantz is giving dealers several more options to meet the needs of their theater-loving customers with its new CINEMA Series, which the Sound United brand centered on at CEDIA Expo 2022 in Dallas.
In the company's booth at the Kay Bailey Hutchison Convention Center, Marantz outlined the jam-packed feature sets of the new CINEMA Series lineup, which comprises four AV receivers – the CINEMA 40, 50, 60 and 70s models – as well as the flagship AV 10 pre/pro and AMP 10 amplifier.
Gary Dayton, senior product marketing manager, Marantz, walked CE Pro through some of the exciting introduction's highlights as well at CEDIA Expo.
"We put a lot of work and engineering effort into the CINEMA Series over the last couple of years," he explains. "Not only have we increased the audio performance over our former SR and R Series, but we've built in a lot of new custom install-friendly features as well.
"In fact, all the AVRs have a CI Mode, where the integrator can go in and completely turn off features such as IR control, streaming, network control – the kind of things that usually cause service calls that are just errors in use. This makes it a lot easier for our custom install partners to integrate CINEMA Series into a system that has a full control suite and have very limited opportunity to have to roll trucks for service calls."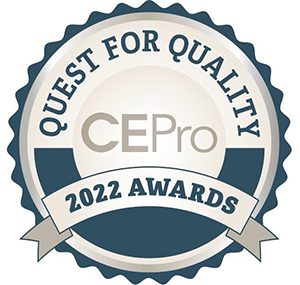 CE Pro urges integrators to recognize their suppliers that go above and beyond to deliver premium support and service. Cast your vote today to recognize the services (not the products) from your favorite manufacturers and distributors.
Cast your vote today!
Here are brief specs about the new lineup, which Dayton delves into more detail in the video above:
AV 10 and AMP 10: The CINEMA Series' flagship products, the AV 10 and AMP 10 provide the ultimate foundation for home theater. Built on the Marantz proprietary HDAM (Hyper Dynamic Amplifier Modules) technology, the AV 10 and AMP 10 work together to create a reference-level entertainment system with the 16-channels of amplification from the AMP 10 complementing the discrete circuitry and seven HDMI inputs of the AV 10 preamplifier/processor.
CINEMA 40: An 11.4 channel AV receiver, with nine channels of 125-watts per channel amplification. Marantz says the CINEMA 40 is a fully dedicated and immersive home theater solution that includes a stylish aluminum front panel.
CINEMA 50: An 11.4 channel AVR, with nine channels of 110-watts per channel amplification.
CINEMA 60: A 7.2 channel AVR that provides 100-watts per channel of amplification. According to Marantz, the 8K AVR is suited for dedicated home theater applications and multipurpose media rooms of any size.
CINEMA 70s: Slim 7.2 channel AVR with 50-watts per channel of amplification. Marantz adds the CINEMA 70 8K AVR is suited for smaller living spaces, compact media consoles or crowded AV racks.
Dayton noted the increased 8K support within the range's HDMI connectivity, as well as the audio enhancements. Plus the AV 10, CINEMA 40 and CINEMA 50 are Dirac Ready for the upcoming Dirac Live software update.
"We're bringing bleeding-edge features to truly premium performance products," Dayton says. "I think there are a lot of brands out there that build great-sounding surround processors and amplifiers, but they don't get early access to technology that we do. No longer do you have to compromise – now you can get both in a single package."
Hear more specifics about the Marantz CINEMA Series lineup from Dayton in the video above.