It's not surprising that BSH Home Appliances is the first manufacturer of major appliances to exhibit at CEDIA Expo Virtual because the company was the first appliance manufacturer to offer an open API for third-party control via its Home Connect ecosystem.
"At the core of the BSH digital universe is Home Connect," says Kay Kwok, head of connected products and digital services at BSH Home Appliances, which includes the Bosch, Thermador, Gaggenau, Neff and Siemens brands.
"Home Connects connects all of your appliances to the Internet of Things, and it creates the experience beyond just what you think your appliance can do. So with more people adding full home automation systems today, we believe that Home Connect will be an integral part of the entire smart home. It provides benefits such as remote diagnostics personalization features and it's an app that's extremely intuitive and easy to use."
Kwok adds that the open API allows BSH to grow its partnerships in a way that differentiates the company from any other appliance manufacturer.
"With Home Connect you can control your appliances at home or away and be an integral part of that full home automation, and really help simplify your daily life," she adds.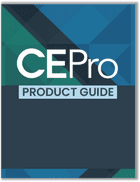 CE Pro's 2022 Product Guide showcases some of the latest and innovative solutions from manufacturers serving the custom electronics industry in a cross-section of categories.
Download the guide now!
AT CEDIA Expo Virtual, BSH will be showing two videos and presenting a couple of virtual sessions that will include Q&A. The videos will focus on telling the whole story of the company and how it fits into the BSH family and its various brands and the benefits of a connected kitchen. The company will also be sharing how it brings differentiation to projects with appliances and the capabilities of its connected appliances through integrations.
"Home Connect is a global platform that offers the entire kitchen suite covering all major appliance categories and multiple brands that can be integrated through one single app. So as we show the benefits of bring your connected kitchen to your automated home, we also want to talk about our differentiation. So, there will be a deeper dive on what it means to have an open API and how that makes a difference when you integrate into the full home," says Kwok.