2N is definitely not your parents' intercom system. The company's 2N LTE Verso intercom and new 2N Indoor View IP answering unit usher the category into the 21st Century.  
2N, an Axis Communications Company, is a leader in IP intercoms in the Americas. The 30-year-old company headquartered in Prague, Czech Republic, only does one thing: make IP-based intercoms and access control systems. Two years ago the company was acquired by Axis Communications, makers of IP surveillance cameras, which helped bolster 2N's R&D expertise.
"Since then, we've grown tremendously in revenue and number of people, but also in our technologies and our solutions. So today we truly are the market leader in some in solutions and IP intercoms with seven different families of intercoms. Our tagline is: 'We have a solution for any application,'" says Craig's Szmania, regional business development head for 2N for the Americas.
The CEDIA Expo Virtual experience is 2N's fifth year showcasing its technology to the custom installation community.
"For the virtual experience we've tried to pack it with as much information and solutions with regards to intercoms that we could, and put it in a format that made sense for everyone. So you'll find all of our solutions and products laid out by market segment, such as MDUs," says Szmania.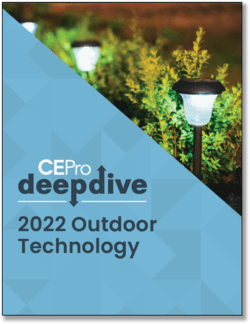 The 2023 CE Pro Outdoor Technology Deep Dive reveals unique set of impediments, including explaining pricing and interacting with outdoor-centric trades.
Get your copy now to take a "deep dive" into the trends and challenges of outdoor technology.
Download the report now!
The virtual booth will also feature multiple videos that take integrators through various intercom applications, from common areas to pool/spa areas to parking structures, to name a few.
One video in the booth will be a 3D virtual video of various 2N products: 2N Virtual Experience.
"It gives you the opportunity to look at an installation and disassemble the product to see what goes into that installation and how its installed. And then reassemble it," says Szmania.
2N's booth will also feature downloadable collateral material and other educational information on IP intercoms in general.
Specific products that will be highlighted include the:
2N LTE Verso, a cellular LTE intercom that allows for a variety of applications, such as situations where you can't tear into the wall to connect the intercom to a hardline phone, or where the gate is actually 300 yards away from the home.
2N Project Designer, a project design tool that will take designers and dealers through step by step choosing the right product and create a report of that product with the various component accessories needed, along with pictures and part numbers.
2N Indoor View, which is an answering station with a 7-inch touchscreen that is fast and responsive and has quality audio at an economic price.
"We think it's going to set the standard from an answering station standpoint, with regards to the MDU market," says Szmania.
If you enjoyed this article and want to receive more valuable industry content like this, click here to sign up for our digital newsletters!