Windows come in all shapes and sizes, and with various shading needs. Draper at Home understands that its dealers seek solutions for satisfying their customers, and the Spiceland, Ind., company continues to step up to the plate and hit it out of the park.
Clint Childress, director of residential markets for Draper, recently chatted with CE Pro about how the company's R&D fuels its motorized shade solutions, which aren't only limited to a home's interior but can also address the exterior. That's why at CEDIA Expo 2023, Draper at Home not only had a booth inside the Colorado Convention Center in Denver, but also across the street at the Destination Outdoors pavilion.
"We have a lot of new products that we're coming out with and have been coming out with for about the past 10 months now," Childress says.
"We have decorative brackets that offer a nice open roll solution. We have the new Gabled Bottom-Up FlexShade – we've had bottom-up shades, but now we have one that can fit that sloped, A-frame type of conditions where the glazing and the roof line are parallel, so you can't do a horizontal shade. We've also taken some old things and polished them up and said, 'Hey, this is more for the residential too' and getting out there and promoting it."
Where it comes to addressing those motorized shades design and installation challenges, for example, the home in the pictured photo above presents a common one: different shapes and shading requirements in individual openings across a single large bank of windows.
As Childress explains in the video above, Draper at Home has developed a wide range of capabilities to provide a viable solution to a situation like this — three products using the same fabric, color, and hardware style: Motorized FlexShade roller shades on the lower bank of windows; a Motorized Bottom-Up FlexShade in the top middle; and the aforementioned Gabled Bottom-Up FlexShade designed to match the angles of each of the top outer windows. 
All six shades are powered by Somfy to integrate with smart home controls. The homeowner can simultaneously lower the bottom bank and raise the top bank of shades to cover all the windows. When the sun is high in the sky, one or all of the upper shades can be deployed while the bottom shades remain open.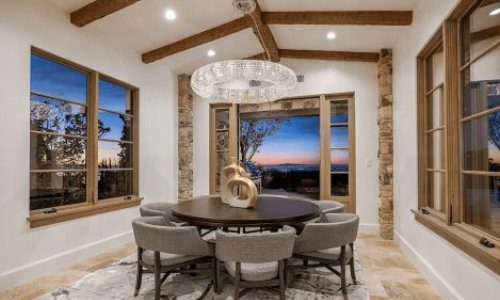 As a custom integrator, lighting is in demand. Effective communication, education and showcasing the value proposition of LED light fixtures in conjunction with integrative control systems are the keys to overcoming challenges and closing sales in this specialized market. Join us as we discuss the future of digital lighting and control with David Warfel from Light Can Help You and Patrick Laidlaw and Mark Moody from AiSPIRE.
Register Now! 
When the sun is lower, one or all of the shades in the lower bank can be lowered for glare control and the upper shades opened to allow natural light into the spaces. These automations can be pre-programmed by time of day or controlled via remote, wall switch, voice, or app.
Draper at Home Motorized Shades Can Bring Indoor Living Outside
Meanwhile, as Draper demonstrated at CEDIA Expo, there are also situations where the integrator can pitch motorized shade solutions in places where homeowners may not have considered, such as outdoor areas. Here, shades can extend the owners' living space, add privacy, help with energy costs, keep insects out, and add to the aesthetics.
"You're out there on that back patio and the customer says they want a TV, speakers… and they invest $30,000-$40,000 in that outdoor living space, let alone all the furniture and everything else they bring in. And depending on where you're at, maybe you can use that five, six months out of the year comfortably," Childress notes.
"Those five or six months you're going to have rainy days, windy days, days where the mosquitoes are bad, sunlight coming in at low angles just making it unusable to watch TV or enjoy that space – so really how much was that investment worth or being used? Well this is where that outdoor shading comes in."
Draper at Home's FlexShade Tension Zip comes in handy in these scenarios, because the mesh shade helps bring the indoors out and enables customers to fully utilize their investment.
Learn much more by listening to the full conversation with Childress above, and head over to Draper at Home's website for details about all of the company's motorized shades solutions.
If you enjoyed this article and want to receive more valuable industry content like this, click here to sign up for our digital newsletters!